Spot-crowned Woodcreeper
This woodcreeper is found in mountains from 1000 m to the timberline in mossy, epiphyte-laden forest and adjacent semi-open woodland and clearings. It builds a leaf-lined nest 0.6 to 8 m up in a tree cavity or old woodpecker or barbet hole, and lays two white eggs.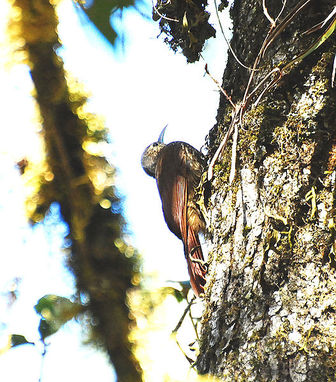 Picture of the Spot-crowned Woodcreeper has been licensed under a Creative Commons
Attribution-Share Alike
.
Original source
: originally posted to Flickr as DSC_5659a
Author
: Jerry OldenettelPermission(Reusing this file)This image, which was originally posted to Flickr.com, was uploaded to Commons using Flickr upload bot on 22:36, 13 April 2008 (UTC) by Ltshears (talk). On that date it was licensed under the license below. This file is licensed under the Creative Commons Attribution-Share Alike 2.0 Generic license.You are free:to share – to copy, distribute and transmit the work
The Spot-crowned Woodcreeper is classified as Least Concern. Does not qualify for a more at risk category. Widespread and abundant taxa are included in this category.

The Spot-crowned Woodcreeper (Lepidocolaptes affinis), is a passerine bird which breeds in the tropical New World from central Mexico in the east, the Sierra Madre Orientals, to northern Panama. This woodcreeper is found in mountains from 1000 m to the timberline in mossy, epiphyte-laden forest and adjacent semi-open woodland and clearings. It builds a leaf-lined nest 0.6 to 8 m up in a tree cavity or old woodpecker or barbet hole, and lays two white eggs. The Spot-crowned Woodcreeper is typically 21. More
* Spot-crowned Woodcreeper On a trunk. Los Tarrales Private Reserve, Suchitepéquez Department, Guatemala (ssp affinis) Knut Eisermann 30 August 2009 23 weeks ago 3. More
Stamps showing Spot-crowned Woodcreeper Lepidocolaptes affinis Spot-crowned Woodcreeper Lepidocolaptes affinis 110.007 Spot-crowned Woodcreeper IOC v2.4: 4522 Links will open countrypage in new window - El Salvador 21.12. More
Spot-crowned Woodcreeper Lepidocolaptes affinis = Savegre Lodge, Costa Rica - Nov 21, 2004 More
Spot-crowned Woodcreeper Lepidocolaptes affinis = Described by: Lafresnaye (1839) Alternate common name(s): Old scientific name(s): None known by website authors Photographs Savegre Lodge, Costa Rica - Nov 21, 2004 More
Spot-crowned Woodcreeper - Lepidocolaptes affinis Grimpar moucheté = Grimpar moucheté The Birds of South America: The Suboscine Passerines Gallery : © Louis S Hegedus Order : Passériformes Family : Furnariidae Species : Spot-crowned Woodcreeper Reference: lohe11756 Other pictures Exif data Model : Canon EOS 20D Exposure : 1/180 s Aperture : 5. More