Gray's Lark
The Gray's Lark is a species of lark in the Alaudidae family. It is found in Angola and Namibia. Its natural habitat is hot deserts.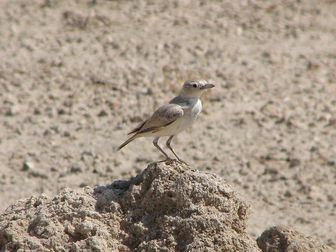 Picture of the Gray's Lark has been licensed under a Creative Commons
Attribution-Share Alike
.
Original source
: Flickr here
Author
: Flickr user Alastair Rae . Photo uploaded to commons by user ltshears
The Gray's Lark is classified as Least Concern. Does not qualify for a more at risk category. Widespread and abundant taxa are included in this category.

The Gray's Lark (Ammomanes grayi) is a species of lark in the Alaudidae family. It is found in Angola and Namibia. Its natural habitat is hot deserts. Search Wikimedia Commons Wikimedia Commons has media related to: Ammomanes grayi References - * BirdLife International 2004. Ammomanes grayi. 2006 IUCN Red List of Threatened Species. Downloaded on 24 July 2007. More
Gray's Lark (Ammomanopsis grayi) = French: Ammomane de Gray German: Namiblerche Spanish: Alondra de Gray Other common names: Gray's Sand Lark Taxonomy: Alauda grayi Wahlberg, 1855, between Kuiseb and Swakop Rivers, Damaraland, Namibia. Traditionally placed in genus Ammomanes and in the past thought to form a superspecies with A. deserti, but apparent similarities now attributed to convergence. Genetic evidence indicates that it is much closer to Certhilauda and Chersomanes. More
Distribution of Gray's lark in southern Africa, based on statistical smoothing of the records from first SA Bird Atlas Project (© Animal Demography unit, University of Cape Town; smoothing by Birgit Erni and Francesca Little). Colours range from dark blue (most common) through to yellow (least common). More
The Gray's lark Ammomanopsis greyi is the sole species in this genus. Calandrella (short-toed larks, Red-capped lark) The eight species are distributed through Africa and Eurasia with one, the Red-capped lark Calandrella cinerea occurring in southern Africa. Other than the Red-capped lark, there are six short-toed lark species Calendulauda (Karoo lark complex and others) Sub-Saharan in distribution with six of the eight species occurring in southern Africa. More
Stamps showing Gray's Lark Ammomanopsis grayi Gray's Lark Ammomanopsis grayi Distribution map for Gray's Lark, range 179.009 Gray's Lark IOC v2.4: 6789 Links will open countrypage in new window - South West Africa 03.11. More
Gray's Lark habitat 08 January 2008 We left Swakopmund early and, after a quick breakfast stop in Usakos, continued homeward. It was a long day's driving eventually ending at Noordoewer where we spent the night at the Orange River Lodge. Orange River Lodge - www.orlodge.iway.na (N$ 175.00 per person sharing per night bed only) 09 January 2008 We left the lodge early and passed through the Vioolsdrif border post with ease. More
The Gray's Lark (Ammomanes grayi) is a species of lark in the Alaudidae family. It is found in Angola and Namibia. Its natural habitat is hot deserts. More
Gray's Lark Ammomanopsis grayi = Described by: Wahlberg (1855) Alternate common name(s): Gray's Sand Lark Old scientific name(s): Ammomanes grayi Photographs No photographs are available for this species Range Coastal Namib Desert of sw. Africa; (1) W. and s. Namibia. (2) Ex. sw. Angola and nw. Namibia. More
Gray's Lark - Ammomanopsis grayi Ammomane de Gray = Ammomane de Gray The Lewis - Clark Expedition: Montana's First Bird Inventory Through the Eyes of Lewis and Clark Gallery : © Guillaume Passavy Site web : Collekinsectes Order : Passériformes Family : Alaudidae Species : Gray's Lark Age : Adult Reference: gupa55321 Other pictures Date taken : 2008 May More
Gray's Lark, Namibia, west of Kuiseb Pass January 2009 © Ian Merrill Gray's Lark - Gray's Lark, Namibia, Namib Oct 05 © Adam Scott Kennedy - BIRDSEEKERS Seen at several locations including this one in the Namib Gray's Lark - Gray's Lark, Namibia, near Swakopmund Aug 06 © Paul Noakes Gray's Lark - Showing Records 1 through 3 of 3 Total Records More