Striated Caracara
The adults plumage is almost black in colour, while the legs and lores are orange and the neck is flecked with grey. The first year juveniles have an orange or light red down, which they lose after their first moult. Full adult plumage is acquired only in the fifth year.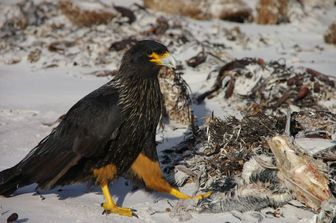 Picture of the Striated Caracara has been licensed under a Creative Commons
Attribution
.
Original source
: flickr.com
Author
: Ben TubbyPermission(Reusing this file)CC-by-2.0
The Striated Caracara is classified as Near Threatened (NT), is close to qualifying for or is likely to qualify for a threatened category in the near future.

The Striated Caracara, (Phalcoboenus australis) is a bird of prey of the Falconidae family. In the Falkland Islands it is known as Johnny Rook. The adults plumage is almost black in colour, while the legs and lores are orange and the neck is flecked with grey. The first year juveniles have an orange or light red down, which they lose after their first moult. Full adult plumage is acquired only in the fifth year. More
A Pair of Striated Caracara, Sea Lion Island, Falkland Islands, South Atlantic Photographic Print by Marco Simoni A Pair of Striated Caracara, Sea Lion Island, Falkland Islands, South Atlantic Photographic Print by Marco Simoni A Pair of Striated Caracara, Sea Lion Island, Falkland Islands, South AtlanticPhotographic Print 24 x 18 in Marco Simoni$39. More
Striated caracara in breeding plumage Striated caracara in breeding plumagePrint factsheet Facts - Also known as: Johnny rook Spanish: Caracara Austral, Matamico Estriado, Matamico Grande, Tiuque Cordillerano Austral Kingdom Animalia Phylum Chordata Class Aves Order Falconiformes Family More
The striated caracara is a distinctive and charismatic raptor, which has the southernmost overall breeding distribution of any bird of prey in the world (4). The plumage is mostly deep brown to blackish-brown, with fine white streaking beginning at nape of the neck, and becoming broader and more conspicuous on the upper back and breast. The underwing is reddish brown with white tips on the primary feathers, while the tail ends in a whitish band. More
The Striated Caracara, (Phalcoboenus australis) is a bird of prey of the Falconidae family. In the Falkland Islands it is known as Johnny Rook. Distribution: It breeds in several islands in the Tierra del fuego, but is more abundant in the Falklands where the population is estimated at 500 breeding pairs. More
striated caracara attacking baby rockhopper penguin photography falkland islands The striated caracara finds a meal to its liking. Did I really see what I thought I just saw? If this is a question you More
The Striated Caracara (Phalcoboenus australis) occurs rarely in the Tierra del Fuego area of extreme southern South America, but the main range of the species is the Falkland Islands. The species is also called Forster's Caracara by some authors and on the Falklands it is simply referred to as "Johnny Rook". The photos here were shot on Sea Lion Island in the Falklands in January 1999 with a Canon EOS 1N & EF 70-200 F2.8L lens with fill flash. The film was Fuji Sensia 100. More
The Striated Caracara is primarily a scavenger, feeding on carrion, offal and small invertebrates that it digs up with its claws. However it will also prey on weak or injured creatures, such as young seabirds. Its habit of attacking newborn lambs and weakened sheep has led it to be ruthlessly persecuted by sheep farmers. Often it is known to steal red objects such as clothing or handkerchiefs, possibly because red is the colour of meat. More
The striated caracara is an opportunistic feeder, often scavenging for carrion but also known to attack weak or injured birds, Phalcoboenus australis, Steeple Jason Island Purchase A Print Of This ImageHow to request, purchase or license this imageAdd To Light Table Gentoo penguin defends its dead chick (right), from the striated caracara (left) that has just killed it. The penguin continued to defend its lifeless chick for hours, in spite of the futulity and inevitabliityof the final result. More
Gentoo penguin defends its dead chick (right), from the striated caracara (left) that has just killed it. The penguin continued to defend its lifeless chick for hours, in spite of the futulity and inevitabliityof the final result. More
Striated Caracara ~ one of the worlds rarest raptors by Robert Elliott 100% of proceeds received from Redbubble in respect to sales of this item, will be donated to Bush Heritage Australia Photo of a Striated Caracara taken at Sea Lion Island, South Atlantic. More
The endemic Striated Caracara is a rare bird, though we saw them often. Locally it is called 'Johnny Rook'. Caracara's are scavengers and curious about human possessions. One tried to remove a label from one of our jackets that we had covering a camera bag on the ground. Turkey vultures are often seen floating around the larger colonies and rookeries. Tussac-birds and the other small birds are common on islands that have never had cats or rats. More