Yellow-headed Caracara
The Yellow-headed Caracara, Milvago chimachima, is a bird of prey in the family Falconidae. It is found in tropical and subtropical South America and the southern portion of Central America. Unlike the Falco falcons in the same family, the caracaras are not fast-flying aerial hunters, but are rather sluggish and often scavengers.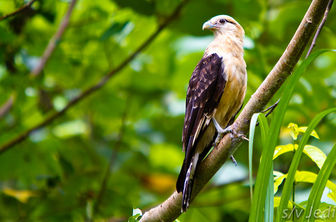 Picture of the Yellow-headed Caracara has been licensed under a Creative Commons
Attribution-Share Alike
.
Original source
: Own work
Author
: DeVerm
The Yellow-headed Caracara is classified as Least Concern. Does not qualify for a more at risk category. Widespread and abundant taxa are included in this category.

Yellow-headed Caracara in Barranquilla I'm on the road again as part of my job, and today happened to be in the airport in Barranquilla, Colombia, waiting for a flight back to Bogota. Of course, I stayed near the windows just in case something interesting might appear, and sure enough - it happened. More
The Yellow-headed Caracara, Milvago chimachima, is a bird of prey in the family Falconidae. It is found in tropical and subtropical South America and the southern portion of Central America. Unlike the Falco falcons in the same family, the caracaras are not fast-flying aerial hunters, but are rather sluggish and often scavengers. The Yellow-headed Caracara is 41–46 cm (16–18 in) cm long and weighs 325 g (11.5 oz) on average. More
The Yellow-headed Caracara, Milvago chimachima, is a bird of prey in the family Falconidae. Unlike the Falco falcons in the same family, the caracaras are not fast-flying aerial hunters, but are rather sluggish and often scavengers. The Yellow-headed Caracara is a resident breeding bird from Panama, Trinidad and Tobago south through South America to northern Argentina. This is a bird of savannah, swamps and forest edges, which lays one or two brown-marked buff eggs in a stick nest in a tree. More
The Yellow-headed Caracara can be found throughout much of Central and South America, and is widespread thoughout Brazil. Near Lagoa do Peixe in November it was much less common than the Chimango Caracara and seemed to stay near wooded areas rather than open marshland. It is associated with farmland. Its distinguishing feature is a dark line running behind the eye. Its body and head is mostly light yellowish brown. More
Images Yellow-headed caracara portrait on ground Yellow-headed caracara portrait on ground Species related by - * Family group * Habitat * * View image slideshow * Link to this image * Email to a friend * * MyARKive menu header More
The Yellow-headed Caracara is a resident bird from Costa Rica south through Trinidad and Tobago to northern Argentina (the provinces of Misiones, Chaco, Formosa, Corrientes and Santa Fe). This is a bird of savannah, swamps and forest edges. It is typically found from sea level to 1,800 m (5,900 ft), occasionally to 2,600 m (8,500 ft) Above Sea Level. More
For the purposes of our bird news services, Yellow-headed Caracara is classed as ungraded: species which are unlikely to appear as wild birds in Britain or Ireland (Note that rarity levels are currently applied nationally and may not reflect local variations in abundance. More
The handsome Yellow-headed Caracara is a large scavenging falcon. Like all Caracaras he can be recognised in flight by the pale windows at the ends of the rounded wings. Yellow-headed Caracaras are the least often encountered of the three Paraguayan Caracaras. Their scientific name chimachima comes from the local Spanish name, which in turn is an onomatopoeic rendition of the call. Click on the images to enlarge them.FIGURE 1 - Adult lateral view, location unknown (Frank Fragano undated). More
Crested Caracara | Yellow-headed Caracara | Pygmy Falcon | Eurasian Kestrel | Red-footed Falcon | Merlin | Gyrfalcon | Peregrine Falcon Yellow-headed Caracara - Milvago chimachima Yellow-headed Caracara Yellow-headed Caracara post a comment click on thumbnails for full image More
Yellow-headed Caracara, Costa Rica, Tarcoles River 7/3/07 © Jon Lowes More pictures Trip Report Send this as a postcard Yellow-headed Caracara - Showing Records 1 through 3 of 3 Total Records More
Yellow-headed Caracara on a cow Milvago chimachima Caracara More