Greater Kestrel
The plumage of the adult is mainly pale rufous, both above and below. The back, upperwing and flanks are barred with black. The breast has dark streaks and the head is streaked but has no malar stripe unlike the Common and Lesser Kestrels. The rump and tail are grey with black bars; the tail has a white tip. In flight, the whitish underwing contrasts with the darker body. The iris of the eye is whitish, distinguishing the bird from any similar species. The bill is mainly blue-grey and the feet and cere are yellow. Juvenile birds have rufous instead of grey on the tail, streaked flanks and a dark eye.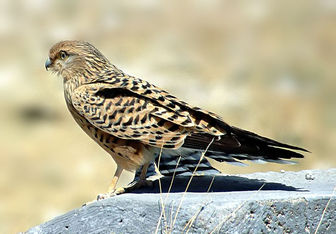 Picture of the Greater Kestrel has been licensed under a
GFDL
Original source
: own work at http://www.retas.de/thomas/travel/namibia2003/index.html
Author
: Thomas SchochPermission(Reusing this file)GFDLCC-BY-SA-3.0
Permission
: GNU Free Documentation License
The Greater Kestrel is classified as Least Concern. Does not qualify for a more at risk category. Widespread and abundant taxa are included in this category.

The Greater Kestrel or White-eyed Kestrel (Falco rupicoloides) is a bird of prey belonging to the falcon family Falconidae. It is one of the largest kestrels and is found in open country in southern and eastern Africa. More
* Greater Kestrel, Falco rupicoloides, found in Eastern to South Africa * Fox Kestrel, Falco alopex, found in Equatorial Africa * Lesser Kestrel, Falco naumanni, found in southern Europe, India, and most of Africa except for the Sahara and equatorial forest areas African gray kestrels (a more distant group) * Grey Kestrel, Falco ardosiaceus, found in Central to Southern More
The Greater Kestrel or White-eyed Kestrel (Falco rupicoloides) is a bird of prey belonging to the falcon family Falconidae. It is one of the largest kestrels and is found in open country in southern and eastern Africa. Description The plumage of the adult is mainly pale rufous, both above and below. The back, upperwing and flanks are barred with black. The breast has dark streaks and the head is streaked but has no malar stripe unlike the Common and Lesser Kestrels. More
Greater kestrel perched on a branch© Tony Heald / naturepl.com Greater kestrel on a rock© Fritz Polking / www.flpa-images.co.uk Adult greater kestrel© Paul Hobson / naturepl.com Greater kestrel perched with feathers ruffled© Clem Haagner / www.ardea.com Greater kestrel feeding on gecko© Tony Heald / naturepl.com Greater kestrel gliding© Philip Fourie Greater kestrel hovering© Philip Fourie Greater kestrel pair on a branch© Austin J. More
* The Greater Kestrel, found in Eastern to South Africa * The Madagascar Kestrel * The Banded Kestrel, found on Madagascar * The Seychelles Kestrel * The Mauritius Kestrel * The Spotted Kestrel, found in Indonesia * The Nankeen Kestrel, found in Australia and New Guinea American KestrelSpecies in taxonomic order * Lesser Kestrel, Falco naumanni More
Greater Kestrel DistributionHabitat and range It is one of the largest kestrels and is found in open country in southern and eastern Africa. It occurs in open, arid areas where it inhabits grassland, savannas and semi-desert. It is often associated with acacias. It prefers areas where the ground cover is lower than 50 cm. More
Greater kestrel, World of Birds, Hout Bay. Greater kestrel. Distribution and habitat Occurs in isolated patches of West Africa, with a separate population in Zambia, Angola and southern Africa. Here it is fairly common across Namibia, Botswana and inland South Africa, scarce in Zimbabwe absent from Mozambique. It generally prefers open, arid and semi arid habitats, such as grassland, Karoo shrubland and cultivated land. More
For the purposes of our bird news services, Greater Kestrel is classed as ungraded: species which are unlikely to appear as wild birds in Britain or Ireland (Note that rarity levels are currently applied nationally and may not reflect local variations in abundance. More
Greater Kestrel is found in the following countries: 1. Angola 2. Botswana 3. Djibouti 4. Eritrea 5. Ethiopia 6. Kenya 7. Lesotho 8. Mozambique 9. Namibia 10. More
Flamingo | Greater Kestrel | Green Wood-hoopoe | Green-backed Heron | Grey Lourie | Groundscraper Thrush | Hartlaub's Babbler | Kori Bustard | Kurrichane Thrush | Magpie Shrike | Martial Eagle | Monteiro's Hornbill | Mountain Chat | Namaqua Sandgrouse | Northern Black Korhaan | Pale-winged Starling | Pearl-spotted Owlet | Pied Avocet | Pied Kingfisher | Pririt Batis | Racket-tailed Roller | Red-billed Spurfowl | Rosy-faced Lovebird | Ruppell's Korhaan | Sociable Weaver | Southern Carmine Bee-eater | Southern Masked Weaver | Temminck's Courser | More
greater kestrel kruger national park birds The Greater Kestrel (Latin name Falco rupicoloides) is described in Roberts Birds of Southern Africa, 7th Edition. This bird has a unique Roberts number of 182 and you will find a full description of this bird on page 547 also a picture of the Greater Kestrel on page 529. The Greater Kestrel belongs to the family of birds classified as Falconidae. According to the Percy FitzPatrick Institute of African Ornithology the Greater Kestrel is also known by these other names: White-eyed Kestrel. More