Philippine Serpent-Eagle
It is endemic to the Philippines. The species is found on most part of the major islands, except for Palawan. It inhabits primary and secondary forest. The bird is often seen soaring over clearings and river valleys. The bird feeds on amphibians, reptiles and other live prey. The Philippine serpent eagle is distinguished from other species of serpent eagle by more well-defined spots on the underpants and wings.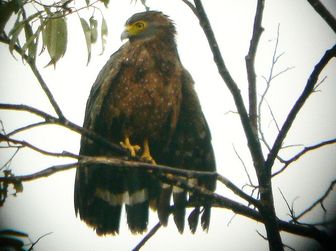 Picture of the Philippine Serpent-Eagle has been licensed under a Creative Commons
Attribution-Share Alike
.
Original source
: originally posted to Flickr as 0646 Philippine Serpent-Eagle 2
Author
: markaharper1Permission(Reusing this file)This image, which was originally posted to Flickr.com, was uploaded to Commons using Flickr upload bot on 23:47, 5 April 2009 (UTC) by Rufous-crowned Sparrow (talk). On that date it was licensed under the license below. This file is licensed under the Creative Commons Attribution-Share Alike 2.0 Generic license.You are free:to share – to copy, distribute and transmit the work
The Philippine Serpent-Eagle is classified as Least Concern. Does not qualify for a more at risk category. Widespread and abundant taxa are included in this category.

Philippine Serpent-eagle (Spilornis holospilus) = French: Serpentaire des Philippines German: Philippinenschlangenweihe Spanish: Culebrera Filipina Taxonomy: Buteo holospilus Vigors, 1831, near Manila. Taxonomic status uncertain: sometimes classified as race of S. cheela; shares Philippines with S. cheela palawanensis, but without sympatry. Currently considered to form superspecies with S. cheela, S. klossi, S. kinabaluensis and S. rufipectus. Proposed race panayensis not valid. Monotypic. More
Philippine Serpent-Eagle - Spilornis holospilusPhilippine Serpent-Eagle - Spilornis holospilus Philippine Serpent-Eagle - Spilornis holospilusPhilippine Serpent-Eagle - Spilornis holospilus - Photo, Video and/or Article contributions are welcome! Please click here for info The Avianweb strives to maintain accurate and up-to-date information; however, mistakes do happen. If you would like to correct or update any of the information, please send us an e-mail. More
Philippine Serpent-Eagle Spilornis holospilus = PICOP, Mindanao, Philippines - Mar, 2007 More
Philippine Serpent-Eagle Spilornis holospilus = Described by: Vigors (1831) Alternate common name(s): Philippine Serpent Eagle, Philippine Serpent-eagle Old scientific name(s): None known by website authors Photographs PICOP, Mindanao, Philippines - Mar, 2007 More
Philippine Serpent-Eagle (Spilornis holospilus, a Philippine endemic) ID Code - PSE-IMG_2348 Available Sizes - 12"x18" and 8"x12" Habitat - Forest from lowlands to over 2000 m Shooting Info - Subic rainforest, Bataan, June 2, 2005, 20D + 400 5.6L + Tamron 1.4x TC, 560 mm, f/10, ISO 400, 1/1000 sec, hand held, near full frame, available light Canon EOS 20D 1/1000s f/7.1 at 400. More
* Philippine Serpent-eagle, Spilornis holospilus * Andaman Serpent-eagle, Spilornis elgini External link - * PBS Nature: Eagles (http://www.pbs.org/wnet/nature/eagles/index.html) Example Usage of Eagle - TyronEaglePride: I know we have diff hours on sunday but this is crazy wat do you think tweeps Mr. More
Philippine Serpent-Eagle Spilornis holospilus 163. Plain Bush-hen Amaurornis olivaceus 164. White-eared Brown-Dove Phapitreron leucotis 165. Amethyst Brown-Dove (not Mdoro, Panay) Phapitreron amethystina 166. Yellow-breasted Fruit-Dove (not Panay) Ptilinopus occipitalis 167. Pink-bellied Imperial-Pigeon Ducula poliocephala 168. Blue-crowned Racquet-tail (not Panay) Prioniturus discurus 169. Philippine Hanging-Parrot (Colasisi) Loriculus philippensis 170. Philippine Coucal Centropus viridis 171. Philippine Drongo-Cuckoo Surniculus velutinus 172. More