Red-headed Vulture
Up to 85 cm long and weighing 3.7-5.4 kg , this gaudy-faced vulture was historically abundant with range over south-central and south-eastern Asia extending from Pakistan to Singapore. Today the range of the Red-headed Vulture is localized primarily to Nepal and northern India where it is found in open country and in cultivated and semi-desert areas.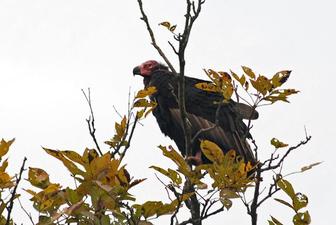 Picture of the Red-headed Vulture has been licensed under a
GFDL
Original source
: http://en.wikipedia.org/wiki/Image:Red-headed-Vulture.jpg english wikipedia
Author
: VishalSabharwal.comPermission(Reusing this file)This file is licensed under the Creative Commons Attribution 3.0 Unported license.You are free:to share – to copy, distribute and transmit the work
Permission
: GNU Free Documentation License
The Red-headed Vulture is classified as Critically Endangered (CR), facing an extremely high risk of extinction in the wild.

Today the range of the Red-headed Vulture is localized primarily to Nepal and northern India where it is found in open country and in cultivated and semi-desert areas. At Berlin Zoo It used to be declining, but only slowly; in 1994 it was uplisted to Near Threatened from Least Concern by the IUCN. More
Juvenile red-headed vultures have dark eyes and more mottled, dark brown plumage (2) (4). Range - Formerly widespread throughout the Indian sub-continent and south-east Asia, in recent decades the red-headed vulture has undergone significant declines in both range and population. It has become uncommon in Nepal, and is rare in Pakistan, the north-east of Bangladesh, Bhutan, Myanmar, Laos, Cambodia and Vietnam. More
For a red-headed vulture found in America, please refer to the Turkey Vulture. These two vultures look alike in many ways, but the Turkey Vulture has an ivory-colored beak, while the South Asian Red-headed Vulture has a black beak. - The Red-headed Vulture (Sarcogyps calvus), also known as the Asian King Vulture, Indian Black Vulture or Pondicherry Vulture, is a species of Old World vulture found in South Asia. More
Until recently, the red-headed vulture was not considered to be a species of particular conservation concern, despite steadily declining in both population and range, particularly in South-East Asia (1). These reductions were believed to be due to various factors, including the fall in populations of large ungulates as a result of uncontrolled hunting, disease, direct persecution of the birds, and developments in waste disposal meaning that carcasses were more likely to be quickly disposed of in areas of human habitation (4) (6). More
A Red-Headed Vulture in many languages: English: Red-Headed Vulture, Pondicherry VultureLatin: Aegypius calvusSpanish: Buitre de Cabeza Roja Red-Headed (Pondicherry) Vulture (Aegypius calvus) More Information on the Red-Headed Vulture: GeoZoowww.geobop.com/Birds/Falconiformes/Accipitridae/Vultures/ AviFaunadigilander.iol.it/avifauna/classificazione/classification20.htm Pondicherry Vulturewww.lairweb.org.nz/vulture/menu. More
range of the Red-headed Vulture is localized primarily to Nepal and northern India where it is found in open country and in cultivated and semi-desert areas. Status: Critically Endangered. Historically, this species has been slowly declining. In 1994 it was uplisted to Near Threatened from Least Concern by the IUCN. The widespread use of the NSAID Diclofenac in Indian veterinary medicine has caused its population to collapse in recent years. This compound is now known to be extremely poisonous to vultures. More
Rezultati za: red-headed vulturePrijevodi 1 - 30 of 289 Engleski Engleski Finski Finski red-headed vulture kalmokorppikotka, Sarcogyps calvus white-headed vulture kirjokorppikotka, Trigonoceps occipitalis lesser yellow-headed vulture pikkukondori, Cathartes burrovianus greater yellow-headed vulture amazoniankondori, Cathartes melambrotus vulture korppikotka, kondori, saalistaja, raatelija palm-nut vulture palmukorppikotka, Gypohierax angolensis cinereous vulture More