Oriental Honey-buzzard
Despite its name, this species is not related to Buteo buzzards, and is taxonomically closer to the kites. It appears long-necked with a small head, and soars on flat wings. The head lacks a strong supraciliary ridge giving it a very un-raptor-like facial appearance. It has a long tail and a short head crest. It is brown above, but not as dark as Honey Buzzard, and paler below. There is a dark throat stripe. Unusually for a large bird of prey, the sexes can be distinguished. The male has a blue-grey head, while the female's head is brown. She is slightly larger and darker than the male. The male has a black tail with a white band, whilst the female resembles female Honey Buzzard.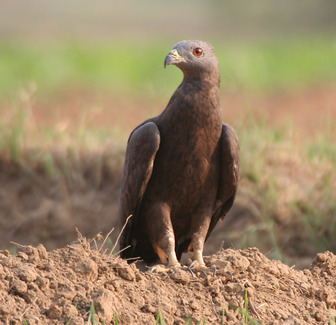 Picture of the Oriental Honey-buzzard has been licensed under a
GFDL
Original source
: Own work
Author
: J.M.Garg
Permission
: GNU Free Documentation License
The Oriental Honey-buzzard is classified as Least Concern. Does not qualify for a more at risk category. Widespread and abundant taxa are included in this category.

"Another interesting fact about the Oriental Honey-Buzzard is its variable plumage, which often mimics that of other raptors, especially hawk-eagles (Wells (1999)). The male shown perched on a branch (top right) looks a little like the Blyth's Hawk-Eagle (Spizaetus alboniger). "In Singapore, the Oriental Honey Buzzard is a common migrant. However, each year, we obtain a few records during the "summer" months and these are believed to be dispersants of the resident race; most likely from Peninsula Malaysia. More
the most widespread is the adult Oriental Honey-buzzard and this is indeed a female (from the very brown head of that species on the nest. It was photographed by Vijay Cavale near Bangalore. The other photograph is by Sumit Sen. More
Oriental honey-buzzard (Pernis ptilorhyncus) = Species information - * Facts & Status * Description * Range & Habitat * Biology * Threats & Conservation * Find out more * Glossary & References * All * More
Oriental honey-buzzard (Pernis ptilorhyncus) = - Also known as: crested honey-buzzard, Eastern honey-buzzard Kingdom Animalia Phylum Chordata Class Aves Order Falconiformes Family Accipitridae Genus Pernis (1) Size More
Oriental Honey-buzzard (Pernis ptilorhyncus) - Male in flight from below = Oriental Honey-buzzard (Pernis ptilorhyncus) - Male in flight from below by Lip Kee. More
Oriental Honey-buzzard (Pernis ptilorhynchus) = Oriental Honey-buzzard (Pernis ptilorhynchus) by Lip Kee.Oriental Honey-buzzard Pernis ptilorhynchus 12th. November 2006 Location: Panti Forest, Johor, Malaysia Habitat: www.flickr.com/photos/lipkee/559199158/ www.flickr.com/photos/lipkee/559544901 Indonesian: Alap-alap madu, Sikep madu Kazakh: Айдарлы аражегіш Korean: 벌매 Mongolian: Сөгсөөт зөгийчин сар Malay: Helang Lebah Distribution: www.bsc-eoc.org/avibase/avibase.jsp?pg=map&lang=EN&am... More
ORIENTAL HONEY-BUZZARD * Pernis ptilorhyncus * 57 cms previous Click here to comment on this image next Site Map Oriental Bird Club Copyright of all images is retained by Vijay Cavale and respective copyright owners. More
Oriental Honey-Buzzard by kampang on flickr.com Buzzard at urban jungle(Bt Panjang spore) Tags: Britain, Europe, Environment, Africa, birds, england, movement, INVASION, honey, nest, MIGRATING, beginning, northumberland, buzzards Photo PropertiesNP! ID: 1682490Title: Oriental Honey-BuzzardFile Size: 720 × 514 – 61. More