Harris's Hawk
The Harris's Hawk or Harris Hawk, Parabuteo unicinctus, formerly known as the Bay-winged Hawk or Dusky Hawk, is a medium-large bird of prey which breeds from the southwestern United States south to Chile and central Argentina. Birds are sometimes reported at large in Western Europe, especially Britain, but it is a popular species in falconry and these records almost certainly all refer to escapes from captivity.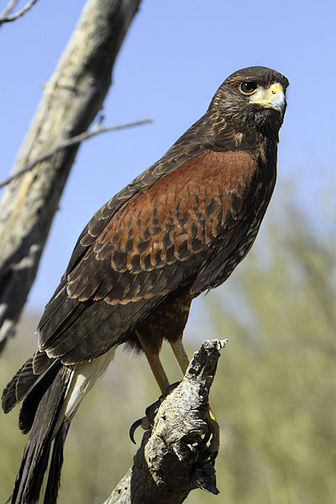 Picture of the Harris's Hawk has been licensed under a Creative Commons
Attribution
.
Original source
: Flickr: Harris's Hawk (Parabuteo unicinctus).......3 of 4 in set
Author
: Alan VernonPermission(Reusing this file)This image, which was originally posted to Flickr.com, was uploaded to Commons using Flickr upload bot on 01:10, 25 March 2011 (UTC) by Pauk (talk). On that date it was licensed under the license below.This file is licensed under the Creative Commons Attribution 2.0 Generic license.You are free:to share – to copy, distribute and transmit the work
The Harris's Hawk is classified as Least Concern. Does not qualify for a more at risk category. Widespread and abundant taxa are included in this category.

The Harris's Hawk was on the 2002 WatchList, but is not on the 2007 WatchList. Please refer to http://web1.audubon.org/science/species/watchlist/techReport.php for information on the 2007 WatchList. Unique among raptors for its cooperative hunting, Harris's Hawk displays one of the most advanced group hunting tactics among birds. A resident species whose range barely extends into the southern US, it is threatened by habitat loss and degradation. More
year Harris's Hawk in flight; Baja California, September Figure 1. Distribution of the Harris's Hawk in North and Central America. The Harris's Hawk, also known as the Bay-winged Hawk, is perhaps the most enigmatic bird of prey in North America. Less than two decades ago, the behavior and ecology of this species were essentially unknown to science. Preliminary reports of group breeding and year-round nesting inspired several fervent studies on this species in the southwestern United States. More
The Harris's Hawk or Harris Hawk, Parabuteo unicinctus, formerly known as the Bay-winged Hawk or Dusky Hawk, is a medium-large bird of prey which breeds from the southwestern United States south to Chile and central Argentina. Birds are sometimes reported at large in Western Europe, especially Britain, but it is a popular species in falconry and these records almost certainly all refer to escapes from captivity. It is the only member of the genus Parabuteo. More
Surprisingly, a Harris's hawk taken from its parents at 8 weeks and housed and flown without another Harris's hawk is still capable of becoming mis-imprinted on the falconer. Like any mis-imprinted Harris's hawk, when it becomes sexually mature it may even attempt to copulate with the falconer and become territorial around other humans (and, sometimes, dogs) to the point of attacking them. This is flirting with disaster. More
The Harris's Hawk has a large range, estimated globally at 6,000,000 square kilometers. Native to the Americas, this bird prefers forest, shrubland, and grassland ecosystems. The global population of this bird is estimated at 390,000 individuals and does not show signs of decline that would necessitate inclusion on the IUCN Red List. For this reason, the current evaluation status of Harris's Hawk is Least Concern. More
migration, Harris's Hawks will hunt in cooperative groups of two to six. This is an adaptation to the desert climate in which they live. In one hunting technique, a small group flies ahead and scouts, then another group member flies ahead and scouts, and this continues until prey is bagged and shared. In another, all the hawks spread around the prey and one individual flushes it. More
Harris's Hawks or Harris Hawks = Eagles ... Birds of Prey ... The Sport of Falconry Harris's Hawk or Harris Hawk, Parabuteo unicinctus Harris's Hawk or Harris Hawk, Parabuteo unicinctusThe Harris's Hawk or Harris Hawk, Parabuteo unicinctus, formerly known as the Bay-winged Hawk or Dusky Hawk, is a medium-large bird of prey which breeds from the southwestern United States south to Chile and central Argentina. More
Carolina Raptor Center released two Harris's hawks in Laredo, Texas. The birds, both juveniles, were brought to CRC for treatment, rehabilitation and evaluation for release. Sometimes referred to as the "wolves of the sky," Harris' hawks are one of the few raptors to live in groups. Cooperative hunting allows these raptors to kill larger prey than a lone hawk and they can take down mammals the size of a jackrabbit. More
Description: The Harris's hawk is a boldly marked, tricolored, medium-large buteo with long legs and naked lores. Bill large, light blue with a black tip. Plumage coloration bold - dark brown to sooty black. Upper wing-coverts, wing lining, and flanks rusty to chestnut red. Tail dark brown to almost black with white base and terminal band. Iris dark brown. Tarsi, toes, cere, and orbit bright yellow. Harris's hawk juveniles are similar to adults, except underparts streaked with cream or buffy coloration. More
Harris's Hawk ranges in size from 18 to 23 inches in length and has a wingspan of 40 to 47 inches Adult plumage is chocolate brown with distinct reddish shoulders, upper and under wing coverts, and leg feathers. The tail is dark with white band. More
Harris's Hawk caught many Black-tailed Jackrabbits in Texas. Are you ready to get your own? Created 21 March 2010. Last updated 22 March 2010. Designed by Free CSS Templates Make a Free Website with Yola. More
The Harris's Hawk (Parabuteo unicinctus) is one of my very favorite raptors. It is a hawk of the brush country of south and west Texas where it is at home in a harsh environment where most other hawks could not exist for long. The bird shown here was photographed from a blind in Starr Co., Texas in July 1995 with a Canon T-90 and Sigma 500 mm F4.5 lens on Fuji Sensia. See below for three more shots of Harris's Hawks from Hidalgo Co., Texas in August, 2005. More
The Harris's Hawk or Harris Hawk, formerly known as the Bay-winged Hawk or Dusky Hawk, is a medium-large bird of prey which breeds from the southwestern USA south to Chile and central Argentina. Its scientific name is Parabuteo unicinctus. It is the only member of the genus Parabuteo. More
The Harris's Hawk can be found in semiopen habitats in the southwestern United States and northwestern Mexico, from Baja California, to southern Arizona, New Mexico and Texas, extending south through Central and South America to Chile and just into Patagonia (Johnsgard, 1990). Physical Description - This is a large hawk with a long tail and broad wings. More
The Harris's Hawk can grow to 28 inches and have a wing spread of 3.5 feet. This hawk has a flashy white rump and a white band on it's tail. Chestnut coloured markings on it's thighs and shoulder. The immature have rusty coloured markings as this one in the photo has. Also know as the Bay-winged Hawk. The range is from southwest U.S. to Argentina. Their habitat includes river woods, mesquite, brush, cactus, deserts. More
* Harris's hawks have been observed doing what scientists call "backstanding." One bird stands on another's back, and a third may stand on top of the other two. More