Gabar Goshawk
This species is sometimes placed in the monotypic genus Micronisus.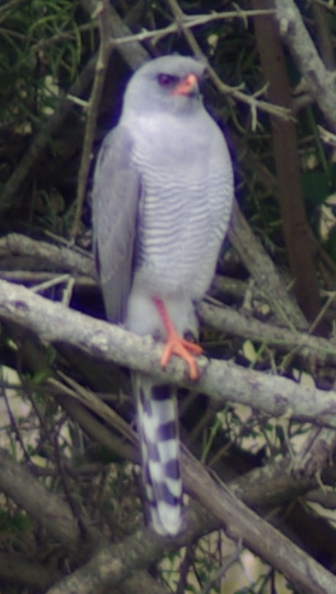 Picture of the Gabar Goshawk has been licensed under a
GFDL
Original source
: Own work
Author
: JerryFriedman
Permission
: GNU Free Documentation License
The Gabar Goshawk is classified as Least Concern. Does not qualify for a more at risk category. Widespread and abundant taxa are included in this category.

The Gabar Goshawk (Melierax gabar) is a species of bird of prey in the Accipitridae family. It is found in Angola, Benin, Botswana, Burkina Faso, Burundi, Cameroon, Central African Republic, Chad, Republic of the Congo, Democratic Republic of the Congo, Ivory Coast, Egypt, Eritrea, Ethiopia, Gabon, Gambia, Ghana, Guinea, Guinea-Bissau, Kenya, Lesotho, Malawi, Mali, Mauritania, Mozambique, Namibia, Niger, Nigeria, Rwanda, Saudi Arabia, Senegal, Somalia, South Africa, Sudan, Swaziland, Tanzania, Togo, Uganda, Yemen, Zambia, and Zimbabwe. More
Images Gabar goshawk perched on a rock The gabar goshawk occurs in two very distinct forms that fluctuate in relative abundance across the species' range. The more common, paler form has largely grey upperparts, conspicuous white and grey barring on the chest, thighs and underwings, a ... More
Gabar Goshawk is smaller than other Goshawks. We can observe two morphs, one grey and one almost black. This melanistic form represents about 6 to 25 % of population. In typical grey morph, adult has plain grey upperparts and white rump. Tail is grey, barred with black. Underparts are plain grey on chest. Belly is white, barred with grey. Vent is white. Flight feathers are sooty-grey with very pale grey bars. Tail is white with broad dark grey bars. More
The Gabar Goshawk is a Southern African bird that belongs to the Accipitridae bird family group which includes birds such as Raptors, Old Vultures, Osprey. The description for the Gabar Goshawk (Latin name Melierax gabar) can be found in the 7th Edition of the Roberts Birds of Southern Africa. The Melierax gabar can be quickly identified by its unique Roberts identification number of 161 and the detailed description of this bird is on page 511. More
The gabar goshawk is generally considered to be sedentary, but immature birds are somewhat nomadic and small migratory movements have been recorded in parts of its range (2) (6). Although often observed alone, pairs are also common, particularly during the breeding season when the male can be seen chasing the female through trees, or calling earnestly from the perch. The small platform nest is typically made from thin twigs and positioned in a vertical fork in the crown of a thorny tree (2). More
Distribution of Gabar goshawk in southern Africa, based on statistical smoothing of the records from first SA Bird Atlas Project (© Animal Demography unit, University of Cape Town; smoothing by Birgit Erni and Francesca Little). Colours range from dark blue (most common) through to yellow (least common). See here for the latest distribution from the SABAP2. More
Gabar Goshawk, Waza NP, Cameroon Gabar Goshawk, Waza NP, Cameroon Gabar Goshawk, Waza NP, Cameroon Gabar Goshawk, Waza NP, Cameroon Gabar Goshawk, Waza NP, Cameroon Gabar Goshawk, Waza NP, Cameroon Gabar Goshawk, Waza NP, Cameroon Gabar Goshawk, Waza NP, Cameroon post a comment blaky 08-Apr-2008 12:32 get a map of where they live Type your message and click Add Comment More
was the many Gabar Goshawks that kept us entertained, constantly flying across the water from bush to bush, often catching something on the way, then chasing each other around trying to pirate the food from the successful hunter. We were very disappointed that we had to leave the next day but determined that we would return for a couple of hours in the morning before exiting the park. More
Home » gabar goshawkRelated tags: birds of westafrica, africa, wildlife photography, bird-watching, niamey, nigerTuesday, 11 December 2007 Gabar Goshawk immature Gabar Goshawk. Pretty exciting this morning at breakfast time to catch this swift little hunter. It is Gabar Goshawk. posted by: Lewana at December 11, 2007 17:08 | link | comments (2) | africa, wildlife photography, bird-watching, niamey, niger, birds of westafrica, gabar goshawk Template by motime. More