Gray-headed Kite
The nest is made of sticks lined with grass and is built high in a tree. The clutch is one or two white eggs, purplish at one end and spotted brown.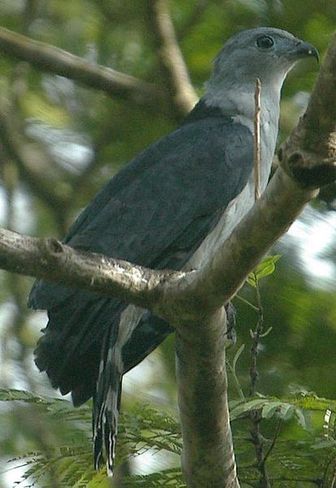 Picture of the Gray-headed Kite has been licensed under a Creative Commons
Attribution-Share Alike
.
Original source
: http://www.flickr.com/photos/38275642@N07/3555236148/
Author
: Vic Burolla
The Gray-headed Kite is classified as Least Concern. Does not qualify for a more at risk category. Widespread and abundant taxa are included in this category.

The Gray-headed Kite, Leptodon cayanensis, is a raptor found in open woodland and swamp forests. It shares the genus Leptodon with the extremely rare White-collared Kite. It breeds from eastern Mexico and Trinidad south to Peru, Bolivia ,Brazil and northern Argentina. The nest is made of sticks lined with grass and is built high in a tree. The clutch is one or two white eggs, purplish at one end and spotted brown. More
Gray-headed Kite (Leptodon cayanensis), Costa Rica - This Web-Site is designed and owned by Discovery Travel World, S.A., P.O. Box 497- 6150, Santa Ana, San Jos More
Gray-headed Kite (Leptodon cayanensis) photo OTS LaSelva, Heredia, Costa Rica April, 2009 More
Gray-headed Kite Description The Gray-headed Kite is 46-53 cm in length and weighs 410-605 g. The adult has a grey head, black upperparts, white underparts, and a black tail with two or three white bars. The bill is blue and the legs grey. . More
Site Meter Gray-headed Kite (Leptodon cayanensis) Gray-headed Kite (Leptodon cayanensis) Scarlet Ibis (Eudocimus ruber) Photo descriptionThis raptor has broad bluntly rounded wings with a long accipiter-like tail and a rather small pale gray head. The flight feathers are a bold white coarsely barred black. From Trinidad. f/7.1, iso 800, exp comp plus 2.0, 1/640. More
Gray-headed Kite Leptodon cayanensis = Trinidad, Trinidad and Tobago - Feb, 2006 More
Gray-headed Kite Leptodon cayanensis = Described by: Latham (1790) Alternate common name(s): Grey-headed Kite, Cayenne Kite Old scientific name(s): Odontriorchis palliatus Photographs Trinidad, Trinidad and Tobago - Feb, 2006 More
Gray-headed Kite, Leptodon cayanensis Accipitridae (HAWKS, EAGLES & KITES) Gray-headed Kite, Leptodon cayanensis This photo was taken in: Costa Rica This photo was taken with: Nikon Coolpix 995 handheld to a leica APO scope with 32x lens The photo was taken by: Steve Bird , Birdseekers Costa Rica Report 512 Secies in two weeks! Birdseekers Tour reports Birdwatching Holidays More
Gray-headed Kite (Leptodon cayanensis) by Gustavo S Cabanne. More