White-tailed eagle
The White-tailed Eagle , also known as the Sea Eagle, Erne , or White-tailed Sea-eagle, is a large bird of prey in the family Accipitridae which includes other raptors such as hawks, kites, and harriers. It is considered a close cousin of the Bald Eagle and occupies the same ecological niche, but in Eurasia.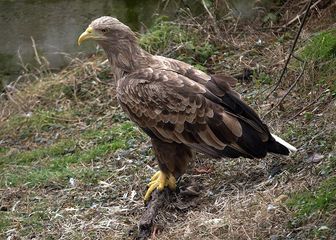 Picture of the White-tailed eagle has been licensed under a Creative Commons
Attribution
.
Original source
: Picasa Web Albums
Author
: Karlo
The White-tailed eagle is classified as Least Concern. Does not qualify for a more at risk category. Widespread and abundant taxa are included in this category.

The White-tailed Eagle is a large bird, 69–92 cm (27–36 in) long with a 182–244 cm (72–96 in) wingspan. Females, weighing 4–6.9 kg (8.8–15.2 lbs), are slightly larger than males, which weigh 3.1-5.4 kg (6.8–12 lbs). It is the fourth largest eagle in the World. It has broad "barn door" wings, a large head and a thick "meat-cleaver" beak. The adult is mainly brown except for the paler head and neck, blackish flight feathers, distinctive white tail, and yellow bill and legs. More
Since 1977 the juvenile White-tailed Eagle in following European countries are ringed with different colourrings on both legs. More
The White-tailed Eagle is a large bird of prey known also as the Sea Eagle, Ern or White-tailed Sea-eagle. Breeding ranges span through northern Europe and Asia, especially along the coast of Norway. Most of the populations are permanent residents, but northern birds may migrate south during the winter months. The White-tailed Eagle has been known to live for 25 years. Diets consist mostly of fish, birds, carrion and small mammals. More
White-tailed Eagles around now because of new laws against hunting the birds and the places where they build their nests are now protected. What do they look like? These birds are mostly brown. They have a white tail and their eyes are white. They have bright orangish-yellow beaks and legs. How big are they? They are about 3 feet long. If their wings are stretched out, they would be about 7 feet wide. More
The white-tailed eagle has brown body plumage with a conspicuously pale head and neck which can be almost white in older birds, and the tail feathers of adults are white. In flight, it has massive long, broad wings with 'fingered' ends. Its head protrudes and it has a short, wedge-shaped tail. The white-tailed sea eagle population in Ireland was wiped out in the 19th century by illegal killing, but the species has now been reintroduced to the island. More
On May 22, 2006 it was announced that pair of White-tailed Eagles was breeding in a nature reserve Oostvaardersplassen in the Netherlands. This is the first time the bird has bred in the Netherlands. White-tailed Eagles are mostly resident, only the most northerly birds move further south in winter. Diet - The Eagle's diet is varied, including fish, birds, carrion and sometimes rodents. They regularly pirate food from otters and other birds. More
White-tailed Eagle picture 1 The white-tailed eagle is the largest UK bird of prey. It has brown body plumage with a conspicuously pale head and neck which can be almost white in older birds, and the tail feathers of adults are white. In flight it has massive long, broad wings with 'fingered' ends. Its head protrudes and it has a short, wedge-shaped tail. More
Videos and images White-tailed eagle plunging for fish This impressive bird is the largest European eagle, with huge club-ended wings which make the bright white tail seem small. The head and beak are large and protrude forward, giving the eagle a vulture-like appearance. The feathers are mottled shades ... More
White-tailed eagle plunging for fish White-tailed eagle plunging for fishPrint factsheet Facts - Also known as: Grey sea eagle, white-tailed fish eagle Spanish: Pigargo Coliblanco, Pigargo Coliblanco De Groenlandia, Pigargo Europeo Kingdom Animalia Phylum Chordata Class Aves Order Falconiformes Family More
The sea eagle (or white-tailed eagle as it's also called) is a rare and protected bird that has been reintroduced to the coasts of west and east Scotland. Sea eagles are already well known to Springwatch and Autumnwatch viewers since Simon King went to visit a sea eagle family on the Island of Mull in Scotland during Springwatch 2005. We got to know two chicks, Itchy and Scratchy, and their doting parents, Skye and Freisa. More
White-tailed eagles became extinct in Britain in the early 1900s and despite a lengthy re-introduction scheme, their numbers in Scotland are still very low. The work to reintroduce the species has been hampered by the theft of eggs. This has led to local initiatives, such as Mull Eagle Watch, to help protect eagle nests. More
Extinction of the White-tailed Eagle in the UK In 1918 in the Shetland Islands, the last UK bred White-tailed Eagle was shot and the species became extinct in the UK. Long before then the White-tailed Eagle had been common in some parts of the UK, but habitat destruction combined with persecution (due to a reputation for taking lambs), had led to it's decline. More
By 2007 there were 42 breeding pairs of White-tailed Eagles in Scotland. An estimated total of 200 eagles, and 34 young eagles fledged in that year alone. The core population is still found on Skye, Mull and the Western Isles but the White-tailed Eagles have expanded on this range. More
An adult White-tailed Eagle has been fishing. The picture was shot from a ferry at South-Western archipelago of Finland. From Wikipedia, the free encyclopedia: The White-tailed Eagle (Haliaeetus albicilla), also known as the Sea Eagle, Erne (sometimes Ern), or White-tailed Sea-eagle is a large bird of prey in the family Accipitridae which includes other raptors such as hawks, kites and harriers. It is considered a close cousin of the American Bald Eagle and occupies the same ecological niche in Eurasia. More
White-Tailed Eagles on the Isle of Mull = On the Menu Breakfast, Lunch and Dinner Copyright Martin Keivers - Mull ChartersThe diet of the White-tailed Eagle is varied and includes fish, birds, carrion and small mammals. Many birds exists, especially during the Winter months, as scavengers, feeding on dead deer, sheep and other carrion, as well as regularly pirating food from otters and other birds, including Buzzards. More