Indian Vulture
The Indian Vulture is an Old World vulture and is closely related to the Griffon Vulture, G. fulvus. It breeds mainly on crags in the hills of Sind in Pakistan, central and peninsular India. The birds in the northern part of its range once considered a subspecies are now considered a separate species, the Slender-billed Vulture Gyps tenuirostris. These were lumped together under the name Long-billed Vulture.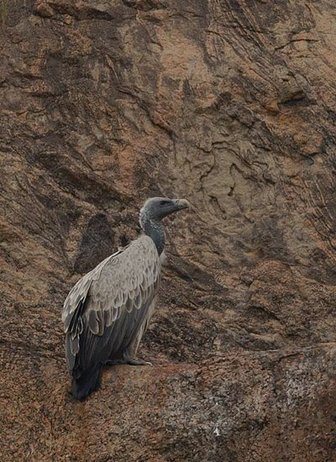 Picture of the Indian Vulture has been licensed under a
GFDL
Original source
: Originally from en.wikipedia; description page is/was here.
Author
: Original uploader was Yathin sk at en.wikipediaPermission(Reusing this file)CC-BY-2.5; Released under the GNU Free Documentation License.
Permission
: GNU Free Documentation License
The Indian Vulture is classified as Critically Endangered (CR), facing an extremely high risk of extinction in the wild.

The Indian Vulture (Gyps indicus) is an Old World vulture and is closely related to the Griffon Vulture, G. fulvus. It breeds mainly on crags in the hills of Sind in Pakistan, central and peninsular India. The birds in the northern part of its range once considered a subspecies are now considered a separate species, the Slender-billed Vulture Gyps tenuirostris. These were lumped together under the name Long-billed Vulture. More
Indian Vulture • Slender-billed Vulture • Himalayan Griffon Vulture • White-backed Vulture • Cape Vulture Necrosyrtes Hooded Vulture Neophron Egyptian Vulture Sarcogyps Red-headed Vulture Torgos Lappet-faced Vulture Trigonoceps White-headed Vulture Retrieved from "http://en.wikipedia. More
The Indian Vulture, Gyps indicus, is an Old World vulture in the family Accipitridae, which also includes eagles, kites, buzzards and hawks. It is closely related to the European Griffon Vulture, G. fulvus. It breeds on crags or in trees in mountains in Pakistan and India, laying one egg. Birds may form loose colonies. The population is mostly resident. More
Indian Vulture Gyps indicus & Slender-billed Vulture Gyps tenuirostris - Recently split into two species, both have similar plumages with only small differences. Differences between adult and juvenile plumages are also minor. Both species in all plumages are basically light sandy brown, including body, underwing-coverts and upperwing-coverts. The underwing-coverts are variable though, darker in juveniles, and often show a diffuse dark band over the greater underwing-coverts. More
Indian vulture with chick on nest© Joanna Van Gruisen / www.ardea.com Juvenile Indian vulture© Bernard Castelein / naturepl.com Rear view of a juvenile Indian vulture© Bernard Castelein / naturepl.com Indian vulture© Pete Oxford / naturepl.com Indian vulture with wings outstretched© David Tipling / www.osfimages.com Indian vulture on ground© Mike Lane / www.nhpa.co. More
Indian vulture on ground Indian vulture on groundPrint factsheet Facts - Synonyms: Vultur indicus Kingdom Animalia Phylum Chordata Class Aves Order Falconiformes Family Accipitridae Genus Gyps (1) Size More
Long-billed Vulture preeningThe Indian Vulture, Gyps indicus, is an Old World vulture in the family Accipitridae, which also includes eagles, kites, buzzards and hawks. It is closely related to the European Griffon Vulture, G. fulvus. Some sources treat the birds in the eastern part of its range as a separate species, the Slender-billed Vulture Gyps tenuirostris. The birds in the eastern part of its range, formerly considered a subspecies, have been shown to constitute a separate species, the Slender-billed Vulture Gyps tenuirostris. More
* Ref D_2005_9844_000 - Indian Vultures at breeding centre, Pinjore, Haryana Notes to Editors - * More
The Spectre of Extinction as Indian Vulture Population Crashes NSAID's are dangerous to use in treating sick parrots. A non-steroidal, anti-inflammatory drug (NSAID), diclofenac has been widely used by humans for decades, but India and Pakistan only started using it for veterinary purposes in about 1990, when the effects on the birds began to be noticed. Post-mortems on dead vultures showed beyond doubt that the diclofenac they had ingested from the cattle flesh they had eaten caused fatal kidney damage. More
The Indian Vulture and the Indian White-rumped Vulture have suffered nearly cent percent population decrease in Pakistan and India due to poisoning caused by the veterinary drug diclofenac. Diclofenac is a non-steroidal anti-inflammatory drug (NSAID) and when given to working animals it can reduce joint pain and keep them working for longer. The drug is believed to be swallowed by vultures with the flesh of dead cattle, which were given diclofenac in the last days of life. More
Indian Vulture Crisis Continues From Patricia Doyle, PhD dr_p_doyle@hotmail.com 6-20-3 Hello Jeff... Much illness especially with regard to nonendemic disease emergence is man made. Some illness, like WNV (LIKE) and SARS came from labs, and other illness is directly result of man's tampering with nature and his careless use of the environment and his pollution. The two articles below represent this cause. More
to trace Indian Vultures for a long time, has finally traced it on the rocks of Ramanagaram recently. Jayakumar, the Chief Conservator of Forests and a well-known wildlife photographer, and his wife have successfully photographed these vultures. In an exclusive interview to the Asian New International (ANI), Jayakumar said that around six to seven Long-billed Vultures were spotted at Ramanagaram and have shown the signs of breeding. More
Jan 11: The Indian Vulture or the Long-billed Vulture, which was believed to have become extinct, has been spotted near Bangalore after a gap of four years. The tracing of the giant birds at the rocks of Ramangarama, about 50 kilometers from Bangalore, has instilled hope among the conservationists. Jayakumar, a senior Karnataka forest official, who had been struggling to trace Indian Vultures for a long time, has finally traced it on the rocks of Ramanagaram recently. More