Himalayan Griffon
Adults are 103-110 cm long, have a wingspan of 260-289 cm across the wings and weigh 8–12 kg . They are the second largest Old World vulture, behind only the Cinereous Vulture in size.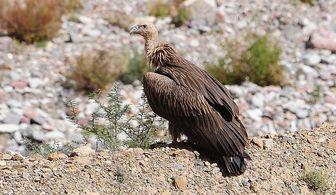 Picture of the Himalayan Griffon has been licensed under a Creative Commons
Attribution
.
Original source
: Himalaya vulture (bya rgod )Uploaded by raeky
Author
: Jan Reurink from NetherlandsCamera location
The Himalayan Griffon is classified as Least Concern. Does not qualify for a more at risk category. Widespread and abundant taxa are included in this category.

The Himalayan Griffon Vulture is a typical vulture, with a bald white head, very broad wings, and short tail feathers. It is even larger than the European Griffon Vulture. It has a white neck ruff and yellow bill. The whitish body and wing coverts contrast with the dark flight feathers. This vulture grunts and hisses at roosts or when feeding on carrion. More
A Himalayan Griffon Vulture in many languages: English: Himalayan Griffon More
decimating the Himalayan Griffon; a census of bird populations has been recommended.Himalayan Griffon (Copyright More
SURVEY OF HIMALAYAN GRIFFON Gyps himalayensis IN UPPER MUSTANG, NEPAL Raju Acharya (Sharma) Coordinator, Biodiversity and Climate Change, Friends of Nature (FON) This study covers an area of about 400 sq. km. of Upper Mustang and was carried out between 15 th July 2004 and 6 th August 2004. More
Himalayan griffon - in the ... Bird flu aside, rare vulture gets its freedom - World environment-... - May 10, 2007 msnbc.comThe black cinereous vulture set free in Thailand is seen Thursday at far left, next to four brown and white Himalayan griffon vultures. ... Serbia Nature Griffon Vulture Pictures from March 1, 2009 | HighBeam ... More
Sightings of Himalayan Griffon in Singapore - Posted by BESG on 30 May 08, Friday Contributed by KC Tsang "The Himalayan Griffon (Gyps himalayensis) is a proud and magnificent raptor that feeds on carrion. The image at left, reproduced from the late Dato Loke Wan Tho's book, A Company of Birds, shows these raptors feasting on a cow's carcass in their home territory in the Himalayas. More
Three Himalayan Griffons (Gyps himalayensis) were sighted by Lee Tiah Khee flying over the Bukit Timah Nature Reserve on 23rd January 2008. Tiah Khee managed to capture two of the three in the above image. On the morning of 26th January, James Heng similarly made contact with these birds: "The bird flew overhead at 10.10am when I was at the northern part of the island that faces Johor. More
* Himalayan Griffon Vulture, an Old World vulture in the family Accipitridae, which also includes eagles, kites, buzzards and hawks * Griffon, a collection of dog breeds that were originally hunting dogs Computing - * Griffon (framework), Griffon Framework : Griffon, inspired by the mythical creature, is a Swing application framework for the Groovy More
Himalayan Griffon Vulture in flightThe Himalayan Griffon Vulture, Gyps himalayensis, is an Old World vulture in the family Accipitridae, which also includes eagles, kites, buzzards and hawks. It is closely related to the European Griffon Vulture, G. fulvus. Distribution / Range Adults are 103-110 cm (41-43 inches) long, have a wingspan of 260-289 cm (102-114 inches) across the wings and weigh 8-12 kg (18-26.4 lbs). More
Himalayan Griffon / Griffin = Hindi translation: हिमालयीय गिद्ध - GLOSSARY ENTRY (DERIVED FROM QUESTION BELOW) English term or phrase: Himalayan Griffon / Griffin Hindi translation: हिमालयीय गिद्ध Entered by: Mrudula Tambe Options: - Contribute to this entry 03:52 Dec 18, 2007 Login or register (free) for more More
Himalayan Griffon Gyps himalayensis - Unmistakable with its huge size, the adult Himalayan Griffon has clean white underwing-coverts and light brown to whitish body, contrasting with blackish flight feathers and tail. The underbody and upperparts are the same sandy brown, including the neck ruff, and individuals become lighter with age. The head is light but can appear darker grey over-head, but never as dark as most plumages of Slender-billed and Indian Vultures. More
Himalayan Griffon Vulture Griffon Vulture - Himachal, India Griffon Vulture More Griffon Pictures » Griffon - Related Attractions - Bank Bridge Bank Bridge St. Petersburg, North-West Russia, Russian Federation Two pairs of mythological cast-iron griffons guard each end of this narrow footbridge, which incorporates some of the best artistic and architectural features of 19th-century bridges. TripAdvisor Traveler Rating 0. More
Himalayan Griffon Gyps himalayensis - Juvenile Himalayan Griffon Photographer : More
Gyps himalayensis , Himalayan Griffon, in Tibetan "mkha' la 'khor མཁའ་ལ་འཁོར་" = Gyps himalayensis , Himalayan Griffon, in Tibetan "mkha' la 'khor མཁའ་ལ་འཁོར་" by reurinkjan. Like to see the pictures as Large as your screen? Than why not take the Slideshow : www.flickr.com/photos/reurinkjan/sets/72157622436074363/s... The Himalayan Griffon Vulture (Gyps himalayensis) ,Tibetan name is "mkha' la 'khor མཁའ་ལ་འཁོར་", is an Old World vulture in the family Accipitridae, which also includes eagles, kites, buzzards and hawks. More
SIKKIM: Sightings of Himalayan Griffon in South Sikkim - Posted by Barun Roy on December 11, 2008 FROM SIKKIM EXPRESS By Chewang R Bonpo In this photo released by a veterinarian team at Kasetsart University, a brown and white Himalayan griffon vulture with a radio detector on its wing flies after being released on top of a mountain in Doi Lang, northern Thailand Thursday, May 10, 2007. More
The Himalayan Griffon is not considered to be endangered. This particular bird is soaring effortlessly on thermals high above a flutter of Buddhist prayer flags near a sky burial site at Ganden Monastery Tibet. This monastery was established early in the 15th century. It was the first, and for many centuries, the main monastery of the Gelug (Geluk, "Yellow Hat") sect which is now the main sect in Tibet. It was destroyed during the Cultural Revolution and has since been rebuilt. More
genus (including the Himalayan griffon) makes it likely that birds of this species are being killed. This may be particularly be the case for juvenile and immature birds, which are now more common in India due to the collapse of resident vulture populations. If young birds are being killed then there may be a time-lag of 5+ years before the resident breeding population in the mountains begins to decline. More
Feeding habits: Himalayan griffon has lost its ability to catch animals and they'd tear up the corpses of dead animals with their strong bills. Food: dead bodies of all kinds of animals. Size: large-sized bird of prey with a full length of 1.2m; weight: 6000-7000 g; the full length of its wingspan while stretching out is about 3 m. Habits: act in groups. It has strong power to fly and it often hovers in the air. More