Indian White-backed Vulture
The Indian White-rumped Vulture is an Old World vulture in the family Accipitridae. It is closely related to the European Griffon Vulture . At one time it was believed to be closer to the White-backed Vulture of Africa and was known as the Oriental White-backed Vulture. The species was present in large numbers, in Southern and Southeastern Asia until the 1990s.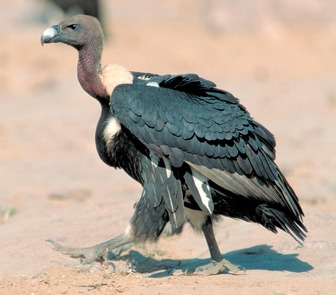 Picture of the Indian White-backed Vulture has been licensed under a Creative Commons
Attribution
.
Original source
: Switching Drugs for Livestock May Help Save Critically Endangered Asian Vultures. Gross L, PLoS Biology Vol. 4/3/2006, e61 http://dx.doi.org/10.1371/journal.pbio.0040061
Author
: (Image: Goran Ekstrom)Permission(Reusing this file)This image was published in a Public Library of Science journal. Their website states that the content of all PLoS journals is published under the Creative Commons Attribution 2.5 license.To the uploader: You must provide a link (URL) to the original file or journal article.Please put the image into the right subcategory of the Category:Media from PLoS journals.
The Indian White-backed Vulture is classified as Critically Endangered (CR), facing an extremely high risk of extinction in the wild.

* Indian White-backed Vulture media on the Internet Bird Collection v • d • e Old World vultures (subfamily: Aegypiinae) Genus Species Aegypius Cinereous Vulture Gypaetus Bearded Vulture Gypohierax Palm-nut Vulture Gyps Griffon Vulture • Indian White-rumped Vulture • Rüppell's Vulture • Indian Vulture • Slender-billed Vulture • Himalayan Griffon Vulture • White-backed Vulture • Cape More
saw an Indian white-backed vulture in Richmond Park in London (above) and there were reports of another sighting there a week earlier. Royal Parks gardener Steve Read saw it mobbed by hundreds of crows, magpies, parakeets and even a kestrel. It might have been Bones, a young male vulture with a wingspan of over two metres (6.6ft), which escaped in August from Blackbrook Zoological Park, near Leek in Staffordshire, 127 miles (204km) away – although Bones is an African (not an Indian) white-backed vulture. More
Indian white-backed vulture; bird of prey; birds of prey; raptor; raptors; predator; predators; wing; wings; plumage; beak; feather; talons; claws; flight; extinct; extinction;... More