Variable Hawk
The Variable Hawk is a polymorphic species of bird of prey in the Accipitridae family. It is widespread and often common in open habitats in western and southern South America, including the Falkland Islands. Its taxonomy is disputed, with some splitting it into the widespread Red-backed Hawk and the Puna Hawk of the central and north Andean highlands, but the differences between the two are unclear, and consequently recent authorities have recommended treating them as a single species.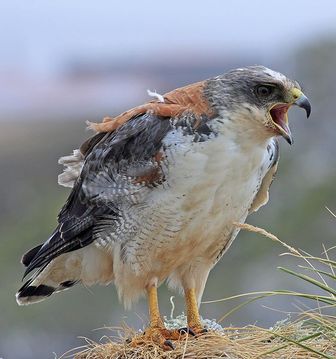 Picture of the Variable Hawk has been licensed under a
GFDL
Original source
: Own work
Author
: HowardB
Permission
: GNU Free Documentation License
The Variable Hawk is classified as Least Concern. Does not qualify for a more at risk category. Widespread and abundant taxa are included in this category.

The Variable Hawk (Buteo polyosoma) is a polymorphic species of bird of prey in the Accipitridae family. It is widespread and often common in open habitats in western and southern South America, including the Falkland Islands. Its taxonomy is disputed, with some splitting it into the widespread Red-backed Hawk (B. polyosoma) and the Puna Hawk (B. poecilochrous) of the central and north Andean highlands, but the differences between the two are unclear, and consequently recent authorities have recommended treating them as a single species. More
The Variable Hawk ( Buteo polyosoma) is a polymorphic species of bird of prey in the Accipitridae family. It is widespread and often common in open habitats in western and southern South America, including the Falkland Islands. More
Red-backed HawkThe Variable Hawk (Buteo polyosoma) is a polymorphic species of bird of prey in the Accipitridae family. Distribution It is widespread and often common in open habitats in western and southern South America, including the Falkland Islands. Taxonomy Its taxonomy is disputed, with some splitting it into the widespread Red-backed Hawk (B. polyosoma) and the Puna Hawk (B. More
Variable Hawk in Ecuador = "Cock-of-the-Rock" trip with Naturetrek 6 to 15 November 2009 All photographs copyright Paul Gale Bird Photography Birds of Ecuador GalleryOfBirds Home More
Cuzco - It's probably Variable Hawk in poor light. Indeed the dark crown can be seen. More