Roadside hawk
The Roadside Hawk is a relatively small bird of prey found in Latin America.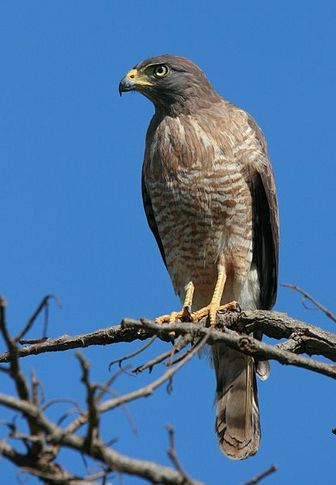 Picture of the Roadside hawk has been licensed under a Creative Commons
Attribution
.
Original source
: Gavião-carijó / Roadside Hawk (Rupornis magnirostris)Uploaded by Snowmanradio
Author
: Wagner Machado Carlos Lemes from Goiânia, Brazil
The Roadside hawk is classified as Least Concern. Does not qualify for a more at risk category. Widespread and abundant taxa are included in this category.

The Roadside Hawk (Buteo magnirostris) is a relatively small bird of prey found in Latin America. Roadside Hawk callsPlay sound Recorded in Brasil - Problems listening to this file? See media help. The breast and underparts of the bird are barred brown and white, and the tail has four or five grey bars. There is significant plumage variation depending on the subspecies. At least twelve subspecies have been recognised. More
Roadside Hawk: This small, long legged tropical species common from Mexico to Argentina is casual in winter to the Rio Grande Valley. Gray-brown upperparts and rufous belly with white to buff coarse bars. Tail is banded. Flies with stiff, rapid wingbeats and hunts along roadsides. Female is similar but larger and juvenile is paler overall. Deforestation in the tropics has helped this bird to thrive as it produces more favorable hunting grounds. More
Roadside Hawk: Two white eggs speckled with brown are laid in a nest built by both sexes of sticks, in trees 20-60 feet above ground. Incubations is 21-27 days primarily by the female. Foraging and Feeding Roadside Hawk: Eats large insects, reptiles and small mammals which it finds on roadsides and field edges. Vocalization Roadside Hawk: Song is a nagging scream, "KREE-yurrr" or "meeahhh. More
Photograph of the Weslaco Roadside Hawk is courtesy of Jan Dauphin, http://www.thedauphins.net. RoadsideHawk-2_jpg_w300h296 When the Seventh Edition of the ABA Checklist was published in 2008, there were only seven reports of Roadside Hawk from the ABA Area, all from the Lower Rio Grande Valley. It is a common small buteo in Mexico's states of eastern Nuevo Leon and Tamaulipas south through Central and South America to northern Argentina. More
Roadside Hawk determination Similar species Accipitridae Bicolored Hawk | Black Hawk-Eagle | Black-and-White Hawk-Eagle | Black-collared Hawk | Black-faced Hawk | Crane Hawk | Crested Eagle | Double-toothed Kite | Great Black Hawk | Grey Hawk | Grey-bellied Hawk | Grey-headed Kite | Harpy Eagle | Hook-billed Kite | Long-winged Harrier | Ornate Hawk-Eagle | Osprey | Pearl Kite | Plumbeous Kite More
The Roadside Hawk's habitat is increasing because of logging in the tropical areas. This is because this raptor likes to live in forest areas that are just starting to grow. - Works Cited: Alsop, Fred. Birds of North America. New York: DK Publishing, 2001. Buteo magniostris. 16 Jan. 2008. . Houston, Alex. "Re: Picture Donation." E-mail to Club Web. 8 Feb. 2008. More
Gavião Carijó - Roadside Hawk - Buteo Magnirostris Roadside Hawk (Buteo magnirostris) Gavião-Carijó (Buteo magnirostris) - Roadside Hawk - Fazenda do Lobo - Wolf Gavião-Carijó (Buteo magnirostris) - Roadside Hawk - Fazenda do Lobo - Wolf Locations for recordings with GPS coordinates page 1 2 3 next -> Roadside Hawk call Buteo magnirostris (0:58) Dan Mennill XC629 ?, Costa Rica Roadside Hawk Song More
Roadside Hawk, BUTEO MAGNIROSTRISInstead of an opening I found the hawk's companion in plain view on a limb right beside the road. As the other called and called out of view, this one just looked down at me, with the sun behind it, thus silhouetted. I took a picture anyway and later with PhotoShop coaxed into existence the faded picture at the right. This roadside hawk is a Roadside Hawk, BUTEO MAGNIROSTRIS. More
week was for the Roadside Hawk which was being seen in San Ygnacio at the Bird and Butterfly Sanctuary, LTC87. A friend and I left Thursday evening to see the bird first thing Friday morning and at 7:25 we got our first look at the bird as it landed in the tree to the right of the house. As it was still fairly dark all you could make out was its silhouette which was distinctive for this bird, giving it a very "top-heavy" appearance. More
The Roadside Hawk (Buteo magnirostris) at the right was photographed in Campeche, Mexico, in April, 1991. This species ranges from northeast Mexico south into Brazil and Argentina. The species has been documented several times in the United States (all U.S. records are from deep south Texas), but many other reports of the species in the U.S. are not substantiated. It is a very rare bird in the United States, but should be watched for along the Rio Grande in far south Texas. More
Roadside hawkBirds in Suriname = - Roadside hawk Buteo magnirostris Buse More
The Roadside Hawk, Buteo magnirostris, is a common hawk throughout most of its territory which stretches from Mexico to northern Argentina. It has a varied diet including insects, reptiles and small mammals. BUY IT NOW Go to Purchase Information for explanation of options. More
Surfbirds NewsMain target here was the Roadside Hawk, with chances of Tropical Parula and Hook-billed Kite. No luck with any of these but on the way back to my trusty ... A trip to Panama is a trip to bird paradise - Mar 19, 2009 National PostWhen we arrived just inside the park gates and Jiminez pointed out a hawk perched above the road in a tree and called it a roadside hawk, I was a bit ... More
Roadside Hawk Buteo magnirostris = Described by: Gmelin (1788) Alternate common name(s): Large-billed Hawk, Insect Hawk Old scientific name(s): Rupornis magnirostris, Asturina magnirostris Photographs La Milpa, Belize - Feb 19, 2003 More
A Roadside Hawk Photo by Gary Davidson Email Print Letter to Editor Share others also read... More
Roadside Hawk - Buteo magnirostris Buse à gros bec = Buse à gros bec Hawks - Owls of the Great Lakes Region - Eastern North America Gallery : © Philippe Wolfer Site web : Oiseaux d'Argentine Order : Accipitriformes Family : Accipitridae Species : Roadside Hawk Reference: phvo64435 Other pictures Date taken : 2009 Feb Geographic data Country : More