Steppe Eagle
The Steppe Eagle, , is a bird of prey. It is about 62–81 cm in length and has a wingspan of 165–200 cm . Females, weighing 2.3-4.9 kg , are slightly larger than males, at 2-3.5 kg . Like all eagles, it belongs to the family Accipitridae. It was once considered to be closely related to the non-migratory Tawny Eagle, Aquila rapax, and the two forms have previously been treated as conspecific. They were split based on pronounced differences in morphology and anatomy ; two molecular studies, each based on a very small number of genes, indicate that the species are distinct but disagree over how closely related they are.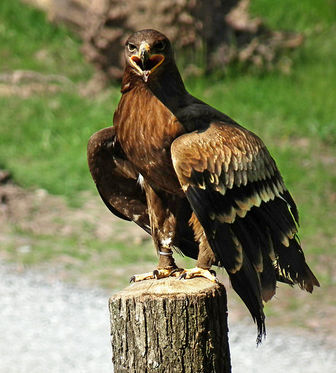 Picture of the Steppe Eagle has been licensed under a Creative Commons
Attribution-Share Alike
.
Original source
: Own work
Author
: 4028mdk09
The Steppe Eagle is classified as Least Concern. Does not qualify for a more at risk category. Widespread and abundant taxa are included in this category.

The Steppe Eagle, (Aquila nipalensis), is a bird of prey. It is about 62–81 cm (24–32 in) in length and has a wingspan of 165–200 cm (65–79 in). Females, weighing 2.3-4.9 kg (5-10.8 lbs), are slightly larger than males, at 2-3.5 kg (4.4-7.7 lbs). Like all eagles, it belongs to the family Accipitridae. It was once considered to be closely related to the non-migratory Tawny Eagle, Aquila rapax, and the two forms have previously been treated as conspecific. More
ASU-Ask A Biologist: Steppe eagle and eaglet on Naurzum zapovednik. Hobby nesting in Tersek pine http://askabiologist.asu.edu/research/kazakhstan/mammals.html ASU-Ask A Biologist: There are numerous other predatory birds including the Steppe eagle, Hobby, Kestrel, http://userpages.umbc.edu/~sjoshi1/mirror/davidslist.html INDBIR01: 0. 169, Steppe Eagle, imm, 1, BRD, 25.1.98, Pune Bypass; large all-dark Aquila, http://userpages.umbc.edu/~sjoshi1/mirror/davidsreport.shtml A BRITISH BIRDWATCHER IN PUNE: ...species, only one venomous and that not really life-threatening for most people, http://www.umsl.edu/services/govdocs/wofact2002/flags/kz-flag. More
Videos and images Steppe eagle on cow carcass A relatively large, handsome bird of prey, the steppe eagle closely resembles a number of related eagle species such as the tawny eagle, Aquila rapax, that occur within its extensive range. The plumage is mostly dark brown, with well-defined bars on ... More
Steppe eagle on cow carcass Steppe eagle on cow carcassPrint factsheet Facts - French: Aigle Des Steppes Kingdom Animalia Phylum Chordata Class Aves Order Falconiformes Family Accipitridae Genus Aquila (1) Size More
the multinational exercise, Steppe Eagle in which participants from the British, U.S. and Kazakhstan militaries worked together, improving staff functions, the military orders process, and battle tracking. * Steppe Eagle exercise increases interoperability Beth Lake (USARCENT) Gen. Maj. Adilbek Aldaberpenov (left), Kazakhstan Air Mobile Forces commander, greets Lt. Gen. William G. More
Steppe EagleThe Steppe Eagle (Aquila nipalensis) is a large bird of prey. Like all eagles, it belongs to the family Accipitridae. It was once considered to be closely related to the non-migratory Tawny Eagle, Aquila rapax, and the two forms have previously been treated as conspecific (of, or belonging to, the same species). They were split based on pronounced differences in morphology and anatomy (Clark, 1992; Olson, 1994; Sangsteret al. More
Steppe Eagle determination Similar species Accipitridae Black Kite | Black Vulture | Black-Shouldered Kite | Bonellis Eagle | Booted Eagle | Buzzard | Egyptian Vulture | Golden Eagle | Greater Spotted Eagle | Griffon | Honey-Buzzard | Imperial Eagle | Lammergeier | Lappet-faced Vulture | Lesser Spotted Eagle | Levant Sparrowhawk | Long-Legged Buzzard | More
A Fork-tailed Drongo mobbing a Steppe Eagle (close relative of Tawny Eagle) - A Fork-tailed Drongo mobbing a Steppe Eagle (close relative of Tawny Eagle) Birds | Fork-tailed Drongo | Lake Natron | Maasailand | Rift Valley | Steppe Eagle» 21 comments A Fork-tailed Drongo mobbing a Steppe Eagle - A Fork-tailed Drongo mobbing a Steppe Eagle (Steppe Eagle is a close relative of Tawny Eagle) Birds | Fork-tailed Drongo | Lake More
some times steppe eagles are mistaken for Imperial Eagles. Imperial has contrary to uniform body plumage of steppe and a more streaked outfit. Bill is heavier in Imperial Eagle. Steppe Eagles come in variety of color tones that might be misleading in some scenarios. Imperial eagle has pale wedge on the rump, the paler inner primaries and the heavier bill (with a shorter gape line). Steppe Eagle is about 62-81 cm (24-32 in) in length and has a wingspan of 165-200 cm (65-79 in). More
Steppe Eagle, Aquila nipalensis = Steppe Spotted Eagle Steppe Eagle, Oman, © Jochen Fünfstück Names - English: Steppe Eagle Scientific: Aquila nipalensis German: Steppenadler Spanish: Águila esteparia French: Aigle des steppes Taxanomy & Subspecies - Formerly thought to be the same species as the Tawny Eagle Aquila rapax with witch the Steppe Eagle is More
Steppe Eagle Steppe Eagle - Fotopedia Fimb on Flickr Steppe Eagle (Aquila nipalensis) Steppe Eagle - Fotopedia Arno & Louise on Flickr Steppe Eagle (Mir) Steppe Eagle - Fotopedia Leo Reynolds on Flickr Steppe Eagle (Mir) Steppe Eagle - Fotopedia Leo Reynolds on Flickr Nominate for Steppe Eagle in the encyclopedia? Relevant to Steppe Eagle in the encyclopedia? Was in Steppe Eagle in the encyclopedia Yes No More
Other Pics: Steppe Eagle in Flight Other Names French Aigle des steppes, Aigle montagnard, Spizaète montagnard, Spizaète ordinaire German Steppenadler Spanish Águila Esteparia Swedish Stäppörn Dutch Steppenarend, Aziatische Steppearend Italian Aquila delle steppe World: West-central Eurasia from Romania to South-West and South-central Russia. In central Asia from central-South Russia to Mongolia, western China and South-West Siberia. More
The Steppe Eagle's diet is largely fresh carrion of all kinds, but it will kill rodents and other small mammals up to the size of a rabbit, and birds up to the size of partridges. It will also steal food from other raptors. The call of the Steppe Eagle is a crow-like barking, but it is rather a silent bird except in display. The Steppe eagle is the national animal of Egypt. More
Habits and Characteristics: Steppe Eagles spend a lot of time on the ground looking for and eating termites or they will gather in flocks sitting on trees or soar at great heights. These Eagles are important in keeping the termite population under control as they consume about 10 000kg of termites between them daily. More
Steppe Eagle adult has dark brown plumage overall. The body is darker than the greyish wings. Flight and tail feathers are greyish, and may be barred dark grey. PROTECTION / THREATS / STATUS: Steppe Eagle is vulnerable to persecution, changes or destruction of their habitat for agriculture, and collision with power lines. This species may be common in suitable habitat, and it is one of the most common eagles in the world. More
The Steppe Eagle-2009 international tactical exercises have begun in the Almaty region involving over 1.5 thousand soldiers from Kazakhstan, Great Britain and the USA. The main aim of the event is to improve the battle readiness and peacekeeping operations featuring international forces. The scenario stipulates that the opponent opens fire and peacekeepers need to break through. As a result of the battle, a Kazakhstan soldier was wounded but the mission was completed and terrorists were eliminated. More
1052 Steppe Eagle Ave Henderson NV 89015 - Check with Public Property Records = Condominium, PUD, 3 Bed, 2.50 Bath, 1370 Sq. Ft Loading map... Property Information for 1052 Steppe Eagle Ave - Property Features Financial History * Condominium, PUD * Year Built: 2004 * 3 Bedrooms * 2. More
Steller's Eider Steller's Sea Eagle Steppe Eagle Stock Pigeon Stone Curlew Storm-petrel Straw-headed Bulbul Streaked Spiderhunter Striated Grassbird Striated Heron Striated Pardalote Striped Honeyeater Subdesert Mesite Sulphur-bellied Warbler Sulphur-crested Cockatoo Sunbittern Sungrebe Superb Starling Supurb Fairy-wren Surfbird Swahili Sparrow Swainson's Hawk Swainson's Thrush Swainson's Warbler Swallow-tailed Bee-eater Swallow-tailed Gull Swallow-tailed Kite Swamp Harrier Swamp Sparrow Swamp Sparrow Swan Goose Sword-billed Hummingbird Syrian Woodpecker Taita Fiscal Taiwan Bulbul Takahē Tasmanian Native-hen Tawny Eagle Tawny Frogmouth Tawny Grassbird Tawny Owl Tawny More
The steppe eagle pair in slideshow images 1 - 5 was in a bush adjacent to a termite mound. They were hopping down to the ground eating termites that had come to the surface following a rain, then returning to the bush. They are palearctic migrants in East Africa from October to April. The bird above is the same as in slideshow images 6 & 7. More
* Steppe eagle at Lightwater Valley Steppe eagle at Lightwater Val... More
· The steppe eagle is featured on a stamp from the country of Azerbaijan. · The scientific name Aquila is Latin for "eagle." Description Steppe eagles are chocolate brown in colour with a small ginger-coloured patch on the nape. They have light brown eyes and the tip of their bill is black, while the upper area, surrounding the nostrils, is yellow. Their feet are yellow with black claws. More
Steppe Eagle - Definition = Steppe Eagle Scientific classification Kingdom: Animalia Phylum: Chordata Class: Aves Order: Accipitriformes Family: Accipitridae Genus: Aquila Species: nipalensis Binomial name Aquila nipalensis More