Aquila hastata
The Indian Spotted Eagle is about 60 cm in length and has a wingspan of 150 cm. It is broad-headed, with the widest mouth of all spotted eagles. This species has a lighter coloration overall compared to its relatives, with a darker iris that makes the eyes appear darker than the plumage . Adults can be told apart from the Greater Spotted Eagle by its lighter color, darker eyes, and habitat preferences . Juveniles, unlike the Lesser and Greater species, are not strongly spotted at all, making the common name somewhat misleading, and also lack the creamy buff nape patch of the juvenile Lesser Spotted Eagle.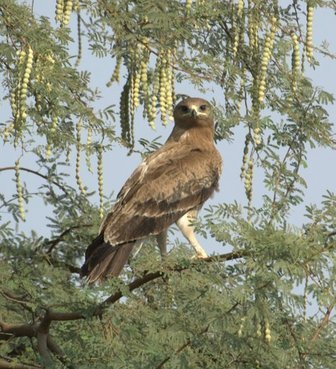 Picture of the Aquila hastata has been licensed under a
GFDL
Original source
: Ravi Vaidyanathan
Author
: Ravi Vaidyanathan
Permission
: GNU Free Documentation License
The Aquila hastata is classified as Vulnerable (VU), considered to be facing a high risk of extinction in the wild.

Message from discussion Indian Spotted Eagle Aquila hastata, Kutch on 09-11-2009 The group you are posting to is a Usenet group. Messages posted to this group will make your email address visible to anyone on the Internet.Your reply message has not been sent. More
Those photos complement an article on Aquila hastata in the finnish birding magazine Alula 2/2004. Yours: Timo Janhonen Helsinki, Finland - (pers comm) I think that the pics are those of a sub-adult Steppe Eagle. The id is supported by the following points: 1. The extensive yellow gape flanges which reach the rear edge of the eye. More