Rufous-chested Sparrowhawk
It forms a superspecies with Eurasian Sparrowhawk and possibly Madagascar Sparrowhawk .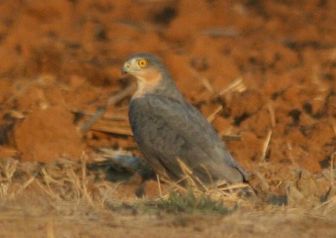 Picture of the Rufous-chested Sparrowhawk has been licensed under a Creative Commons
Attribution-Share Alike
.
Original source
: Alan Manson
Author
: Alan Manson
The Rufous-chested Sparrowhawk is classified as Least Concern. Does not qualify for a more at risk category. Widespread and abundant taxa are included in this category.

The Rufous-chested Sparrowhawk (Accipiter rufiventris) is a species of bird of prey in the Accipitridae family. It is found in Angola, Democratic Republic of the Congo, Eritrea, Ethiopia, Kenya, Lesotho, Malawi, Mozambique, Rwanda, South Africa, Sudan, Swaziland, Tanzania, Uganda, Zambia, and Zimbabwe. It forms a superspecies with Eurasian Sparrowhawk (A. nisus) and possibly Madagascar Sparrowhawk (A. madagascariensis) (Ferguson-Lees and Christie 2001). References - 1. ^ BirdLife International (2008). More
* Rufous-chested Sparrowhawk, Accipiter rufiventris * Shikra, Accipiter badius * Tiny Hawk, Accipiter superciliosus – may belong in Hieraspiza * Semicollared Hawk, Accipiter collaris – may belong in Hieraspiza * Sharp-shinned Hawk, Accipiter striatus * White-breasted Hawk, Accipiter chionogaster * Plain-breasted Hawk, Accipiter ventralis * Rufous-thighed Hawk, Accipiter erythronemius * Cooper's Hawk, Accipiter cooperii More
Distribution of Rufous-chested sparrowhawk in southern Africa, based on statistical smoothing of the records from first SA Bird Atlas Project (© Animal Demography unit, University of Cape Town; smoothing by Birgit Erni and Francesca Little). Colours range from dark blue (most common) through to yellow (least common). See here for the latest distribution from the SABAP2. Movements and migrations Resident and largely sedentary, although it may disperse from its territory after breeding. More
Rufous-chested Sparrowhawk overhead and a pair of Forest Buzzards interacting. Usually a notorious skulker, Sombre Greenbul was seen making its piercing call from an open perch not far from the path, giving fantastic views and photographic opportunities. We stopped in a thickly treed suburban area to investigate a raptor call and Daniel's sharp eyes picked out the culprit: a melanistic Black Sparrowhawk. Another spot held the beautiful Swee Waxbill. More
The Rufous-chested Sparrowhawk (Accipiter rufiventris) is a species of bird of prey in the Accipitridae family. It is found in Angola, Democratic Republic of the Congo, Eritrea, Ethiopia, Kenya, Lesotho, Malawi, Mozambique, Rwanda, South Africa, Sudan, Swaziland, Tanzania, Uganda, Zambia, and... More
Rufous-chested Sparrowhawk and Lemon Dove were on the list, so Andrew and I headed out this morning on to the southern peninsula to see what we could find. First stop was Clovelly Golf Course where, after not too long, we were treated to simply superb views of the Sparrowhawk. The bird was quite relaxed and, although today was primarily about finding Andrew's target birds, I was even able to get a few photos of it. More
a Rufous-chested Sparrowhawk with prey which posed quite nicely for us. By 8:30am, we left the course and headed off to have breakfast at a restaurant on the beachfront. More
Rufous-chested Sparrowhawk Accipiter rufiventris = Pietermaritzburg, KwaZulu-Natal, South Africa - Jun 22, 2007 More
Rufous-chested Sparrowhawk Accipiter rufiventris = Described by: Smith, A. (1830) Alternate common name(s): Rufous-breasted Sparrowhawk, Red-breasted Sparrowhawk, Rufous-breasted Sparrow Hawk Old scientific name(s): None known by website authors Photographs Pietermaritzburg, KwaZulu-Natal, South Africa - Jun 22, 2007 More