Red-crested Turaco
Niagara Falls Aviary, Canada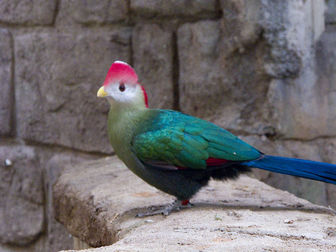 Picture of the Red-crested Turaco has been licensed under a Creative Commons
Attribution-Share Alike
.
Original source
: originally posted to Flickr as Bird Kingdom, Niagara Falls
Author
: Gary J. WoodPermission(Reusing this file)This image, which was originally posted to Flickr.com, was uploaded to Commons using Flickr upload bot on 20:03, 2 March 2010 (UTC) by Snowmanradio (talk). On that date it was licensed under the license below. This file is licensed under the Creative Commons Attribution-Share Alike 2.0 Generic license.You are free:to share – to copy, distribute and transmit the work
The Red-crested Turaco is classified as Least Concern. Does not qualify for a more at risk category. Widespread and abundant taxa are included in this category.

The Red-crested Turaco, Tauraco erythrolophus, is a turaco, a group of African near-passerines. It is a fruit-eating bird native to Angola. Their call sounds somewhat like a jungle monkey. Gallery - Tauraco erythrolophus.JPG Niagara Falls Aviary, Canada References - * BirdLife International (2004). Tauraco erythrolophus. 2006. IUCN Red List of Threatened Species. IUCN 2006. www.iucnredlist.org. More
about the Red-crested Turaco in the wild. Its preferred habitats are, as with many other species, woodland and forestry where it is able to feed on available fruits. This species has been very popular among UK enthusiasts for a number of years, breeding readily in many collections. The species is now being monitored under a European Stud Book at the Cotswold Wildlife Park by Louise Peat. CITES II: Not globally threatened, but clearly insufficiently known. More
The Red-crested Turaco is a fairly large, colorful, long-tailed regal bird. It is easily identified by its vivid red crest, white face and yellow beak. Eyes are red and the beak is yellowish-green. Its plumage is overall green. They measure 19 - 20 in (47.5-50 cm) from beak to tip of tail and weigh around 210-325g. Although they are social among the species, they are shy and remained concealed among the branches and seldom come to ground, except for water or food. More
Red-crested Turaco is a medium-sized bird, with characteristic red and green pigmentation, typical in this genus. It is endemic to Angola. This turaco is very similar to Bannerman's Turaco (Tauraco bannermani), but they differ in crest and face colours. PROTECTION / THREATS / STATUS: Red-crested Turaco is heavily preyed upon by African Goshawk (Accipiter tachiro), Blue Monkeys and snakes. More
Red-crested turacos eat fruit, flowers, leaves, termites, seeds, figs, snails and acacia. Size The average red-crested turaco can be up to 43 centimetres long and can weigh up to 325 grams. Location Red-crested turacos are found in forests in sub-Saharan Africa in countries such as Angola. More
* The Red-crested Turaco is regarded as a poor flyer, preferring to glide short distances between branches or run along tree trunks. * They can rotate their outer toes backwards and forwards to enable them to grip branches. Want to Help? = A visit to the Cotswold Wildlife Park can now be even more worthwhile. More
The Red-crested Turaco, Tauraco erythrolophus, is a turaco, a group of African near-passerines. pets No red-crested turaco pets yet! pictures No red-crested turaco pictures yet! videos No red-crested turaco videos yet! owners No red-crested turaco owners yet! blogs No red-crested turaco blogs yet! This article is licensed under the GNU Free Documentation License. More
tags: Red-crested Turaco, Tauraco erythrolophus, birds, Image of the Day Third in a series of non-passerine images by this photographer. Red-crested Turaco, Tauraco erythrolophus. Image: John Del Rio . The turacos are classified into the bird family Musophagidae, which translates as "banana-eaters". Musophagidae also include the plantain-eaters and go-away-birds. Musophagidae are medium-sized arboreal birds that are endemic to sub-Saharan Africa. They live in forests, woodland and savanna. More
Red-Crested Turaco for sale No Red-Crested Turaco currently listed for sale Softbills | Site Map | Contact | Terms of Use | Halloween - Copyright More