Pheasant Pigeon
The pheasant pigeon is an unusual pigeon of uncertain affinities within the Columbidae, and is monotypic within the genus Otidiphaps , and the sub-family Otidiphabinae. Its scientific name makes reference to its similarities to the bustard family . Its common name reflects its adaptation to living on the forest floor in the fashion of a South East Asian pheasant, which it resembles in external morphology, particularly in its laterally compressed tail and the rounded wings. No galliform birds occur in New Guinea, and the pheasant pigeon has filled the ecological niche of a partridge or small pheasant . It is a highly secretive species, feeding on seeds and fallen fruits. It nests on the ground below trees and bushes, laying one egg that it incubates for around 4 weeks.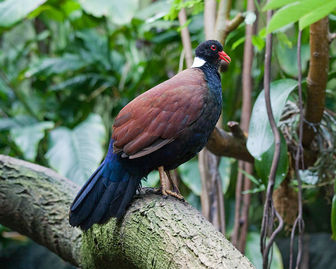 Picture of the Pheasant Pigeon has been licensed under a Creative Commons
Attribution-Share Alike
.
Original source
: Own work
Author
: Greg Hume
The Pheasant Pigeon is classified as Least Concern. Does not qualify for a more at risk category. Widespread and abundant taxa are included in this category.

White-naped Pheasant Pigeon Otidiphaps nobilis aruensis in a zoo aviary Conservation status Least Concern (IUCN 3. More
The pheasant pigeon behaves like a gallinaceous bird and is terrestrial. The male performs a display flight and the wing-clap is a loud crack like a gun shot. FEEDING ECOLOGY AND DIET Seeds and fallen fruit. REPRODUCTIVE BIOLOGY The nest is on the ground and forms a platform of a few sticks. One egg is brooded for 28 days. More
The Pheasant Pigeon (Otidiphaps nobilis ) is a pigeon found in the primary rainforests of New Guinea. It ranges primarily over hilly and lower mountain areas, but can also be found in lowland areas. The pheasant pigeon is an unusual pigeon of uncertain affinities within the Columbidae, and is monotypic (one single species) within the genus Otidiphaps (Gould, 1870), and the sub-family Otidiphabinae. More
The pheasant pigeon is an unusual pigeon of uncertain affinities within the Columbidae, and is monotypic within the genus Otidiphaps (Gould, 1870), and the sub-family Otidiphabinae. Its scientific name makes reference to its similarities to the bustard family, while its common name reflects its adaptation to living on the forest floor in the fashion of a South East Asian pheasant, which it resembles in external morphology, particularly in its laterally compressed tail and the rounded wings. More
Pheasant Pigeon, Magnificent Ground Pigeon Otidiphaps nobilis Related Links Honolulu Zoo Flickr - may have photos Wikipedia - may have a species page setstats More
pheasant pigeon has filled the ecological niche of a partridge or small pheasant (while the larger Goura crowned pigeons have a lifestyle similar to larger pheasants, grouse or turkeys). It is a highly secretive species, feeding on seeds and fallen fruits. It nests on the ground below trees and bushes, laying one egg that it incubates for around 4 weeks. More
Starling Pheasant pigeon is mostly found in over hilly, mountainous area and lowland areas. These species is a member of otidiphabinae family. It is also known as – green naped pheasant pigeon and green collared pigeon. The average length of this pigeon is 46 cm. it is a bright colored species and has brown back wings, blue chest, green head, iridescent green blue neck ring and red rings around the pupils. These pigeons prefer nests on the ground below the tree and bushes. More
Pheasant Pigeons, therefore the protective effect is questionable and side effects may be possible. The serologic testing of the remaining Pheasant Pigeon population, other bird species, as well as free ranging pigeons is currently in progress. In the United Arab Emirates (UAE), Newcastle disease is the most widespread avian viral disease, APMV-1 has been isolated from 12 different avian taxa either from organs of necropsied birds or from cloacal swabs of diseased birds (WERNERY and MANVELL, 2003). More
include the chicken-sized pheasant pigeon (Otidiphaps nobilis) of New Guinea. In the New World the white-winged doves and the mourning dove (q.v.; Zenaida) are popular game birds; Central and South America support... More
A brightly colored species, the pheasant pigeon has a brown back and wings, blue chest, green head, iridescent green-blue neck ring, and red rings around the pupils. - Range New Guinea Status Common Habitat Rain forest Niche The pheasant pigeon feeds on seeds and fruit found on the ground of its rain-forest habitat. More
Green naped Pheasant Pigeon, green Collared Pigeon In the aviaries of Wauters - Belgium More
Pheasant Pigeon Otidiphaps nobilis (0:38) Michiel de Boer 28-08-2008 ? Indonesia above Wailebed, Batanta Island, Papua Barat 330 Call (A) The barbet-like sound is treefrog; mourning whistle is pheasant pigeon XC23200 page 1 © 2005-2010 Xeno-canto Foundation. More