Wonga Pigeon
Previously they could be found as north as Cairns and as south as the Dandenongs, but due to land clearance, shootings in the 1940s for crop protection and fox predation, they are rarely seen in these areas, but their populations have improved in these areas.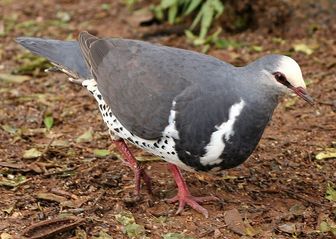 Picture of the Wonga Pigeon has been licensed under a Creative Commons
Attribution-Share Alike
.
Original source
: Own work, O'Reillys Guest House, Qld, Australia
Author
: Glen FergusPermission(Reusing this file)All uses, with attribution
The Wonga Pigeon is classified as Least Concern. Does not qualify for a more at risk category. Widespread and abundant taxa are included in this category.

The Wonga Pigeon Leucosarcia melanoleuca is a pigeon that inhabits areas in eastern Australia with its range being from Central Queensland to Gippsland, eastern Victoria, Australia. Previously they could be found as north as Cairns and as south as the Dandenongs, but due to land clearance, shootings in the 1940s for crop protection and fox predation, they are rarely seen in these areas, but their populations have improved in these areas. More
Wonga Pigeon is a plump terrestrial pigeon endemic to Australia. Adult has grey upperparts, with wings and tail slightly washed brownish. On the underside, throat is grey, extending until the lower breast, and bordered on each side by a long white patch forming conspicuous V. Underparts are white, spotted with blackish crescents extending to flanks. Underwings are pale brownish-grey. Undertail coverts are blackish with buffy-white edges. Tail feathers are grey, tipped white. More
The call of the Wonga Pigeon is a loud, high-pitched 'coo'. This is repeated over long periods of time for a number of seconds. When males are displaying mating, bowing occurs with a soft, trilling coo. Breeding / Nesting: The Wonga Pigeon is monogamous and breeds between October and January. It produces a twig platform nest with a diameter of 30 centimetres. More
The Wonga Pigeon, or Wonga Wonga, is a large, plump, ground-dwelling pigeon with a small head, short, broad wings and a long tail. It is mainly grey above, with a pale face, a distinctive white V on the breast and white lower parts which are boldly marked with black-brown crescents and wedges. The eyes are dark red-brown with a pink eye-ring and black lores (area between the bill and the eye) and the bill, feet and legs are deep pink to red. More
In this page you will find information about Wonga Pigeon parrot, Wonga Pigeon, grey parrot, grey babies care, cages for Wonga Pigeon, Healthy Tips for Wonga Pigeon parrot, Wonga Pigeon care, Wonga Pigeon feathers plucking, Congo Wonga Pigeon, Timmeh Wonga Pigeon, Wonga Pigeon books, Wonga Pigeon magzine Flowers Flowers Parakeet Bird Breeders Pakistani Bird Breeders Muhammad Saleem Become Group Member Wonga Pigeon books OGPBB Introduction Wonga Pigeon Cage Website Importance Wonga Pigeon Care Rules - Procedure Wonga Pigeon Diet Check User ID Wonga More
WONGA PIGEON DISTRIBUTION and HABITAT: They are very elusive birds and are only often heard, producing explosive wing claps when disturbed. They tend to occur on the ground forraging and are located in rainforests, wet eucalypt forests, coastal forests, picnic areas, walking tracks, carparks and gardens. WONGA PIGEON SIZE: Its length varies from 38 to 40 centimetres (15.2 to 16 inches). It has pastel blue-grey back feathers. The head fades to a creamy-white colour. More
of the few areas in Australia where the Wonga Pigeon is still a relatively common sight. Being one of the larger members of the pigeon family, the adult Wonga Pigeon is resplendent with its generally bluish grey upper body, white face, striking white "V" on its upper breast, with its lower breast, abdomen, flanks and undertail also white, with bold black spotty markings. They live in temperate and sub-tropical rainforests, wet sclerophyll forests and other eucalypt forests with thick understorey. More
Wonga Pigeons eat fruits and seeds, especially Acacia and are often seen in this area feasting on Blue Berry Ash and Bleeding Heart berries. They also eat invertebrates such as snails, cockroaches and caterpillars which makes up a large part of its daily food requirements unlike many other species of pigeons and doves. More
The Wonga Pigeon is known for its "woop, woop, woop, woop, woop..." call, which can go for hours, almost without a break. In older times it was known for being good eating, and is one of the only (perhaps the only) pigeon with white meat. The Wonga Pigeon is almost always seen on the ground and it is very shy, they are heard much more than they are seen. Wonga Pigeon - Leucosarcia melanoleuca Photo: Featherdale Wildlife Park, Sydney NSW. More
The Wonga Pigeon Leucosarcia melanoleuca is a pigeon that inhabits areas in eastern Australia with its range being from Central Queensland to Gippsland, eastern Victoria, Australia. More
Wonga pigeons travel far in their search for fallen berries, fruits and seeds on the forest floor. Though they prefer walking over flying, the pigeons take to the air to build their nest high in the trees. The male wonga pigeon has a unique mating display. He raises his wings and tail rhythmically, swings his head from side to side, and tucks his head under each wing as he lifts it. More
Identification: The Wonga Pigeon is a bird with a white forehead, grey upper parts and a grey breast with broad V-shaped markings. The lower breast and belly is white with black spots. Call/Song: The call is a loud, high-pitched, resonant coo-coo uttered for long periods of time. In the bowing mating display the male sings a soft, trilling coo. More
Wonga Pigeon Show machine tags (0) Hide machine tags (0) Additional Information All rights reserved Anyone can see this photo * * Taken with a Canon EOS 350D Digital. More properties * Taken on July 5, 2008 * Viewed 70 times Add to your map Yay location removed ... More
Dove Wonga Pigeon Wood Duck Wood Pigeon Wood Sandpiper Wood Stork Wood Thrush Wood Warbler Woodchat Shrike Woolly-necked Stork Worm-eating Warbler Xantus's Murrelet Yellow Bittern Yellow Honeyeater Yellow Oriole Yellow Warbler Yellow-bellied Elaenia Yellow-bellied Flycatcher Yellow-bellied Sapsucker Yellow-billed Cardinal Yellow-billed Duck Yellow-billed Loon Yellow-billed Magpie Yellow-billed Pintail Yellow-billed Shrike Yellow-billed Stork Yellow-breasted Bunting Yellow-breasted Chat Yellow-browed Warbler Yellow-chevroned Parakeet Yellow-crested Cockatoo Yellow-crowned Euphonia Yellow-crowned Night-Heron Yellow-eyed Babbler Yellow-eyed Cuckoo-shrike Yellow-eyed Penguin Yellow-faced Honeyeater Yellow-footed Green Pigeon More