White-throated ground-dove
The male White Throated Ground Dove has a chocolate brown body with white head and breast while the females are shades of brown with no white on the body.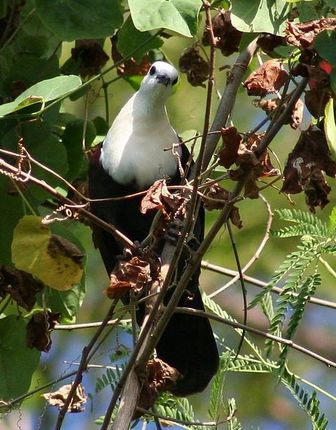 Picture of the White-throated ground-dove has been licensed under a Creative Commons
Attribution-Share Alike
.
Original source
: Peter
Author
: Peter
The White-throated ground-dove is classified as Near Threatened (NT), is close to qualifying for or is likely to qualify for a threatened category in the near future.

Yap – White-throated Ground-Dove, Yap Cicadabird, Yap Monarch, Plain White-eye, Yap / Olive White-eye. Palau – Micronesian/Palau Scrubfowl, Palau Ground-Dove, Palau Fruit-Dove, Micronesian Pigeon, Palau Owl, Palau Swiftlet, Rusty-Capped Kingfisher, Palau Cicadabird, Palau Bush-Warbler, Palau Fantail, Palau Flycatcher, Morningbird, Dusky White-eye, Giant White-eye. References The Birds of Hawaii and the Tropical Pacific – Pratt, Bruner, and Berrett. The field-guide to use for identification with good plates and text, if somewhat dated. A revision is in prep. More