Sulawesi Ground-Dove
An Indonesian endemic, this elusive species is distributed to primary rainforests of Sulawesi in Wallacea. The Sulawesi Ground-dove is a terrestrial bird. Its diet consists mainly of seeds and fallen fruits taken from feeding grounds. The female lays a single white egg.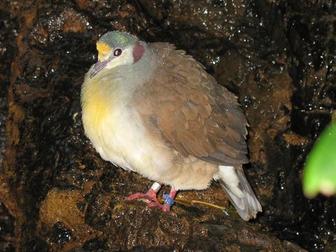 Picture of the Sulawesi Ground-Dove has been licensed under a
GFDL
Original source
: Description: Sulawesi Ground Dove - Source: own work - Location: Central Park Zoo, New York -
Author
: self, User:Stavenn
Permission
: GNU Free Documentation License
The Sulawesi Ground-Dove is classified as Least Concern. Does not qualify for a more at risk category. Widespread and abundant taxa are included in this category.

The Sulawesi Ground-dove is a terrestrial bird. Its diet consists mainly of seeds and fallen fruits taken from feeding grounds. The female lays a single white egg. The Sulawesi Ground-dove is evaluated as Least Concern on the IUCN Red List of Threatened Species. References - * BirdLife International (2004). Gallicolumba tristigmata. 2006. IUCN Red List of Threatened Species. IUCN 2006. www.iucnredlist.org. More
The Sulawesi Ground-dove is a terrestrial bird. Its diet consists mainly of seeds and fallen fruits taken from feeding grounds. The female lays a single white egg. The Sulawesi Ground-dove is evaluated as Least Concern on the IUCN Red List of Threatened Species. More