Nicobar pigeon
This is a large pigeon, measuring 40 cm in length. The head is grey, like the upper neck plumage, which turns into green and copper hackles towards the breast. The breast and remiges are dark grey. The tail is very short and pure white. The rest of its plumage is metallic green. The cere of the dark bill forms a small blackish knob; the strong legs and feet are dull red. The irides are dark.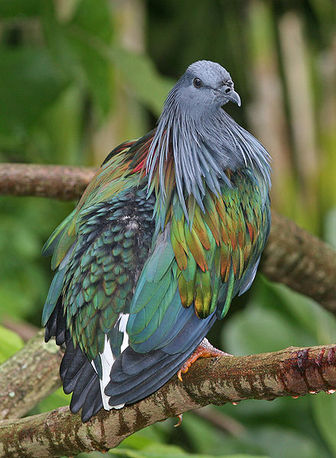 Picture of the Nicobar pigeon has been licensed under a Creative Commons
Attribution
.
Original source
: http://www.birdphotos.com
Author
: Tomfriedel
The Nicobar pigeon is classified as Near Threatened (NT), is close to qualifying for or is likely to qualify for a threatened category in the near future.

The Nicobar Pigeon, Caloenas nicobarica, is a pigeon found on small islands and in coastal regions from the Nicobar Islands, east through the Malay Archipelago, to the Solomons and Palau. It is the only living member of the genus Caloenas. This is a large pigeon, measuring 40 cm in length. The head is grey, like the upper neck plumage, which turns into green and copper hackles towards the breast. The breast and remiges are dark grey. The tail is very short and pure white. More
The Nicobar pigeon is one of the most beautiful of the many species of pigeons or doves. Like all pigeons, the Nicobar pigeon is rather thick-set with a relatively small head, but is heavier than most pigeons the same size. The general coloration is dark green iridescent, with a short white tail. Display plumage of the neck is green with coppery and greenish-blue overtones. Feathers of the mantle and wing coverts are pointed. More
Some special behavioral adaptations of the Nicobar pigeon is its very thick walled muscular gizzard, which is lined with plates. This muscular gizzard enables them to grind large hard nuts that a human could only open with a hammer. They commute to safe localities in large flocks between their foraging and breeding islands(only breed on islands that are not inhabited). They make a sound like pigs grunting when threatening others. More
Group of 8 pairs of Nicobar Pigeons - image courtesy of Chris Estep Nicobar Pigeon Almaguer Nicobar Pigeon - image courtesy of Daniel Ray Almaguer. Nicobar Pigeon If you have a description or pictures of a Nicobar Pigeon please email it to birdsofprey1@aol.com to be included on this page about the Nicobar Pigeon. More
The Nicobar Pigeon (Caloenas nicobarica) is a pigeon which is a resident breeding bird on small uninhabited islands in Indonesia and the Nicobar Islands. It is the only member of the genus Caloenas. The Nicobar Pigeon roams in flocks from island to island, including inhabited sites, seeking its food of seeds, fruit and some invertebrates (i.e., insects), and is attracted to areas where grain is available. Comparison of mitochondrial cytochrome b and 12S rRNA sequences (Shapiro et al. More
Nicobar Pigeons are found on the Nicobar and Andaman Islands of India, the Solomon Islands, Palau, and on smaller islands off of the coasts of Myanmar, Thailand, Malaysia, Cambodia, Vietnam, Indonesia, and the Philippines. This particular Nicobar Pigeon was confidently strolling along the sunlit edge of a beach forest in Mu Ko Similan National Park in the Similan Islands of Thailand. More
The Nicobar Pigeon (Caloenas nicobarica) is a pigeon which is a resident breeding bird on small uninhabited islands in Indonesia and the Nicobar Islands. It is the only living member of the genus Caloenas. Video Nicobar Pigeon This is a large, heavy pigeon at 40cm in length. It is mainly metallic green with green and copper hackles on the neck. The head and upper neck, flight feathers and breast are dark grey. More
The Nicobar Pigeon roams in flocks from island to island, usually sleeping on offshore islets where no predators occur and spends the day in areas with better food availability, not shying away from areas inhabited by humans. Its food consists of seeds, fruit and buds, and it is attracted to areas where grain is available. A gizzard stone helps to grind up hard food items. More
The Nicobar pigeon feeds on the forest floor, and spends a great deal of time on the ground. They move about in flocks during the day and roost together at night. Their vocalization is a cooing sound. Like all pigeons and doves, these birds do not sip when drinking, but instead they immerse their bill, sucking up water. DIET: The Nicobar pigeon feeds on seeds, berries, and insects. More
The Nicobar Pigeon roams in flocks from island to island, including inhabited sites, seeking its food of seeds, fruit and some invertebrates, and is attracted to areas where grain is available. Recent (early 2000s) DNA tests show that the Nicobar Pigeon is the closest living relative of the Dodo and the Rodrigues Solitaire. More
The Nicobar pigeon is beautiful, with general coloration being dark green iridescent, a short white tail, while neck plumage is green with coppery and greenish-blue overtones. The bill is black, the legs are red, and the iris is white in adult females, but brown in sub-adults and males. This species is found in south-east Asia, particularly from the Nicobar islands of India to New Guinea, and as far north as the Phillipines. More
DescriptionCommentsStats The Nicobar Pigeon, Caloenas nicobarica, is a pigeon found on small islands and in coastal regions from the Nicobar Islands, east through the Malay Archipelago, to the Solomons and Palau. It is the on... Read More The Nicobar Pigeon, Caloenas nicobarica, is a pigeon found on small islands and in coastal regions from the Nicobar Islands, east through the Malay Archipelago, to the Solomons and Palau. It is the only living member of the genus Caloenas. More
The Nicobar Pigeon is nomadic commuting from island to island during the day to find food (hard seeds, fruits, insects, and corn). They feed off of the ground, toss leaves aside and dig with their bill. These pigeons roost together at night on islands that are not inhabited. The Nicobar does not sip when drinking, instead they are like other pigeons and doves, they immerse their bill sucking up the water. More
* Philadelphia Zoo Nicobar Pigeon at Feeding Dish2:10 * Ajouter à la file d'attente Ajoutée à la file d'attente Philadelphia Zoo Nicobar Pigeon at Feeding Dish82 vuesZooVisitorMM * African Green Pigeons1:40 * Ajouter à la file d'attente Ajoutée à la file d'attente African Green Pigeons1117 vuesbanditt066 More
The Nicobar pigeon is quite a large bird, with long legs, a short white tail and heavy bill. Its stance is rather like that of a vulture, and unlike most pigeons, it has short, hard plumage, except on the neck, where the feathers are elongated to form hackles that cover most of the body. The female is slightly smaller than the male, with a smaller bill cere, and the juvenile looks like the female, but duller and without the white tail. More
A Nicobar Pigeon, while named after the Nicobar Islands, it is also found widely in the Malay Archipelago See also: Endemic birds of the Andaman and Nicobar Islands Geology The Nicobar Islands are part of a great island arc created by the collision of the Indo-Australian Plate with Eurasia. More