Red-necked Avocet
With long wading legs, this bird is found swimming and wading on or around lakes and shallow areas such as mud flats.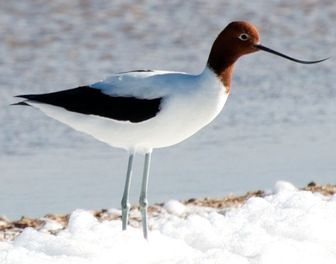 Picture of the Red-necked Avocet has been licensed under a Creative Commons
Attribution-Share Alike
.
Original source
: Own work
Author
: Grahame This file is licensed under the Creative Commons Attribution-Share Alike 2.0 Generic license.You are free:to share – to copy, distribute and transmit the work
The Red-necked Avocet is classified as Least Concern. Does not qualify for a more at risk category. Widespread and abundant taxa are included in this category.

The Red-necked Avocet has a chestnut brown head and neck with a white eye-ring and a long, upturned, black bill. The rest of the body is white, except for two black streaks along the back. The wings are white, with black wing bars and tips. The relatively long legs are pale grey-blue. The sexes are similar, but the males have a more sharply upturned bill. This species is endemic (native) to Australia. More
Red-necked Avocet Recurvirostra novaehollandiae (In flight) More
Red-necked Avocet (Recurvirostra novaehollandiae) Port of Brisbane, SE Queensland, Australia Date September 1999(1999-09) Source Own work Author Aviceda Permission (Reusing this file) See below. More
The Red-necked Avocet (Recurvirostra novaehollandiae) is a water bird found throughout Australia, except for the northern parts of the Northern Territory. With long wading legs, this bird is found swimming and wading on or around lakes and shallow areas such as mud flats. It has a distinctive long upwardly curved bill. Head and neck colour is a reddy-brown with white around the eyes. Body is white with thick black striping on the back and wings. Long grey wading legs. More
Red-necked Avocet (Recurvirostra novaehollandiae) Filmed at Fisherman's Island, SE Qld Sept 1999 using Canon EX1 Hi8 & Sigma 400mm lens. Red-necked Avocet (Recurvirostra novaehollandiae) Filmed at Fisherman's Island, SE Qld Sept 1999 using Canon EX1 Hi8 & Sigma 400mm lens.all » Red-necked Avocet (Recurvirostra novaehollandiae) Filmed at Fisherman's Island, SE Qld Sept 1999 using Canon EX1 Hi8 & Sigma 400mm lens.« Download video - iPod/PSPDownload is starting. Save file to your computer. More
For the purposes of our bird news services, Red-necked Avocet is classed as Common: common species, including species that are certain or probable escapees from captivity when occurring in the British Isles. (Note that rarity levels are currently applied nationally and may not reflect local variations in abundance. More
spots for Red-necked Avocets, however they occur over most of Australia, mainly in the southern half. After inland flooding and ideal conditions they can form quite large nesting colonies but mostly you will find them in small numbers around the shallow edges of inland lakes and wetlands particularly where salt tolerant vegetation such as samphire occurs. More
The Red-necked Avocet (Recurvirostra novaehollandiae) is a water bird found throughout Australia, except for the northern parts of the Northern Territory. More