Andean Avocet
This 43-48 cm long avocet has a white head, neck, underparts and rump, and dark brown back, wings and tail. The thin, grey legs are not as long as with other avocet species, but the long thin black bill is upturned at the end. The sexes are similar, and the juvenile plumage is undescribed.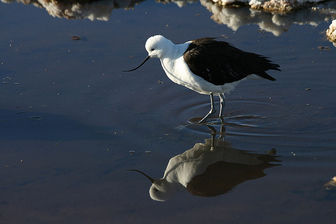 Picture of the Andean Avocet has been licensed under a
GFDL
Original source
: Till NiermannOther versions
Author
: Till NiermannOther versions
Permission
: GNU Free Documentation License
The Andean Avocet is classified as Least Concern. Does not qualify for a more at risk category. Widespread and abundant taxa are included in this category.

The Andean Avocet (Recurvirostra andina) is a large wader in the avocet and stilt bird family, Recurvirostridae. It is resident in the Andes, breeding above 3500 m in northwestern Argentina, western Bolivia, northern Chile and southern Peru. Description - This 43-48 cm long avocet has a white head, neck, underparts and rump, and dark brown back, wings and tail. More
the juvenile black stilt and the Andean avocet are generally black on their upperparts and white beneath. The banded stilt and other avocets are mostly white with black markings on the shoulders and wings. As with the ibisbill, breeding and non-breeding plumages are similar, the exception is the reddish-orange plumage of the American avocet (Recurvirostra americana) which is only present in the breeding season. Except for the black stilt, the juvenal plumages resemble adults', though often duller in contrast. More
For the purposes of our bird news services, Andean Avocet is classed as Ungraded: species which are unlikely to appear as wild birds in Britain or Ireland hide section Most recent photos of Andean Avocet (2) Southern Altiplano, Bolivia Southern Altiplano, Bolivia06/09/2008 Southern Altiplano, Bolivia 06/09/2008 near Oruro, Bolivia near Oruro, Bolivia24/11/2007 near Oruro, Bolivia 24/11/2007 View all pictures of Andean Avocet View all pictures of Andean Avocet show section External Links (0) More
Aspects of the topic Andean avocet are discussed in the following places at Britannica. Assorted References * description and range (in avocet (bird)) ...breeding season, white in winter. It nests in western North America and winters from California and Texas to Guatemala. The Andean avocet (R. andina), with a primarily white body, black back and wings, is confined to alkali lakes of the high Andes. More
The Andean Avocet nests near shallow, preferably alkaline lakes in the Andes, often in small groups. The eggs are laid in at least January. This species is non-migratory, but may move to slightly lower altitudes when not breeding. The Andean Avocet forages in shallow water or on mud flats, often sweeping its bill from side to side in water as it seeks its crustacean and insect prey. More
and The Andean Avocet, (Recurvirostra andina), are found in the Americas; the former, which ranges as far north as Saskatchewan, is distinguished by its light cinnamon-coloured head, neck, and breast, and the latter, confined so far as known to the mountain lakes of Chili, has no white on the upper parts except the head and neck. More
Andean Avocet warning calls of 3 birds on ground, flying short distance at end Recurvirostra andina (1:22) Niels Krabbe XC32144 22-03-2009, Argentina Andean Avocet calls of 3 birds taking off Recurvirostra andina (0:21) Niels Krabbe XC32145 22-03-2009, Argentina page 1 © 2005-2010 Xeno-canto Foundation. More