Kerguelen Tern
This seabird mainly breeds colonially in the Kerguelen Islands, as its common name implies. However, smaller colonies are also found in the Prince Edward Islands and Crozet Islands. The total number of individuals is from 3500-6500 birds, although there is no recent data from the main colony at Kerguelen. These birds do not inhabit Kerguelen proper, instead nesting on islets free of feral cats. During bad weather, they are known to abandon their colonies.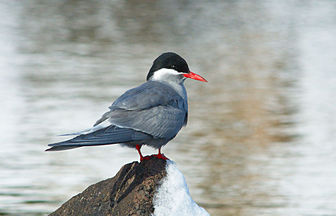 Picture of the Kerguelen Tern has been licensed under a
GFDL
Original source
: Own work
Author
: François Guerraz
Permission
: GNU Free Documentation License
The Kerguelen Tern is classified as Near Threatened (NT), is close to qualifying for or is likely to qualify for a threatened category in the near future.

The Kerguelen Tern (Sterna virgata) is a tern of the southern hemisphere. This seabird mainly breeds colonially in the Kerguelen Islands, as its common name implies. However, smaller colonies are also found in the Prince Edward Islands (especially Prince Edward and Marion) and Crozet Islands. The total number of individuals is from 3500-6500 birds, although there is no recent data from the main colony at Kerguelen. These birds do not inhabit Kerguelen proper, instead nesting on islets free of feral cats. More
Tern Kerguelen Tern River Tern (bird) South American Tern Peruvian Tern Grey Noddy Phaethusa White-fronted Tern Chinese Crested Tern Grey-backed Tern Black-bellied Tern Yellow-billed Tern Damara Tern Fairy Tern Lari Blue Noddy Large-billed Tern External Searches: * Wikipedia * YouTube Video * Flickr Image * Google Web * Yahoo! Web * Yahoo! News More
Kerguelen Terns are among the least-ranging of all typical terns. They generally do not reach far into the seas near their breeding grounds. These birds eat fish and marine invertebrates, especially those found in beds of the seaweed Macrocystis spp. They sometimes also hunt insects on land and catch fish from rivers on Kerguelen. Copyright: Wikipedia. This article is licensed under the GNU Free Documentation License. It uses material from Wikipedia. More
The Kerguelen Tern (Sterna virgata) is a tern of the southern hemisphere. This seabird mainly breeds colonially in the Kerguelen Islands, as its common name implies. However, smaller colonies are also found in the Prince Edward Islands (especially Prince Edward and Marion) and Crozet Islands. The... More
Kerguelen tern; Marion Island; penguins; Subantarctic Link to fulltext on Ingenta: Full Text on Ingenta Newsletter View available jobs at NISCJobs Login to download your reprintsAuthors Print this pagePrint E-mail this page to someoneE-mail NISC Databases - NISC Journals - NISC Books - Rquest a free 38 day trial - .:: www.nisc.co. More
Kerguelen tern numbers decreased and then recovered at Marion Island, but numbers of the species have declined at Prince Edward Island and it maintains a tenuous foothold there. The small Antarctic tern population appears to be stable. More