Andean Gull
The Andean Gull is a species of gull in the Laridae family. As is the case with many gulls, it has traditionally been placed in the genus Larus. It is found in Argentina, Bolivia, Chile, Colombia, Ecuador, and Peru. Its natural habitats are rivers, freshwater lakes, saline marshes, and pastureland.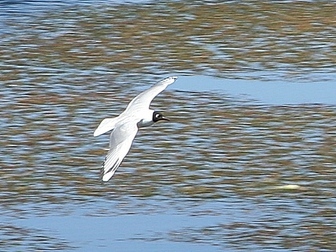 Picture of the Andean Gull has been licensed under a Creative Commons
Attribution-Share Alike
.
Original source
: Flickr here
Author
: Flickr user Alastair Rae . Photo uploaded to commons by user ltshears
The Andean Gull is classified as Least Concern. Does not qualify for a more at risk category. Widespread and abundant taxa are included in this category.

The Andean Gull (Chroicocephalus serranus) is a species of gull in the Laridae family. As is the case with many gulls, it has traditionally been placed in the genus Larus. It is found in Argentina, Bolivia, Chile, Colombia, Ecuador, and Peru. Its natural habitats are rivers, freshwater lakes, saline marshes, and pastureland. Search Wikimedia Commons Wikimedia Commons has media related to: Larus serranus References - * BirdLife International 2004. Larus serranus. More
Andean gull is the only species likely to be found in paramo. Exposure mode: aperture priority (semi-auto) Exposure time: 0.0012 s (1/800) Aperture: f/5.6 Focal length: 170. More
Andean Gull - a selection http://www.flickr.com/people/rgibbo3/ Richard Gibbons http://www.flickr.com/people/merula/ Alistair Rae http://www.flickr.com/people/mikereys/ Mike Reys Posted by alan tilmouth at 14:07 Labels: Andean Gull Larus serranus 0 comments: Post a Comment Newer Post Older Post Home Subscribe to: Post Comments (Atom) About This Blog - Gulls are the Marmite of the birding world. More
Andean Gull (Non breeding).jpg Date: 2007 Author: Juan Jose Chalco Photo: Juan Chalco Department: Junin Birding Site: Junin lake and shores Trail: Casapato, near Carhuamayo File: Andean Gull (Non breeding).jpg (0 bytes) Comments: Name: Andean Gull (breeding). More
The Andean Gull (Larus serranus) is a gull of western South America, occuring from Ecuador southward to southern Argentina and Chile. The images shown here were taken in July, 2006, along the Urubamba River, near Urubamba, Departmento de Cusco, Peru. The images were shot with a Canon EOS 1D Mark II and EF 500mm F/4 L IS lens and 1.4X extender. Several Andean Gulls were foraging up and down the river as we stood on the bamk and watched them fly by. More