Ecuadorian Hillstar
The Ecuadorian Hillstar is a species of hummingbird in the Trochilidae family. It is found in grassland, scrub and stunted woodland at altitudes of 3,500 to 5,200 metres in the Andes of Ecuador and far southern Colombia. Uniquely among the hillstars, the males head is mainly bluish-purple.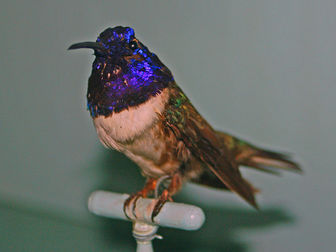 Picture of the Ecuadorian Hillstar has been licensed under a
GFDL
Original source
: Ettore Balocchi
Author
: Ettore Balocchi
Permission
: GNU Free Documentation License
The Ecuadorian Hillstar is classified as Least Concern. Does not qualify for a more at risk category. Widespread and abundant taxa are included in this category.

The Ecuadorian Hillstar (Oreotrochilus chimborazo) is a species of hummingbird in the Trochilidae family. It is found in grassland, scrub and stunted woodland at altitudes of 3,500 to 5,200 metres (11,500 to 17,100 ft) (no other species of hummingbird occurs at higher altitudes) in the Andes of Ecuador and far southern Colombia. Uniquely among the hillstars, the males head is mainly bluish-purple. References - * BirdLife International 2004. Oreotrochilus chimborazo. More
Ecuadorian Hillstar (Oreotrochilus chimborazo) by Juan Bahamon - Click Image to enter Slide Show SlideShow | Image Information | Contact the Photographer Image information - Description Portfolio Juan Bahamon Capture Medium Digital Capture Capture Format 35mm Location Antisana Volcano, Ecuador URL More
Ecuadorian Hillstar in Ecuador = "Cock-of-the-Rock" trip with Naturetrek 6 to 15 November 2009 All photographs copyright Paul Gale Bird Photography Birds of Ecuador GalleryOfBirds Home More
In 1991 Ecuadorian Hillstar was discovered in Colombia in this area. However, in order to see it you must climb through the p More