Paradise Shelduck
The Paradise Shelducks usually live as pairs, grazing on grass and weeds, and will raid crops, particularly when molting.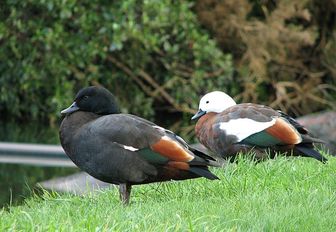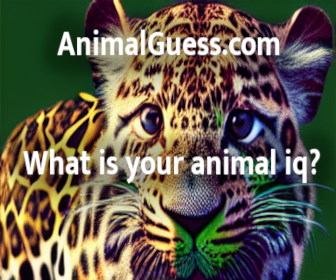 Picture of the Paradise Shelduck has been licensed under a Creative Commons
Attribution-Share Alike
.
Original source
: originally posted to Flickr as Paradise Shelduck - Tadorna variegata
Author
: Michael HamiltonPermission(Reusing this file)This image, which was originally posted to Flickr.com, was uploaded to Commons using Flickr upload bot on 04:40, 13 June 2008 (UTC) by Kahuroa (talk). On that date it was licensed under the license below. This file is licensed under the Creative Commons Attribution-Share Alike 2.0 Generic license.You are free:to share – to copy, distribute and transmit the work
The Paradise Shelduck is classified as Least Concern. Does not qualify for a more at risk category. Widespread and abundant taxa are included in this category.

The Paradise Shelduck, Tadorna variegata, is a large goose-like duck endemic to New Zealand. They are known to the Māori as Pūtang but now commonly referred to as the "Paradise duck", and are prized game birds. Both the male and female have striking plumage, the male has a black head and barred black body, the female a white head with a chestnut body. The Paradise Shelducks usually live as pairs, grazing on grass and weeds, and will raid crops, particularly when molting. More
Paradise Shelducks were uncommon prior to European settlement, however, changes to habitat caused by the conversion of forest to pasture, and the deliberate provisioning on ponds by hunting groups, has lead to a large increase in the numbers of these ducks. The Paradise Shelducks usually live as pairs, grazing on grass and weeds, and will raid crops, particularly when molting. More
Paradise Shelducks are usually seen in pairs or flocks. Pairs form long term bonds. They will fiercely defend their territory while breeding. The Paradise Shelduck shown in the picture is female. Unusual among ducks, female shelducks have brighter plumage than the males. Breeding Breeding this duck is not difficult. They do require a burrow-type nest box to lay the clutch of 8 to 16 eggs. More
Putangitangi, the paradise shelduck, is endemic to New Zealand, that is it is found nowhere else in the world. It was discovered first by Captain Cook at Dusky Sound in 1773 during his second voyage. Cook called it the Painted Duck. They were not a common bird before settlement by Europeans but are now one of the endemic birds which has prospered with the conversion of native forest to pasture. More
The Paradise Shelduck (Tadorna variegata) is native to New Zealand and its offshore islands. This large duck is notable for its loud call and the widely different markings of the sexes. It is not a true duck as its bone structure is in some ways closer to that of a goose. The ducks form breeding pairs that stay together throughout the year and start to nest in August (late winter). The chicks have very distinctive black and white plumage. More
Paradise Shelducks form long-term pair bonds, often lasting for life. They reach sexual maturity after two years, and build nests hidden in high grass or beneath rotting logs, and is lined with grass and feathers. Chicks fledge after eight weeks. Paradise Shelducks were uncommon prior to European settlement, however changes to habitat caused by the conversion of forest to pasture, and the deliberate provisioning on ponds by hunting groups, has lead to a large increase in the numbers of these ducks. More
* The paradise shelduck shown in the picture is female. Unusual among ducks, female shelducks have brighter plumage than the males. << Back to Australian Outback ©2008 Lake Superior Zoo 72nd Avenue West & Grand Avenue Duluth, MN 55807 (218) 730-4900 info@lszoo. More
Paradise shelduck, male - photographer: Max McRae'DAPHNE' - photographer: Simon FordhamA large goose-like duck with orange-chestnut undertail and tertials. The male has a black head with a greenish gloss and a dark grey finely barred black body. The female has a white head, and a bright orange-chestnut body, obscured by darker fine barring in eclipse plumage. In flight both have prominent white patches on the upperwings.They are very vocal and the male call is a More
Paradise Shelducks form long-term pair bonds, often lasting for life. They have a long breeding season which is between August through December. They reach sexual maturity after two years, and build nests hidden in high grass, hollow trees or beneath rotting logs, and is lined with grass and feathers. Chicks fledge after eight weeks. More
The Paradise Shelduck is a prized game bird. Its Māori name is Putangitangi. The Paradise Shelduck is a member of the Duck family. The Male has a black head and barred black body. The Female has a white head with a chestnut body. The Paradise Shelduck has a pointy tail. They are all over New Zealand and widespread in all but a few areas. They usually live as pairs. They live in farmland, grassland and wetland. More
Paradise Shelducks can be seen throughout New Zealand. They are usually seen in pairs, with the male having the overall dark plumage while the female has the conspicuous white head. The birds pair for life.. Picture Copyright - Linda Izard Loading... More