South African Shelduck
This is a 64 cm long bird which breeds in southern Africa, mainly in Namibia and South Africa. In the southern winter, many birds move north-east from the breeding range to favoured moulting grounds, where sizable concentrations occur.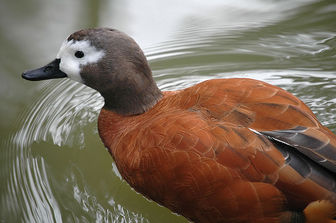 Picture of the South African Shelduck has been licensed under a Creative Commons
Attribution
.
Original source
: Duck
Author
: Marieke Kuijpers from 's-Hertogenbosch, NetherlandsCamera location
The South African Shelduck is classified as Least Concern. Does not qualify for a more at risk category. Widespread and abundant taxa are included in this category.

The Cape Shelduck or South African Shelduck, Tadorna cana, is a species of shelduck, a group of large goose-like birds which are part of the bird family Anatidae, which also includes the swans, geese and ducks. The Anatidae article should be referred to for an overview of this group of birds. This is a 64 cm long bird which breeds in southern Africa, mainly in Namibia and South Africa. More
Distribution of South African Shelduck in southern Africa, based on statistical smoothing of the records from first SA Bird Atlas Project (© Animal Demography unit, University of Cape Town; smoothing by Birgit Erni and Francesca Little). Colours range from dark blue (most common) through to yellow (least common). See here for the latest distribution from the SABAP2. More
South African Shelduck (Tadorna cana) by Don Jones. More
South African Shelduck by Ian Fulton Photographer: Ian Fulton Location: Gammams water treatment plant, Windhoek Date Taken: 16/Oct/2004 Upload On: 01/Aug/2009 Rating: ****** Photographer: Trevor Hardaker South African Shelduck by Trevor Hardaker Location: West Coast National Park Date Taken: 25/Aug/2007 Upload On: 25/Aug/2007 Rating: ****** South African Shelduck by Trevor Hardaker Photographer: Trevor More