Short-billed Pigeon
The Short-billed Pigeon, Patagioenas nigrirostris , is a largish pigeon which breeds from southern Mexico south to northwestern Colombia. It is a member of a clade of Patagioenas that contains the smaller and rather plain species with characteristic calls that constitute the subgenus Oenoenas .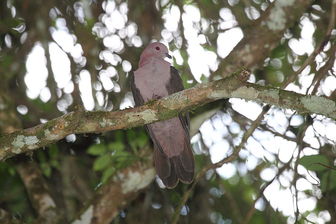 Picture of the Short-billed Pigeon has been licensed under a Creative Commons
Attribution-Share Alike
.
Original source
: Flickr: Short-billed Pigeon (Patagioenas nigrirostris)
Author
: Dominic SheronyPermission(Reusing this file)This image, which was originally posted to Flickr.com, was uploaded to Commons using Flickr upload bot on 07:41, 30 May 2011 (UTC) by DreamOfShadows (talk). On that date it was licensed under the license below. This file is licensed under the Creative Commons Attribution-Share Alike 2.0 Generic license.You are free:to share – to copy, distribute and transmit the work
The Short-billed Pigeon is classified as Least Concern. Does not qualify for a more at risk category. Widespread and abundant taxa are included in this category.

The Short-billed Pigeon, Patagioenas nigrirostris (see Johnson et al. 2001), is a largish pigeon which breeds from southern Mexico south to northwestern Colombia. It is a member of a clade of Patagioenas that contains the smaller and rather plain species with characteristic calls (Johnson et al. 2001) that constitute the subgenus Oenoenas (Mahler & Tubaro 2001). More
The Short-billed Pigeon is 26.5 cm (10.5 ins) long and weighs 150 g. It is unpatterned and mainly wine-purple in colour, becoming browner on the belly and more olive-brown on the back. The tail and primary flight feathers are blackish, the bill is black, and the legs and eyes are purple-red. The female is slightly duller and browner than the male, and the juvenile bird has a greyish brown head, neck and breast, with cinnamon scaling on the head and upperparts. More
Patagioenas nigrirostris - Short-billed Pigeon - Pigeon à bec noir - Fev 07 Short-billed Pigeon Short-billed Pigeon Short-billed Pigeon Short-billed Pigeon - Patagioenas nigrirostris Locations for recordings with GPS coordinates page 1 Short-billed Pigeon song Patagioenas nigrirostris (0:37) Don Jones XC1870 24-03-00, Belize Short-billed Pigeon call Patagioenas nigrirostris (0:32) Ken Allaire XC6426 20-07-2005, Panama More
Short-billed Pigeon Patagioenas nigrirostris = Described by: Sclater, P. L. (1860) Alternate common name(s): Chiriqui Pigeon Old scientific name(s): Oenoenas nigrirostris, Columba nigrirostris Photographs Achiote Road, Panama - Jan 20, 2004 More
Short-billed Pigeon, Columba nigrirostris Columbidae (PIGEONS & DOVES) Short-billed Pigeon, Columba nigrirostris This photo was taken in: Guatemala This photo was taken with: Nikon Coolpix 4500 and Leica APO Televid The photo was taken by: Mark Piazzi Birdtours.co. More
Short-billed Pigeon Patagioenas nigrirostris = Achiote Road, Panama - Jan 20, 2004 More