African Wood Owl
The African Wood Owl, Strix woodfordii, is a medium-sized owl with dark eyes and no ear tufts. It is 30 to 36 cm long and weighs from 240 to 350 grams. It lives in Africa from Senegambia to Sudan and south to Angola, the Democratic Republic of the Congo, Kenya, and on the east coast to South Africa. It lives mainly in forest and woodland though it sometimes inhabits plantations. It eats mostly insects but will also eat reptiles, small mammals, and other birds. It breeds from July to October and lays 1 to 3 eggs in a hollow in a tree. It will then incubate the eggs for about 31 days. Five weeks after the eggs hatch, the young will leave the nest and can fly 2 weeks later. The young will remain with the parents for about four months and will sometimes stay till the next breeding season. Its call is a loud series of fast hoots. It is not threatened and is common in almost all of its range.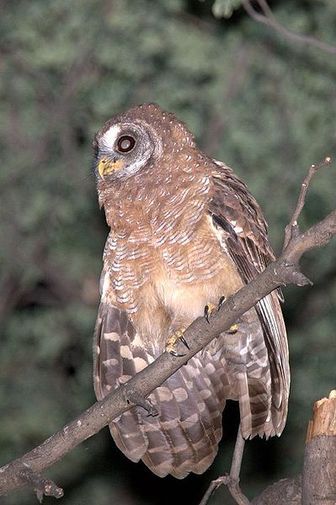 Picture of the African Wood Owl has been licensed under a Creative Commons
Attribution
.
Original source
: Robert Lewis from Berkeley, CA, USACamera location
Author
: Robert Lewis from Berkeley, CA, USACamera location
The African Wood Owl is classified as Least Concern. Does not qualify for a more at risk category. Widespread and abundant taxa are included in this category.

The African Wood Owl, Strix woodfordii, is a medium-sized owl with dark eyes and no ear tufts. It is 30 to 36 cm long and weighs from 240 to 350 grams. It lives in Africa from Senegambia to Sudan and south to Angola, the Democratic Republic of the Congo, Kenya, and on the east coast to South Africa. It lives mainly in forest and woodland though it sometimes inhabits plantations. It eats mostly insects but will also eat reptiles, small mammals, and other birds. More
For the purposes of our bird news services, African Wood Owl is classed as Common: common species, including species that are certain or probable escapees from captivity when occurring in the British Isles. (Note that rarity levels are currently applied nationally and may not reflect local variations in abundance. More
African Wood Owl Strix woodfordii African Wood Owl Strix woodfordii African Wood Owl Strix woodfordii African Wood Owl Strix woodfordii African Wood Owl Strix woodfordii African Wood Owl Strix woodfordii African Wood Owl Strix woodfordii African Wood Owl Strix woodfordii African Wood Owl Strix woodfordii African Wood Owl Strix woodfordii African Wood Owl Strix woodfordii African Wood Owl Strix woodfordii African Wood Owl Strix woodfordii African Wood Owl Strix woodfordii African Wood Owl Strix woodfordii African Wood Owl Strix More
African Wood Owl, Animal, Bird, Bird of Prey, Cute, Owl, Single Object, Animals In The Wild ... More
Vocalizations of African Wood Owls in the Congo I also taped songs and calls of African Wood Owls outside the village of Kalamba-Biambo and am analyzing the sounds by comparing to songs and calls of this species recorded in Kenya, Zimbabwe, and elsewhere. My initial findings are that the songs of this species in the Congo differ significantly from its songs elsewhere in three ways: 1. More
african wood owl kruger national park birds The African Wood-Owl (Latin name Strix woodfordii) is described in Roberts Birds of Southern Africa, 7th Edition. This bird has a unique Roberts number of 394 and you will find a full description of this bird on page 260 also a picture of the African Wood-Owl on page 272. The African Wood-Owl belongs to the family of birds classified as strigidae. More
For an extra £10 you can adopt a pair of East African Wood Owls at the centre: please make sure to choose which level of adoption you would like by using the drop down menu. Price:£30. More
African Wood Owl postcard African wood owl Baby African wood-owl (Strix woodfordii) African Wood-Owl (Strix woodfordii) Baby African wood-owl (Strix woodfordii) Locations for recordings with GPS coordinates Results 1 - 4 of 4 from 1 species for sp:5880.00 (foreground species only). page 1 African Wood Owl Song Strix woodfordii (0:56) Louis A. More