Verreaux's Eagle-Owl
Verreaux's Eagle-owl ranges from 66–75 cm in length. This species can attain a wingspan 2 m and weighs from 1600 to 3115 grams , orange eyes and two feather tufts on their ears. Their feathers are dark brown on top and light grey below.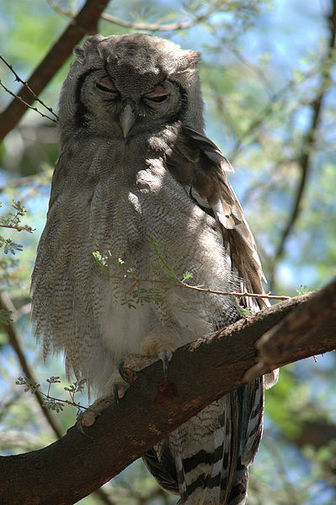 Picture of the Verreaux's Eagle-Owl has been licensed under a Creative Commons
Attribution-Share Alike
.
Original source
: originally posted to Flickr as Verreaux's Eagle Owl in Larsens Camp
Author
: frederic.saleinPermission(Reusing this file)This image, which was originally posted to Flickr.com, was uploaded to Commons using Flickr upload bot on 14:18, 6 September 2008 (UTC) by Martin H. (talk). On that date it was licensed under the license below. This file is licensed under the Creative Commons Attribution-Share Alike 2.0 Generic license.You are free:to share – to copy, distribute and transmit the work
The Verreaux's Eagle-Owl is classified as Least Concern. Does not qualify for a more at risk category. Widespread and abundant taxa are included in this category.

Verreaux's Eagle-owl – are of unresolved relationships, more research is needed. More
Verreaux's Eagle-owl ranges from 66–75 cm (26-30 in) in length. This species can attain a wingspan 2 m (6.5 ft) and weighs from 1600 to 3115 grams (equal to 3.5 to 7 pounds). In appearance, they are distinguished by a whitish oval disk face with a black border, pink eyelids, orange eyes and two feather tufts on their ears. Their feathers are dark brown on top and light grey below. Behavior - They are nocturnal birds and roost in tall trees. More
The Verreaux's Eagle-Owl is a Southern African bird that belongs to the strigidae bird family group which includes birds such as Typical owls. The description for the Verreaux's Eagle-Owl (Latin name Bubo lacteus) can be found in the 7th Edition of the Roberts Birds of Southern Africa. The Bubo lacteus can be quickly identified by its unique Roberts identification number of 402 and the detailed description of this bird is on page 258. More
This Verreaux's Eagle-Owl (Bubo lacteus) is also known as Giant Eagle-Owl. It is a resident over much of southern Africa. The individual shown here was spotted in a large tree in the Huab River Valley, Namibia, in October, 1998. The shots were taken with a Canon EOS 1N and EF 300mm F/2.8 L lens and 2X extender on Fuji Sensia. More