Hutton's Shearwater
It is an endemic breeder of New Zealand, with breeding restricted to only two remaining colonies in the Kaikoura Seaward Ranges, Kaikoura. During the non-breeding winter months migration occurs to South Australia. Some anecdotal evidence suggests pre-breeding birds circumnavigate Australia in the years leading up to sexual maturity.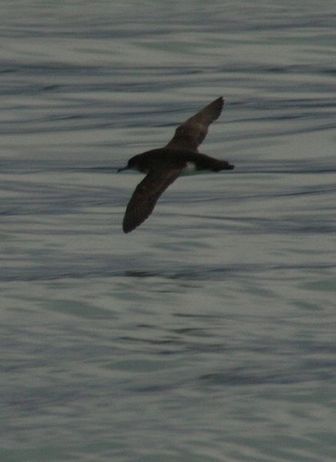 Picture of the Hutton's Shearwater has been licensed under a
GFDL
Original source
: SDuncan Wright
Author
: SDuncan Wright
Permission
: GNU Free Documentation License
The Hutton's Shearwater is classified as Endangered (EN), considered to be facing a very high risk of extinction in the wild.

The Hutton's Shearwater (Puffinus huttoni) is a species of seabird in the family Procellariidae. Its common and specific name commemorates F. W. Hutton, a former curator of the Canterbury Museum in Christchurch. It is an endemic breeder of New Zealand, with breeding restricted to only two remaining colonies in the Kaikoura Seaward Ranges, Kaikoura. During the non-breeding winter months migration occurs to South Australia. Some anecdotal evidence suggests pre-breeding birds circumnavigate Australia in the years leading up to sexual maturity. More
Hutton's shearwater is one of the few seabird species that has survived on the mainland of New Zealand. Although it was known to have bred elsewhere in the Kaikoura Ranges and in North Canterbury, now just two colonies remain in the Seaward Kaikoura Rangers at altitudes of between 1200 and 1600m which probably has a lot to do with their survival there. More
The Hutton's Shearwater Charitable Trust Learn how you can help. * Home * About the Hutton's Shearwater * Trust Projects * Research * Contact Us * Links & Sponsors About the Hutton's Shearwater = Hutton's shearwater is an endangered seabird endemic to Kaikoura. More
Geoff is retired but has the passion for the Hutton's shearwater that has spanned 45 years since he rediscovered the birds at their breeding grounds. He is still as passionate and committed to their conservation as he was in 1964 and has actively participated as a volunteer in the relocation project, along with his wife Lyndsay. Geoff is a member of the Hutton's Shearwater Recovery Group. More
shearwaters such as sooty, flesh-footed and Hutton's shearwaters which form large flocks flying in circles over schools of baitfish. Sooty Shearwater - Titi = The most common seabird found in the New Zealand region with a world population of 20 million birds. Harvested in New Zealand, being the traditional muttonbird for Southern Maori tribes with about quarter of a million chicks harvested annually. Sooty shearwaters breed in New Zealand over the summer and autumn. More
• The Hutton's shearwater was first described in 1912, however it wasn't until 1965 that their breeding grounds were discovered by an amateur ornithologist – Geoff Harrow. • The Hutton's shearwater is the only sea-bird species that breeds in a sub-alpine environment. • Often Hutton's shearwaters return to Kaikoura only to find their burrows covered in snow. They must wait several weeks for the snow to melt to reveal their burrows. More
ShearwaterSUPPLIEDVOTE FOR ME! The hutton's shearwater is very special to Kaikoura and there is a movement afoot to encourage as many people as possible to enter a vote in this year's Bird of the Year competition. More
Hutton's shearwater feeds further out to sea and it is believed to be a migrant species wintering in north west Australian waters. The fluttering shearwater is believed to be a semi-migrant species with only the juveniles spending time in south east Australia. The red cell enzymes of P. gavia, P. huttoni and P. griseus are compared. There are differences in two esterase loci between gavia and huttoni, while P. griseus is more distantly related. Nei's genetic identity values are calculated. More
For the purposes of our bird news services, Hutton's Shearwater is classed as ungraded: species which are unlikely to appear as wild birds in Britain or Ireland (Note that rarity levels are currently applied nationally and may not reflect local variations in abundance. More
Hutton's shearwater is one of the few seabird species that has survived on the mainland of New Zealand. The current population is estimated at 190,000 breeding pairs. More
endangered seabird, the Hutton's shearwater set in motion the process to have the entire upper area protected, in perpetuity, under a QE II National Trust Protection Covenant. This area is now known as the Puhi Peaks Nature Reserve. (see extract below from our August 2009 Newsletter) Nicky is not only a member of this trust but also convenor of the Friends of the Hutton's Shearwater formed to ensure the future of this endangered species. More
Hutton's Shearwater are endemic to New Zealand and nest only in the Kaikoura mountains. They are very similar to Fluttering Shearwater but have a longer bill and more extensive dark markings on their head, neck, and underwing. Please click your browser's back button to return to the page that brought you here. All images are copyright Ray Wilson raywilsonphotography@googlemail. More