Great-winged Petrel
There are two recognized subspecies of P. macroptera - P. m. macroptera and P. m. gouldi, the latter of which is endemic to New Zealand, and is often called the Grey-faced Petrel.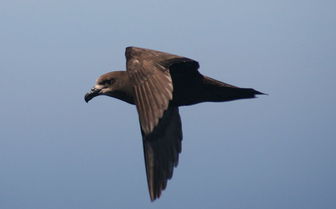 Picture of the Great-winged Petrel has been licensed under a
GFDL
Original source
: Own work
Author
: Sabine's Sunbird
Permission
: GNU Free Documentation License
The Great-winged Petrel is classified as Least Concern. Does not qualify for a more at risk category. Widespread and abundant taxa are included in this category.

The Great-winged Petrel has a large range, estimated globally at 100,000 to 1,000,000 square kilometers. It is native to Australia, New Zealand, Africa, and the Sandwich Islands, though it has been spotted in Antarctica, Brazil, the United States, Argentina, Chile, and the Falkland Islands. This bird prefers a marine ecosystem that is coastal, oceanic, or neritic. The global population is estimated to be 420,000 individuals, and the population does not show a decline rate that would necessitate inclusion on the IUCN Red List. More
great-winged petrels have left. More info: * Hadoram Shirihai, A complete guide to Antarctic wildlife (2002) * David McGonigal & Lynn Woodworth, Antarctica and the Arctic. The complete encyclopedia (2001) * Tony Soper, Antarctica. More
This Great-winged Petrel is just one example of over 900 WhatBird.com illustrations available for licensing. All illustrations are hand drawn and provided in Photoshop 300 dpi, layered, 2400 x 3000 pixels, 24 bit color format. See below for available formats for this product. For custom or non standard uses of our of our illustrations go to this link and fill out the form at this link: http://www.whatbird.com/illustrationlicensing/ A representative will contact you within 48 hours. More
For the purposes of our bird news services, Great-winged Petrel is classed as Ungraded: species which are unlikely to appear as wild birds in Britain or Ireland hide section Most recent photos of Great-winged Petrel (3) Kaikoura, South Island, New Zealand Kaikoura, South Island, New Zealand29/11/2009 Kaikoura, South Island, New Zealand 29/11/2009 Cape Town Pelagic, South Africa Cape Town Pelagic, South Africa26/11/2009 Cape Town Pelagic, South Africa 26/11/2009 Hauraki Gulf, New More
Great-winged Petrel is commonly seen off the southern and south west coast of Western Australia throughout most of the year. On the Hillarys pelagic trips, they are usually only seen when the depth is more than 100 metres. The nominate race macroptera breeds on islands off the southern coast of Western Australia. The race gouldi breeds in New Zealand but does occasionally visit Western Australia and one was seen on the August 2001 pelagic trip off Hillarys. More
trip, but the Great-winged Petrels were less common than usual. We continued west at speed until we found some birds and then we set a burley and fish oil trail to the south which we retraced several times. We saw an excellent range of species but nothing unusual. Two Pantropical Spotted Dolphins leapt clear of the water off the port side, and shortly after a third larger plainer (Bottlenose?) dolphin was also seen off the port bow. More
Great-winged Petrel dropping on the water yielded a brief but good view of a Fjordland Penguin for one observer. The lack of fleshy gape, black throat, longish yellow crest and white flecks in the cheeks were diagnostic. July 23, 2009 : Continental shelf to Storm Bay On the final day we proceeded almost immediately off the shelf as a strong southwesterly wind had built a large sea overnight. More