Grey-backed Storm Petrel
It is found in Antarctica, Argentina, Australia, Chile, Falkland Islands, French Southern Territories, New Zealand, Saint Helena, South Africa, and South Georgia and the South Sandwich Islands. Its natural habitat is open seas.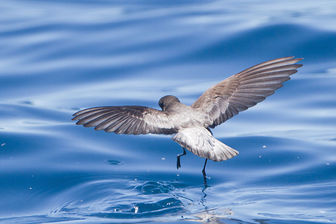 Picture of the Grey-backed Storm Petrel has been licensed under a Creative Commons
Attribution-Share Alike
.
Original source
: Own work
Author
: JJ Harrison (http://www.noodlesnacks.com/)Camera location
The Grey-backed Storm Petrel is classified as Least Concern. Does not qualify for a more at risk category. Widespread and abundant taxa are included in this category.

Grey-backed Storm Petrel and the Flesh-footed Petrel seemed to give him the most joy. 'Enthusiasm is the key - the grip of the hand, the spring in the step and the spark in the eye - without it, everything else is an alibi!' Henry Ford is supposed to have remarked, though I don't suppose Henry did much for the birds around Baton Rouge. Brent has the enthusiasm. More
Stamps showing Grey-backed Storm Petrel Garrodia nereis Grey-backed Storm Petrel Garrodia nereis Grey-backed Storm Petrel Garrodia nereis 19.002 Grey-backed Storm Petrel IOC v2.4: 661 Links will open countrypage in new window - French Antarctic Territory 01.01.1997 Storm-Petrel - South Georgia & Southsandwich 15.11. More
Grey-backed Storm Petrel, Simon Mustoe WHALE AND DOLPHIN POSITION DATA Latitude Longitude Species Number Date -41.2423 148. More
The grey-backed storm petrel has ash-grey upperparts and white underparts - it only follows fishing boats, and feeds mainly on planktonic crustaceans, small squid and fish. The bird can be found from the Falklands east to the Chatham Islands, but mainly on the islands around New Zealand. It returns to breed during October and November, the female laying a single egg in November or December. The chick fledges in April or May. More