Red-fronted Tinkerbird
The Red-fronted Tinkerbird is a widespread and frequently common resident breeder in eastern South Africa, with a separate population from southern Sudan and Ethiopia south to central and eastern Tanzania. It is sometimes considered conspecific with its northern counterpart, the Yellow-fronted Tinkerbird, Pogoniulus chrysoconus.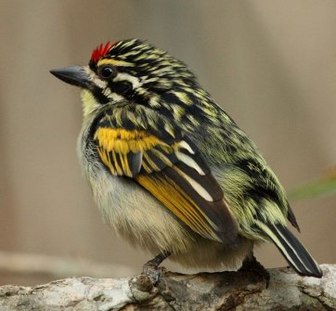 Picture of the Red-fronted Tinkerbird has been licensed under a Creative Commons
Attribution-Share Alike
.
Original source
: Alan Manson
Author
: Alan Manson
The Red-fronted Tinkerbird is classified as Least Concern. Does not qualify for a more at risk category. Widespread and abundant taxa are included in this category.

The Red-fronted Tinkerbird is a widespread and frequently common resident breeder in eastern South Africa, with a separate population from southern Sudan and Ethiopia south to central and eastern Tanzania. It is sometimes considered conspecific with its northern counterpart, the Yellow-fronted Tinkerbird, Pogoniulus chrysoconus. The Red-fronted Tinkerbird is associated with juniper forest and scrub. It nests in a tree hole, and lays two or three eggs. More
The Red-fronted Tinkerbird is 9-10.5 cm in length. It is a plump bird, with a short neck, large head, and short tail. The adult has black upperparts heavlly streaked with yellow and white, and a golden wing patch. Its head has a strong black and white pattern, with a red forecrown spot. Its underparts and rump are lemon yellow. Sexes are similar in appearance, but young birds lack the red forehead. More
The Red-fronted tinkerbird's distribution is split into two isolated populations - one in north east Africa, the other largely restricted to the south-eastern coastal area in South Africa., preferring riverine forest and valley bushveld. It mainly forages in the upper canopy of trees, feeding on small fruits, especially mistletoes, occasionally hawking insects. Both sexes excavate the nest, which is usually a hole dug into the underside of a branch, or an upright dead tree trunk. More
The Red-fronted Tinkerbird (Latin name Pogoniulus pusillus) is described in Roberts Birds of Southern Africa, 7th Edition. This bird has a unique Roberts number of 469 and you will find a full description of this bird on page 143 also a picture of the Red-fronted Tinkerbird on page 144. The Red-fronted Tinkerbird belongs to the family of birds classified as Lybiidae. More