Yellow-rumped Tinkerbird
It is found in Angola, Benin, Burundi, Cameroon, Central African Republic, Republic of the Congo, Democratic Republic of the Congo, Ivory Coast, Equatorial Guinea, Gabon, Gambia, Ghana, Guinea, Guinea-Bissau, Kenya, Liberia, Malawi, Mozambique, Nigeria, Rwanda, Senegal, Sierra Leone, South Africa, Sudan, Swaziland, Tanzania, Togo, Uganda, Zambia, and Zimbabwe.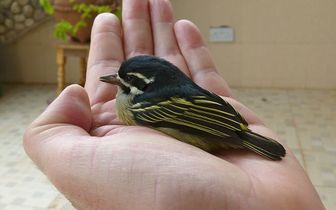 Picture of the Yellow-rumped Tinkerbird has been licensed under a Creative Commons
Attribution-Share Alike
.
Original source
: ChriKo
Author
: ChriKo
The Yellow-rumped Tinkerbird is classified as Least Concern. Does not qualify for a more at risk category. Widespread and abundant taxa are included in this category.

The Yellow-rumped Tinkerbird (Pogoniulus bilineatus) is a bird species in the family Lybiidae. It used to be placed in the family Bucconidae which has been split up; alternatively, it may be included in a vastly expanded Ramphastidae. More
Distribution of Yellow-rumped tinkerbird in southern Africa, based on statistical smoothing of the records from first SA Bird Atlas Project (© Animal Demography unit, University of Cape Town; smoothing by Birgit Erni and Francesca Little). Colours range from dark blue (most common) through to yellow (least common). See here for the latest distribution from the SABAP2. Food It mainly eats fruit, with the remainder of its diet insects and nectar, foraging in the upper canopy of trees. More
The height of the Yellow-rumped Tinkerbird is about 12 cms and its weight is about 15 gms The male and female Yellow-rumped Tinkerbird have the same plumage and colours Head is black. Eye is brown. Bill is black. Throat is white. Back is black. Legs are grey. Food It mainly eats fruit, with the remainder of its diet insects and nectar, foraging in the upper canopy of trees. More
page 141 also a picture of the Yellow-rumped Tinkerbird on page 144. The Yellow-rumped Tinkerbird belongs to the family of birds classified as Lybiidae. According to the Percy FitzPatrick Institute of African Ornithology the Yellow-rumped Tinkerbird is also known by these other names: Lemon-rumped Tinkerbird, Golde+G179n-rumped Tinkerbird. More