Downy Woodpecker
The Downy Woodpecker, Picoides pubescens, is the smallest woodpecker in North America. Adults are mainly black on the upper parts and wings, with a white back, throat and belly and white spotting on the wings. There is a white bar above the eye and one below. They have a black tail with white outer feathers barred with black. Adult males have a red patch on the back of the head.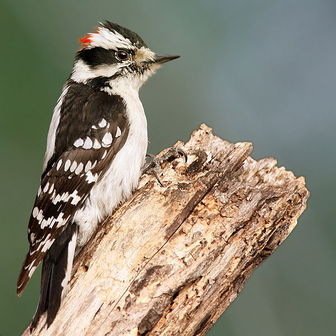 Picture of the Downy Woodpecker has been licensed under a
GFDL
Original source
: self-made / http://www.pbase.com/wwcsig/image/77075634
Author
: Wolfgang WanderPermission(Reusing this file)gfdl-1.2
Permission
: GNU Free Documentation License
The Downy Woodpecker is classified as Least Concern. Does not qualify for a more at risk category. Widespread and abundant taxa are included in this category.

The Downy Woodpecker, Picoides pubescens, is the smallest woodpecker in North America. Adults are mainly black on the upper parts and wings, with a white back, throat and belly and white spotting on the wings. There is a white bar above the eye and one below. They have a black tail with white outer feathers barred with black. Adult males have a red patch on the back of the head. The female lacks the red patch on the back of the head. More
The active little Downy Woodpecker is a familiar sight at backyard feeders and in parks and woodlots, where it joins flocks of chickadees and nuthatches, barely outsizing them. An often acrobatic forager, this black-and-white woodpecker is at home on tiny branches or balancing on slender plant galls, sycamore seed balls, and suet feeders. Downies and their larger lookalike, the Hairy Woodpecker, are one of the first identification challenges that beginning bird watchers master. More
Downy Woodpeckers hold the distinction of being the most common and smallest American woodpecker. In ShenandoahNational Park, Downy Woodpeckers are among the relatively few bird species regularly seen during the winter. Physical Description Downy Woodpeckers are between 6 and 7 inches (14-17 cm) in length and their wingspan is between 10 and 12 inches (25-30 cm). Adult birds weigh between 0.74 and 1 ounces (21-28 g). The downy has a white breast with black and white back. More
Downy Woodpeckers roost in tree cavities in the winter. Downy Woodpeckers forage on trees, picking the bark surface in summer and digging deeper in winter. They mainly eat insects, also seeds and berries. In winter, especially, Downy Woodpeckers can often be found in treed suburban backyards and will feed on suet at birdfeeders. References - * BirdLife International (2004). Picoides pubescens. 2006. IUCN Red List of Threatened Species. IUCN 2006. More
The Downy Woodpecker may be the most familiar woodpecker in North America. It occurs throughout North America where woodlands are found, being absent only from tundra regions of Canada and Alaska, and from southern Texas. It is virtually identical to the Hairy Woodpecker, but is much smaller and with a much shorter bill. Downy Woodpeckers readily visit backyard feeders where suet and peanut butter are offered. More
The Downy Woodpecker is the smallest woodpecker in North America. More
Downy WoodpeckerThe downy woodpecker is six inches long and has a small black bill. It has a white chest and back, black wings with white spots, a black tail and a black head with a white "mustache" and white "eyebrows." The male has a red patch on the back of its head. Range The downy woodpecker can be found throughout most of the United States and Canada except for Hawaii, the Southwest and northern Alaska and Canada. More
The Downy Woodpecker has a large range, estimated globally at 13,000,000 square kilometers. It is native to Canada, the United States and Saint Pierre and Miquelon. This bird prefers forest ecosystems that are boreal, temperate, subtropical, or tropical, though it has been known to reside in rural and urban areas. The global population of this bird is estimated at 13,000,000 individuals and it does not appear to meet population size or decline criteria that would necessitate inclusion on the IUCN Red List. More
Downy woodpeckers are common throughout the United States and Canada but are rarer in the southern parts of Texas, New Mexico, Arizona and California. They can be found in most wooded areas, including near rivers and in parks and backyards with abundant deciduous trees. These birds do not migrate. Vocalizations: The most common sound downy woodpeckers make is rapid drumming on tree trunks, branches and hollow logs to announce their territory. More
Downy Woodpecker and Hairy Woodpecker Identification Characteristics When observing these black and white woodpeckers, consider the following characteristics to tell which is a downy and which is a hairy More
The Downy Woodpecker occurs over the greater part of the North American continent, from the Gulf States northwards. In Canada in the northernmost part of its range, it is found from Newfoundland across to James Bay, the northern Prairie Provinces, the southern Mackenzie District of the Northwest Territories, northern British Columbia, and the Yukon. Downys in the northern parts of the range migrate southward in the winter, but these migrations are somewhat irregular, depending on the available food supplies. More
The Downy Woodpecker is the smallest woodpecker in North America. It is a small, mostly black and white bird. The male has a small red patch on the back of his head, and the female's is black. The Downy Woodpecker has a white belly, a large white stripe on his back, and his wings are black with white spots in horizontal rows. The Downy has a small, pointed bill. The Downy has two toes pointing forward, and two backward. More
Downy WoodpeckerThe downy woodpecker is the smallest and most common woodpecker in America. The downy woodpecker, Picoides pubescens, is very small, about 5.75 to 6 inches long and has a black and white plumage. It has a very short pointed bill set on a mostly black head with a white supercilium and lower border auriculars. It has a black nape and rump but has white back and undersides. More
NOTE: I have never heard of a Downy Woodpecker NESTING in a nestbox. However, they often ROOST in nestboxes and artificial snags. In a nestbox, they often "excavate" the interior, leaving woodchips behind (and sometimes gray downy feathers from preening.) They may also try to enlarge the entrance hole. Former Downy roosting and nesting cavities may be used by secondary cavity nesters, or enlarged by larger woodpecker species. More
bill, Downy Woodpeckers have plumage that is a sharply contrasting pattern of blacks and whites. The Downy Woodpecker is the most common North American woodpecker, and also the woodpecker reported most frequently by Project FeederWatch participants. During the 1996-1997 Project FeederWatch season, more than 69 percent of the participants reported Downy Woodpeckers, making them the fourth most common Project FeederWatch bird. More
Downy Woodpecker is the smallest woodpecker of North America. It has black and white plumage, with white in the middle of the back, and also on breast and belly, where white becomes greyish. Wings are black with white spots. Tail is black, with white outer feathers, and sometimes barred with black. Head is black, and we can see a white stripe above and below eyes. More
During the winter downy woodpeckers lead solitary lives. Males and females keep to themselves. But as day length increases, nature's absolutely reliable signal that winter is fading and spring is approaching, downies change their pattern of behavior. Back in the fall, families of downy woodpeckers broke up. Males, females, and juveniles went their separate ways. Each excavated its own roost cavity, where it sleeps at night. Soon longer days will signal that its time to get back together. More
The Downy Woodpecker is a familiar sight throughout most of North America. It is a pretty little bird similar in appearance to the Hairy Woodpecker. They will readily visit backyard birdfeeders if suet or peanut butter is offered, and its drumming roll can be heard throughout the springtime. They drum to attract a mate, mark their territory, and in my opinion, for the simple fun of it. More
The Downy Woodpecker is the smallest of our woodpeckers. About 6-7 inches long and about 2 inches shorter than the look-alike Hairy woodpecker. A white back and white underparts and black wings that have white spots. The Downy has a black-and-white-streaked face. The males have red on the nape whereas the females do not have any red. You'll find these birds in open woodlands, orchards, parks, and backyards. More