Ground Woodpecker
It is to be found in a broad swath running from south-west to north-east, from the Cape Peninsula and Namaqualand to the Transvaal. Its diet consists mainly of ants with their larvae, pupae and eggs. These are extracted from dead wood or between rocks, using its long, sticky tongue. Usually 3 glossy white eggs are laid in a chamber at the end of the tunnel.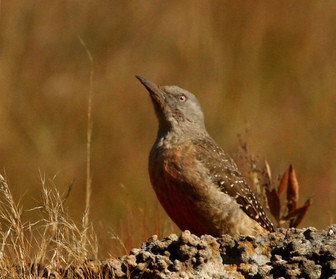 Picture of the Ground Woodpecker has been licensed under a Creative Commons
Attribution-Share Alike
.
Original source
: Alan Manson
Author
: Alan Manson
The Ground Woodpecker is classified as Least Concern. Does not qualify for a more at risk category. Widespread and abundant taxa are included in this category.

The Ground Woodpecker, Geocolaptes olivaceus, is one of only three ground-dwelling woodpeckers in the world. It inhabits rather barren, steep, boulder-strewn slopes in relatively cool hilly and mountainous areas of South Africa, and has yet to be recorded outside of Southern Africa. It is the largest woodpecker in the region, reaching 30cm in length. It usually goes about in pairs or small parties and is best located by its loud, raucous 2-note call (chik-ree, chik-ree) with head-swinging. More
Ground woodpecker on termite mound, Boland trail, Western Cape, South Africa. The Ground woodpecker is endemic to South Africa, Swaziland and Lesotho, being found in hilly, mountainous areas. It has a highly specialized diet, with about 99.8% of its diet ants, digging up subsurface ant nests, licking them up with its sticky tongue. Its nest is excavated by both sexes, and consists of a tunnel and egg chamber, normally dug into earthen banks. More
Ground Woodpecker by Francois Dreyer.On a briding trip to Rooiels I found a family group of Ground Woodpeckers on the mountain slope. With a careful approach I managed to get within 6 meters of the group. I took me about 1 hour to get so close but it was worth it. Ground Woodpecker is the largest woodpecker in South Africa. More
Ground Woodpecker by Francois Dreyer.Photographed at Rooiels, Western Cape, South Africa. To take full advantage of Flickr, you should use a JavaScript-enabled browser and install the latest version of the Macromedia Flash Player. Comments view profile nel.michele Pro User says: So that is what a ground woodpecker looks like !!! :) Thank you..super pic !!! Posted 14 months ago. More
Ground Woodpecker on a Birding Africa day trip from Cape Town, South Africa, October 2009 ?�?� Callan Cohen BIRDING AFRICA Send this as a postcard Ground Woodpecker - Ground Woodpecker, South Africa, Sani Pass dec 2003 © Marc Thibault Endemic to South Africa Ground Woodpecker - Ground Woodpecker, Lesotho, Sani Pass November 2004 © J�nos Ol�h Jr. More
a picture of the Ground Woodpecker on page 145. The Ground Woodpecker belongs to the family of birds classified as Picidae. The map of the Kruger you see on this page shows the areas (coloured orange) where this bird has been identified. The basic information was provided by the Avian Demographic Unit based at UCT and I created the maps from that information ... More
But the Ground Woodpecker takes it the furthest because it doesn't even nest in a tree; they excavate a burrow from a riverbank. It's an interesting example of the way that evolution works. More
The large Ground Woodpecker is confined to the mountains of the Drakensberg and the southern Cape. The tiny African Piculet is found in tropical rainforest from West Africa to Uganda. The related Red-throated Wryneck is found in open wooded grassland and is particularly common on the Highveld around Johannesburg. Breeding Woodpeckers are strongly territorial and call regularly throughout the day, and throughout the year, to defend their breeding (or feeding) range. More
For the purposes of our bird news services, Ground Woodpecker is classed as Ungraded: species that are unlikely to appear as wild birds in Britain or Ireland hide section Most recent photos of Ground Woodpecker (1) Karoo National Park, Western Cape, South Africa Karoo National Park, Western Cape, South Africa02/11/2009 Karoo National Park, Western Cape, South Africa 02/11/2009 View all pictures of Ground Woodpecker View all pictures of Ground Woodpecker show section External Links (0) More