Golden-tailed Woodpecker
The Golden-tailed Woodpecker is a species of bird in the Picidae family. It is found in Angola, Benin, Botswana, Cameroon, Central African Republic, Chad, Republic of the Congo, Democratic Republic of the Congo, Ivory Coast, Gambia, Ghana, Guinea, Guinea-Bissau, Kenya, Malawi, Mali, Mauritania, Mozambique, Namibia, Rwanda, Senegal, South Africa, Sudan, Swaziland, Tanzania, Uganda, Zambia, and Zimbabwe.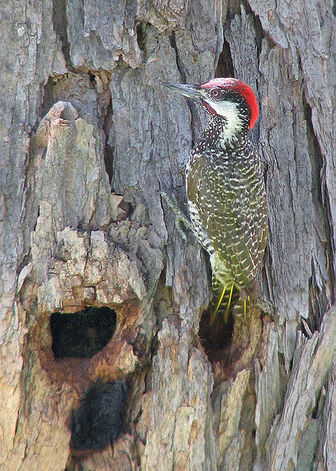 Picture of the Golden-tailed Woodpecker has been licensed under a Creative Commons
Attribution-Share Alike
.
Original source
: Flickr here
Author
: Flickr user Alastair Rae . Photo uploaded to commons by user ltshears
The Golden-tailed Woodpecker is classified as Least Concern. Does not qualify for a more at risk category. Widespread and abundant taxa are included in this category.

The Golden-tailed Woodpecker (Campethera abingoni) is a species of bird in the Picidae family. It is found in Angola, Benin, Botswana, Cameroon, Central African Republic, Chad, Republic of the Congo, Democratic Republic of the Congo, Ivory Coast, Gambia, Ghana, Guinea, Guinea-Bissau, Kenya, Malawi, Mali, Mauritania, Mozambique, Namibia, Rwanda, Senegal, South Africa, Sudan, Swaziland, Tanzania, Uganda, Zambia, and Zimbabwe. More
The Golden-tailed Woodpecker is known in Afrikaans as Goudstertspeg. This bird is very common in most of the Southern African Forests The Golden-tailed Woodpecker has a height of 23 cms and weighs around 70 gms. The head is coloured grey while the bill is coloured black. The Campethera abingoni has a white coloured throat, grey legs and a yellow, green coloured back. The eyes are red brown. The male has physical features that are slightly different from the female bird. More
The Golden-tailed woodpecker is fairly common in sub-saharan Africa, preferring riparian, Miombo and Mopane woodland. It mainly forages in trees, tapping and probing branches, looking for insects, licking them up with its barbed tongue. Both sexes excavate the nest, which is usually a hole in the underside of a tree branch. Here it lays 2-3 eggs, which are incubated by both sexes for about 13 days. The chicks are cared for by both parents, eventually leaving the nest after about 22-25 days. More
The Golden-tailed Woodpecker is a monogamous bird which means that the bird finds and breeds with one partner for the rest of its life. The bird lays between 2 to 3 eggs and they are coloured white. The bird builds its nest within a tree cavity just a few meters above the ground. The hole in the tree is normally reused in the next nesting season. The Golden-tailed Woodpecker is mainly found in light and densely wooded forests, where there are Mopane trees. More
The Golden-tailed Woodpecker is a Southern African bird that belongs to the Picidae bird family group which includes birds such as Woodpeckers, Wrynecks. The description for the Golden-tailed Woodpecker (Latin name Campethera abingoni) can be found in the 7th Edition of the Roberts Birds of Southern Africa. The Campethera abingoni can be quickly identified by its unique Roberts identification number of 483 and the detailed description of this bird is on page 131. More
In the Golden-tailed Woodpecker, the male has a red top to the head, with the forehead spotted with small black spots. The female has the forehead and mid-crown spotted white on black, and the hindcrown and nape is red. . This species has a small moustachial stripe from the base of the bill back towards the side of the neck - that of the male being dark red, and the females is black with fine white spots. More
View all pictures of Golden-tailed Woodpecker View all pictures of Golden-tailed Woodpecker show section External Links (0) We currently have no external links for this species. More
Golden-tailed Woodpecker (Campethera abingoni) by Derek Solomon from Zambia XC42968 :: Golden-tailed Woodpecker (Campethera abingoni) = Recording data Recordist Derek Solomon Date 16-09-06 Time 12:50 Country Zambia Location South Luangwa National Park Home Longitude E31. More