American flamingo
The American Flamingo breeds in the Galápagos Islands, coastal Colombia, Venezuela and nearby islands, besides the Guyanas and Cape Orange in Brazil. It also breeds in the Yucatán Peninsula of Mexico, and in the northern Caribbean in the Bahamas, Hispaniola, Cuba and the Turks and Caicos Islands. Most sightings in southern Florida are usually considered to be escapees, although at least one bird banded as a chick in the Yucatán Peninsula has been sighted in Everglades National Park, and others may be genuine wanderers from Cuba.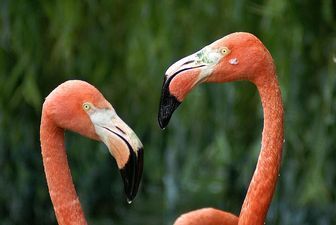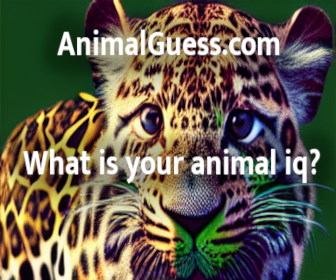 Picture of the American flamingo has been licensed under a Creative Commons
Attribution
.
Original source
: Caribbean flamingo
Author
: Martin Pettitt from Bury St Edmunds, UKCamera location
The American flamingo is classified as Least Concern. Does not qualify for a more at risk category. Widespread and abundant taxa are included in this category.

The American Flamingo, is a colorful red and pink but when kept in captivity it loses the bright coloration unless it is fed a diet of shrimp and food rich in substances necessary to maintain its bright color. In captivity its plumage takes on a dull pink appearance. Its wings are long and pointed and its tail short. The Flamingo feeds off living creatures in muddy bays. More
American Flamingos with dilute coloring, in Lago de Oviedo, Dominican Republic. The American Flamingo (Phoenicopterus ruber) is a large species of flamingo closely related to the Greater Flamingo and Chilean Flamingo. It was formerly considered conspecific with the Greater Flamingo, but that treatment is now widely viewed (e.g. by the American and British Ornithologists' Unions) as incorrect due to a lack of evidence. More
American Flamingos at Chester Zoo. American Flamingo and offspring The identity of the closest relatives of the flamingos is a rather contentious issue. A wide variety of birds have been proposed as their closest relatives, on a wide variety of evidence. To reflect the uncertainty about this matter, flamingos are generally placed in their own order. Recent molecular and anatomical studies have suggested a relation with grebes. More
American Flamingo Description - Many people have seen the American Flamingo at a zoo or even in the shape of the familiar lawn ornaments. They are very colorful with a bright pink tone to their feathers. This comes from the foods that the eat so the exact shade of it will be the same for a given flock but then different in depth from that of other flocks that feed somewhere else. More
American Flamingo: Tall, unique wading bird, entirely pink except for black-tipped bill that is bent at a curious angle. Feeds on algal material, bacteria diatoms, plankton, small fish and brine fly larvae. Direct flight with rapid wing beats. Flies in straight line formation. Formerly known as Greater Flamingo. Range and Habitat American Flamingo: Distribution centered around the Caribbean with stragglers showing up in Florida, Texas, northern South America, Yucatan, and the Galapagos Islands. More
American Flamingo (Crab Orchard Award Series in Poetry) Search inside another edition of this book Tell the Publisher! I'd like to read this book on Kindle Don't have a Kindle? Get your Kindle here, or download a FREE Kindle Reading App. American Flamingo (Crab Orchard Award Series in Poetry) (Hardcover) = ~ Greg Pape Greg Pape (Author) › Visit Amazon's Greg Pape PageFind all the books, read about the author, and more. More
American Flamingo (Crab Orchard Award Series in Poetry.) Share your own customer images Search inside this book Tell the Publisher! I'd like to read this book on Kindle Don't have a Kindle? Get your Kindle here, or download a FREE Kindle Reading App. American Flamingo (Crab Orchard Award Series in Poetry. More
The American Flamingo breeds in the Galápagos Islands, coastal Colombia and Venezuela and nearby islands, the Yucatán Peninsula of Mexico, and in the northern Caribbean in the Bahamas, Hispaniola, Cuba and the Turks and Caicos Islands. More
Aspects of the topic American flamingo are discussed in the following places at Britannica. Assorted References * classification of flamingo (in flamingo (bird)) ...flamingo (Phoenicopterus ruber) breeds in large colonies on the Atlantic and Gulf coasts of tropical and subtropical America. There are two subspecies of the greater flamingo: the Caribbean flamingo (P. ruber ruber) and the Old World flamingo (P. More
The American Flamingo is a beautiful pink bird that lives in large flocks in wetlands. When a flamingo flies, its long neck and legs make a nearly straight line. Flamingos live to be about 50 years old. Feathers: The flamingo's bright pink color is due to its diet. The carotene from the shrimp in its diet turns its feathers pink. If the diet is low in carotene, the feathers become white. More
Facts about Flamingos, American Flamingo, African Flamingo, Caribbean Flamingo facts about flamingos flamingo facts flamingo information flamingo facts Introduction to Flamingos Flamingos are one of the most interesting types of animals in the world. There are six known species of them out there. They are different from many other types of birds because of the length of their legs. More
American Flamingo is certainly the most colorful and well known of the Flamingoes and is the type of Flamingo that greets the visitors to the Honolulu Zoo. Long Lives! Whatever the species, Flamingoes are hardy long-lived birds. It takes several years for them to become sexually mature and find a mate. Once the birds mate, they don't always reproduce every year. More
The American flamingo is the most brightly colored of all flamingo species. American Flamingo You need Flash 8 or better to view these videos These birds' most noticeable features are probably their long, skinny legs—which are longer in relation to body size than any other bird. They often stand on just one leg, even while sleeping, with the other tucked up close to their body. More
American Flamingo1st Edition Greg Pape $14. More
The American Flamingo is also known as the Caribbean Flamingo. It is one of the larger flamingos and is closely related to the Greater Flamingo. The Flamingo's pink to red color is due to a chemical carotinoid. Carotinoid is a chemical found in the crustaceans and algae consumed by the bird. Once the food is broken down, the carotinoid is deposited in the forming feathers. Without the carotinoid, the feathers would be white. More
The American flamingo may be up to 57 inches in length. The average weight is 6 to 8 pounds. The American flamingo has long legs that are ideal for wading in water. The color of a flamingo's feathers, except for some black wing feathers, varies from bright red to pale pink. For example, flamingos of the Caribbean area have coral red feathers, and South American flamingos have pinkish white feathers. More