Rufous-browed Peppershrike
The adult Rufous-browed Peppershrike is approximately 15 cm long and weighs 28 g. It is bull-headed with a thick, somewhat shrike-like bill, which typically is blackish below and pinkish-grey above. The head is grey with a strong rufous eyebrow. The upperparts are green, and the yellow throat and breast shade into a white belly. The subspecies ochrocephala from the south-eastern part of its range has a shorter rufous eye-brow and a brown-tinged crown, while the subspecies virenticeps, contrerasi and saturata from north-western Peru and western Ecuador have greenish-yellow nape, auriculars and cheeks.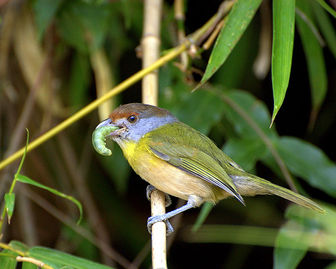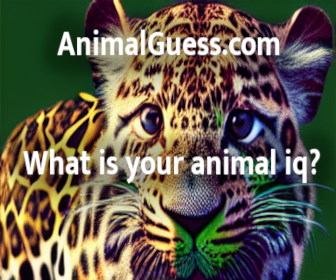 Picture of the Rufous-browed Peppershrike has been licensed under a Creative Commons
Attribution-Share Alike
.
Original source
: originally posted to Flickr as PITIGUARI (Cyclarhis gujanensis)
Author
: Dario SanchesPermission(Reusing this file)This image, which was originally posted to Flickr.com, was uploaded to Commons using Flickr upload bot on 16:11, 18 September 2008 (UTC) by Ltshears (talk). On that date it was licensed under the license below. This file is licensed under the Creative Commons Attribution-Share Alike 2.0 Generic license.You are free:to share – to copy, distribute and transmit the work
The Rufous-browed Peppershrike is classified as Least Concern. Does not qualify for a more at risk category. Widespread and abundant taxa are included in this category.

Rufous-browed Peppershrike (Cyclarhis gujanensis) (Gmelin, JF, 1789) summary taxon grid map Wikipedia NatureServe Google: Web|Scholar ITIS Birdlife Google|Flickr Xeno-Canto - photo: Tancredo Maia Photo powered by flickr.com. More
Rufous-browed Peppershrike (Cyclarhis gujanensis) = Date: 23 January 2010 Location: San Gerardo de Dota (Savegre) (San Gerardo de Dota, Cantón Dota, Provincia de San José, Costa Rica) Trip: SW Costa Rica 2010 See general information about Rufous-browed Peppershrike. More
The Rufous-browed Peppershrike, Cyclarhis gujanensis, is a passerine bird in the vireo family. It is widespread and often commmon in woodland, forest edge, and cultivation with some tall trees from Mexico and Trinidad south to Argentina and Uruguay. The adult Rufous-browed Peppershrike is approximately 15 cm long and weighs 28 g. It is bull-headed with a thick, somewhat shrike-like bill, which typically is blackish below and pinkish-grey above. The head is grey with a strong rufous eyebrow. More
Rufous-browed Peppershrike (Cyclarhis gujanensis) = * Least Concern * List * Thumbs * All * Videos * Photos * Sounds Videos See all 10 videos * Video preview image A bird singing persistently Fazenda Intervales, Intervales More
Rufous-browed Peppershrike Cyclarhis gujanensis = Described by: Gmelin (1789) Alternate common name(s): Yellow-backed Peppershrike, Chaco Peppershrike, Ochre-crowned Peppershrike Old scientific name(s): None known by website authors Photographs near Playa Blanca, Panama - Mar, 2005 More
The Rufous-browed Peppershrike is supposedly a very common bird around Brazil, but this was the only individual I noticed on my recent trip. He was high in a tree so this is just a record shot. Its range extends from Mexico to Argentina. The Rufous Browed Peppershrike is identified by its heavy bill, rufous brow, yellow chest, whitish buff belly. This southeastern Cychlaris gujanensis ochrocephala subspecies has a brown cap, other subspecies have a light grey cap. More
Rufous-browed Peppershrike - Cyclarhis gujanensis Rufous-browed Peppershrike Cyclarhis gujanensis ochrocephala Vale das Taquaras, Rio de Janeiro state, Brazil. A common and widespread neotropical species, found from Mexico to Argentina. (S5f) Green Shrike-Vireo - Vireolanius pulchellus Green Shrike-Vireo Vireolanius pulchellus pulchellus Sierra de los Tuxtlas, Veracruz state, Mexico. Probably the most brightly-colored member of the vireo family, it is found in rainforest canopy in Middle America. More
Rufous-browed Peppershrike (Cyclarhis gujanensis) photo Trinidad September, 2005 More
Rufous-browed PeppershrikeThe Rufous-browed Peppershrike, Cyclarhis gujanensis, can be found in Mexico and Trinidad south to Argentina and Uruguay. They inhabit open woodland and cultivations with some tall trees. Description: The adult Rufous-browed Peppershrike is 15cm long and weighs 28g. It is bull-headed with a shrike-like bill. The head is grey with a strong rufous eyebrow.. The upperparts are green, and the yellow throat and breast shade into a white belly. More
Rufous-browed Peppershrike, CYCLARHIS GUJANENSIS RUFOUS-BROWED PEPPERSHRIKE = For a long time I've been trying for a picture of a Rufous-browed Peppershrike, CYCLARHIS GUJANENSIS, because it's one of those "emblematic species" of the New World tropics, being fairly common from central Mexico to central Argentina. More
Stamps showing Rufous-browed Peppershrike Cyclarhis gujanensis Rufous-browed Peppershrike Cyclarhis gujanensis Rufous-browed Peppershrike Cyclarhis gujanensis 155.001 Rufous-browed Peppershrike IOC v2.4: 6158 Links will open countrypage in new window - Bhutan 17.10.1999 Birds of the world Sheet - Bolivia 27.08. More
Rufous-browed Peppershrike (Cyclarhis gujanensis) Rufous-browed Peppershrike The rufous-browed Peppershrike belongs to the exclusively American family of the Vireos. The relationship of Vireos still seems unclear and, according to Ridgely & Tudor, recent DNA evidence does not show them to be close to the Tanagers and Buntings of the Emberizidae. The Rufous-browed Peppershrike is generally regarded as a forest bird which eats insects and caterpillars. It is a noted singer and is more often heard than seen. More
Rufous-browed Peppershrike Cyclarhis gujanensis = Brazil - Date unknown More
Photo of a rufous-browed peppershrike made by Peter Relson in Suriname in 2002 at the Ralleigh Falls nature reserve. The bird has a very recognisable, melodious song that you hear mainly in the forest and also in heavy scrubs around it. Each small square indicates the observation of at least one (group) of these birds, the medium ones at least 4 observations on different days and the largest ones 10 or more. More
Rufous-browed Peppershrike, Cyclarhis gujanensis Vireonidae (VIREOS & ALLIES) Rufous-browed Peppershrike, Cyclarhis gujanensis This photo was taken in: Panama This photo was taken with: Canon XTi, w/100-400mm lens Notes on this photo: Occasionally we went for a morning walk into Farallon village. There was always some bird activity in the trees at the edge of the road. More
species overview :: Rufous-browed Peppershrike (Cyclarhis gujanensis) = Nr. of recordings (fore- + background): 116+235 Subspecies: contrerasi, dorsalis, gujanensis, insularis, ochrocephala, ochrocephala (confirmar), parvus, saturatus, tarijae, virenticeps Sound types: , ?, call, call and song, call?, calls, main song, song, song and call, song type, Song. More
Rufous-browed Peppershrike main song Cyclarhis gujanensis ochrocephala (0:18) Alvaro Riccetto XC7110 25-08-06, Uruguay Rufous-browed Peppershrike song and call Cyclarhis gujanensis ochrocephala (0:16) Alvaro Riccetto XC7199 22-08-06, Uruguay Rufous-browed Peppershrike song Cyclarhis gujanensis (0:16) Fernando Jacobs XC9261 26-12-2006, Brazil Rufous-browed Peppershrike song Cyclarhis More