Many-colored Rush Tyrant
It is a small dumpy bird, 10.5 cm in length. The tail is short, the wings are short and rounded and the bill is slender. As the bird's name suggests, the plumage is very colourful. The back and rump are green while the underparts are yellow apart from the white throat, black breastband and red undertail-coverts. The face is dark blue-grey, there is a yellow stripe over the eye and the crown is dark with a red patch that is often concealed. The wings and tail are dark with a white wingbar and white outer tail-feathers. Juveniles are considerably duller than the adults.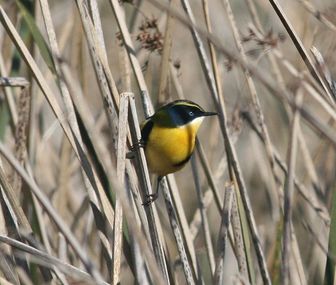 Picture of the Many-colored Rush Tyrant has been licensed under a
GFDL
Original source
: Diucón
Author
: Diucón
Permission
: GNU Free Documentation License
The Many-colored Rush Tyrant is classified as Least Concern. Does not qualify for a more at risk category. Widespread and abundant taxa are included in this category.

Stamps showing Many-colored Rush Tyrant Tachuris rubrigastra Many-colored Rush Tyrant Tachuris rubrigastra 117.006 Many-colored Rush Tyrant IOC v2.4: 5036 Links will open countrypage in new window - Uruguay 14.04.1999 Flowering trees and birds - NO IMAGE PRESENTED - Fujeira 15.10.1971 Tropical birds - Uruguay 13.10. More
Many-colored Rush Tyrant ( Tachuris rubrigastra) Howard and Moore 2nd edition: Many-coloured Rush Tyrant ( Tachuris rubrigastra) Howard and Moore 2nd edition (incl. ? suppl): Many-coloured Rush Tyrant ( Tachuris rubrigastra) Howard and Moore 3rd edition (as published): Many-coloured Rush Tyrant ( Tachuris rubrigastra) Howard and Moore 3rd edition (incl. corrigenda 1.2): Many-coloured Rush Tyrant ( Tachuris rubrigastra) Howard and Moore 3rd edition (incl. corrigenda 2. More
Many-colored Rush Tyrant - Tachuris rubrigastra Tyranneau omnicolore = Tyranneau omnicolore Le guide ornitho : Les 848 espèces d'Europe en 4000 dessins Gallery : © Didier Perrocheau Site web : Voyages au Pérou Order : Passériformes Family : Tyrannidae Species : Many-colored Rush Tyrant Reference: dipe75397 Other pictures Date taken : 2009 Sep Geographic data Country : Peru (pe) More