Dusky-tailed Flatbill
Its natural habitat is subtropical or tropical moist lowland forests.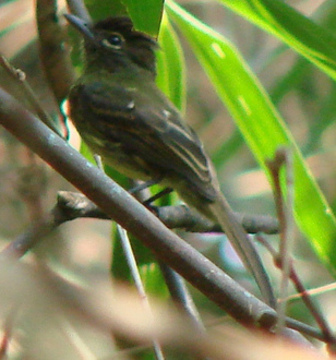 Picture of the Dusky-tailed Flatbill has been licensed under a Creative Commons
Attribution
.
Original source
: smdantas
Author
: smdantas
The Dusky-tailed Flatbill is classified as Least Concern. Does not qualify for a more at risk category. Widespread and abundant taxa are included in this category.

The Dusky-tailed Flatbill (Ramphotrigon fuscicauda) is a species of bird in the Tyrannidae family. It is found in Bolivia, Brazil, Colombia, Ecuador, and Peru. Its natural habitat is subtropical or tropical moist lowland forests. References - * BirdLife International 2004. Ramphotrigon fuscicauda. 2006 IUCN Red List of Threatened Species. Downloaded on 27 July 2007. More
Dusky-tailed Flatbill (Ramphotrigon fuscicauda) by Eduardo Patrial. More
The Dusky-tailed Flatbill is normally encountered singly or in pairs, perching from about 2 to 6 m above ground and making short forward and upward flights to snap insects from foliage and branches. It often remains motionless for long periods and is thus quite inconspicuous. I have not seen R. fuscicauda associate with the mixed-species flocks that regularly pass through its habitat. More
Dusky-tailed Flatbill The Dusky-tailed Flatbill (Ramphotrigon fuscicauda) is a species of bird in the Tyrannidae family. It is found in Bolivia, Brazil, Colombia, Ecuador, and Peru.Its natural habitat is subtropical or tropical moist lowland forests. See more at Wikipedia.org... More
Dusky-tailed Flatbill (Ramphotrigon fuscicauda) - Ditto. Rufous-tailed Flatbill (Ramphotrigon ruficauda) - Finally got a nice look at this one on the grid at MWC. Yellow-olive Flycatcher (Flatbill) (Tolmomyias sulphurescens) (X) Yellow-margined Flycatcher (Tolmomyias assimilis) - Sometimes called Zimmer's Flatbill. Some recent field guides have begun calling all members of the genus Tolmomyias "Flatbills". Gray-crowned Flycatcher (Tolmomyias poliocephalus) Yellow-breasted Flycatcher (Tolmomyias flaviventris) - Sometimes called Olive-faced Flatbill. More
Dusky-tailed Flatbill and a number of antbirds. On our way back to the boat we saw an old friend from home, an Eastern Wood-pewee. Its always amazing to see the birds we get here in South America. Its a reminder of just how far these birds go. We headed back to the lodge for another great lunch, enjoying the river just as much on the way back. More