White-throated Spadebill
The adult White-throated Spadebill is 3.8 in long, weighs 0.33 oz , and has large eyes and a very short tail. The large head is distinctively marked, with a long yellowish supercilium, blackish ear coverts, yellow eyering, and a black stripe down each side of the neck. The crown has a concealed yellow crest, which is erected as a fan by the singing male. The upperparts are dark olive brown, and the underparts are buff apart from the white throat. The bill is black above and brown below, and is very broad and flat, hence the English and scientific names spadebill and Platyrinchus.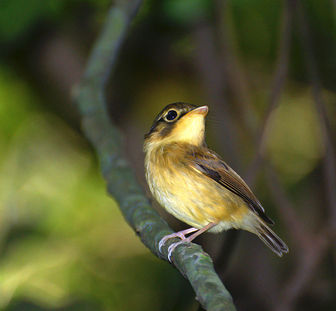 Picture of the White-throated Spadebill has been licensed under a Creative Commons
Attribution-Share Alike
.
Original source
: Dario Sanches from São Paulo, Brazil
Author
: Dario Sanches from São Paulo, Brazil
The White-throated Spadebill is classified as Least Concern. Does not qualify for a more at risk category. Widespread and abundant taxa are included in this category.

The White-throated Spadebill is usually found at high altitudes (600 to 2,000 metres) throughout most of its range in Colombia, Ecuador, Peru, Bolivia, Venezuela and Brazil. It normally remains fairly inconspicuous in the undergrowth and can be very difficult to photograph - unusually this individual was perching just a few metres off the tarmacced road in lighter than typical forest. Golden-crowned Warbler Basileuterus culcivorum: A widespread species, the Golden-crowned Warbler is a familiar representative of bird-parties, feeding actively mid-storey. More
* White-throated Spadebill, tiny passerine bird in the tyrant flycatcher family * White-throated Sparrow, passerine bird of the American sparrow family Emberizidae * White-throated Swift, swift of the family Apodidae native to western North America * White-throated Tinamou, species of bird native to the Amazon rainforest of Brazil * White-throated Toucan, near-passerine bird More
The White-throated Spadebill, Platyrinchus mystaceus, is a tiny passerine bird in the tyrant flycatcher family. It lives in the tropical Americas. Description - The adult White-throated Spadebill is 3.8 in (9.7 cm) long, weighs 0.33 oz (9.3 g), and has large eyes and a very short tail. The large head is distinctively marked, with a long yellowish supercilium, blackish ear coverts, yellow eyering, and a black stripe down each side of the neck. More
The White-throated Spadebill, Platyrinchus mystaceus, is a tiny passerine bird in the tyrant flycatcher family. It breeds from Costa Rica through South America to western Ecuador, Brazil, and northeastern Argentina. It also occurs on both Trinidad and Tobago. This species is found in hill forests and secondary growth. Nesting / Breeding The deep cup nest is made of dead grass and plant fibres and placed low in a sapling. More
Aspects of the topic white-throated spadebill are discussed in the following places at Britannica. Assorted References * description (in spadebill (bird)) ...New World flycatchers (family Tyrannidae, order Passeriformes) whose triangular bill is very broad and flat. More
White-throated Spadebill, a tiny and elusive flycatcher, was first noted in eastern Cocl More