Jamaican Elaenia
The Jamaican Elaenia is a species of bird in the Tyrannidae family. It is endemic to Jamaica. Its natural habitats are subtropical or tropical moist lowland forests, subtropical or tropical moist montane forests, and heavily degraded former forest.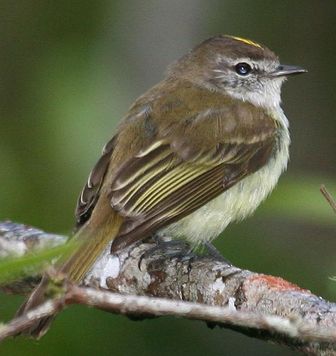 Picture of the Jamaican Elaenia has been licensed under a Creative Commons
Attribution-Share Alike
.
Original source
: dominic sherony
Author
: dominic sherony
The Jamaican Elaenia is classified as Least Concern. Does not qualify for a more at risk category. Widespread and abundant taxa are included in this category.

The Jamaican Elaenia (Myiopagis cotta) is a species of bird in the Tyrannidae family. It is endemic to Jamaica. Its natural habitats are subtropical or tropical moist lowland forests, subtropical or tropical moist montane forests, and heavily degraded former forest. References - * BirdLife International 2004. Myiopagis cotta. 2006 IUCN Red List of Threatened Species. Downloaded on 26 July 2007. More
Stamps showing Jamaican Elaenia Myiopagis cotta Jamaican Elaenia Myiopagis cotta 117.001 Jamaican Elaenia IOC v2.4: 4911 Links will open countrypage in new window - Jamaica 22.01. More
Jamaican Elaenia: The Jamaican Elaenia (Myiopagis cotta) is a species of bird in the Tyrannidae family. Large Elaenia: The Large Elaenia (Elaenia spectabilis) is a species of bird in the Tyrannidae family. Lesser Elaenia: The Lesser Elaenia (Elaenia chiriquensis) is a species of bird in the Tyrannidae family, the tyrant flycatchers. Mottle backed Elaenia: The Mottle-backed Elaenia (Elaenia gigas) is a species of bird in the Tyrannidae family. It is found in Bolivia, Colombia, Ecuador, and Peru. More
Jamaican Elaenia Myiopagis cotta = Described by: Gosse (1849) Alternate common name(s): Yellow Elaenia, Jamaican Yellow-crowned Elaenia Old scientific name(s): None known by website authors Photographs Jamaica - Feb 23, 2006 More
Not-found-104x104 Jamaican Elaenia Not-found-104x104 Jamaican Pewee Not-found-104x104 La Sagra's Flycatcher Least Flycatcher Least Flycatcher Not-found-104x104 Lesser Antillean Flycatcher Not-found-104x104 Lesser Antillean Pewee Not-found-104x104 Lesser Elaenia Not-found-104x104 Lesser Kiskadee Not-found-104x104 Loggerhead Kingbird Long-tailed Tyrant Long-tailed Tyrant Masked Tityra Masked Tityra Not-found-104x104 Mountain Elaenia Not-found-104x104 Mouse-colored Tyrannulet Northern Beardless-Tyrannulet Northern Beardless-Tyrannulet Not-found-104x104 Northern Bentbill Not-found-104x104 Northern Royal Flycatcher Not-found-104x104 Northern Scrub-Flycatcher Not-found-104x104 Nutting's Flycatcher Not-found-104x104 Ochraceous Pewee Not-found-104x104 Ochre-bellied More
Jamaican Elaenia (E), Jamaican Lizard-Cuckoo (E), Chestnut-bellied Cuckoo (E), Jamaican Vireo (E), Sad Flycatcher (E), Rufous-tailed Flycatcher (E), Jamaican Pewee (E), Jamaican Becard (E), Caribbean Dove… Marshall's Pen Ranch: Partially forested hills and pastures. More
Jamaican Elaenia (Myiopagis cotta) and Jamaican Pewee (Contopus pallidus) are frequently observed as are Rufous-tailed Flycatcher (Myiarchus validus) Sad Flycatcher (Myiarchus barbirostris) and Stolid Flycatcher (Myiarchus stolidus). Rufous-throated Solitaire (Myadestes genibabis) is sometimes heard at altitudes >300m during the winter period and White-eyed Thrush (Turdus jamaicensis) is present throughout the year above 250m. The IBA attracts a wide range of winter migrants: warblers and shorebirds. More
Jamaican Elaenia (Myiopagis cotta) - Sarah Bird Jamaican Becard (Pachyramphus niger) - Mountain Dick (male), Mountain Judy (female) Jamaican Pewee (Contopus pallidus) - Willie Pee Jamaican Euphonia (Euphonia jamaica) - Blue Quit Arrowhead Warbler (Dendroica pharetra) - Ants Bird Blue Mountain Vireo (Vireo osburni) Jamaican Vireo (Vireo modestus) - Sewi-Sewi White-chinned Thrush (Turdus aurantius) - Hopping Dick White-eyed Thrush (Turdus jamaicensis) - Glasseye Jamaican Crow (Corvus jamaicensis) - Jabbering Crow More